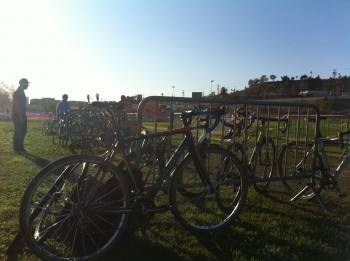 This all started for me when Erik gave me a call Friday morning.  He told me he had a crazy idea involving me pitting for him in a two day UCI race in downtown LA, and after a bit of deliberation I decided the opportunity to travel and support the boss was simply too good.  I'll put it bluntly when I say that my artistic skills handily eclipse my talents as a bike mechanic, so I found it well put when Erik told people he was bringing his personal artist instead of a pit mechanic.  At Sellwood Cycle Repair, we kind of have our own way of doing everything, and as Erik's choice in travel partner showed, the jaunt to LA would be no different.
The next morning found Erik and I arriving in balmy LA around noon.  We quickly grabbed our luggage (two boxed 2011 carbon Major Jakes, and a wheel bag with two sets of wheels), and successfully made it onto the "Flyaway" airport bus towards Union Station.  After a bit of quintessential LA freeway traffic, we arrived at the station, which was supposedly within 1.4 miles of the racecourse.  What perhaps we didn't realize was that the leisurely walk to the course that we had imagined, had become more of a mad dash as we were cutting it close with about an hour and a half to spare before Erik's race, and we carried two bikes that would require a decent amount of assembly before they were rideable.  As our arms tired, we began to desperately drag the boxes across the LA sidewalks in pursuit of the racecourse that was proving to be much further than we had thought.  We stopped at an intersection, and began cursing our luck, just to raise our heads and see in the distance, glorious white course tape beckoning us forth.  After two speedy bike assemblies, Erik at the least had all the pieces in place to put in a good ride.  I'm sure he could give you his own version of the race, but in my opinion for a guy that's been nursing a shoulder separated in August, he was looking pretty good.  I believe he ended the day less than 3:00 back from the leaders, in 16th.
We folded up and stashed our cardboard bike boxes under the stage hoping they'd be there tomorrow, and took off on bike to find the Dragon's Gate Best Western (which I might add was quite a hotel indeed).  We must have looked pretty funny riding carbon cross bikes and tubulars around the streets of downtown LA in search of our hotel, one hand on the bars and the other grasping a wheel bag.  We ended our night with some awesome chow fun and pepper beef from a Chinese restaurant down the block called Master Chef, and a bit of anthropological field work at a fancy hotel bar investigating how the other half lives over a few pints of Guinness.  All in all, a very successful day.
The next day started with an interesting continental breakfast at the corner coffee shop.  It was pretty standard fare except the amount of waffles one could devour was carefully overseen by a wary attendant, and amidst all the palm trees and tropical feel was a massive stuffed moose head watching over the proceedings.  Erik being the ever-thoughtful guy he is, brought an extra long seatpost so I could try to get his 56cm carbon bike feeling comfortable for my 6'4" frame.  After a bit of riding around the surrounding industrial area, we set our sights for the hills that rose above Chinatown.  Our greatest discovery of the day was an awesome recently closed park that had some fun rough roads climbing to the top, providing us with a huge radio tower and a nice vista of the sprawl that is LA.  We returned to the hotel and threw on the morning's football games flipping back and forth between the Broncos vs. Vikings and the Raiders vs. Dolphins games.  The second day at the races was a bit more leisurely and we got to watch a bit of the single speed and women's races while soaking up the sun.  And while the course was pretty flat and perhaps not as exciting as some of the better Cross Crusade races, the setting couldn't have been more idyllic with the palm trees and skyscrapers of downtown LA at our backs and the rugged San Gabriel mountains in the distance.  Erik looked quite a bit stronger the second day, and finished just over two minutes back from leader Ben Berden in 16th place again.
Our return trip was not nearly as harrowing and frenzied as our arrival, with the most eventful happening being Erik's acquisition of the month's Rolling Stone that listed the 100 greatest guitar players (Tony Iommi was 26th I believe, should've been higher on the list in my opinion but oh well…).  Our faithful pal Brad swooped us from the Airport in the ever trusty and slightly smelly Kona van, and we cruised leisurely back into town totally exhausted.  The weekend in my book was a total success.  Given the tight tolerances that we had placed on the trip, with two races in a span of 36 hours, all the while navigating a city that neither of us knows at all, it was amazing to me that everything came together so flawlessly.  But as Erik regaled me with story after story of traveling high jinks while flying out to big bike races all across the country, it became quite clear to me that this trip was not too much out of the ordinary.  I am still astonished by the feat of balancing a professional bike racing career and a full time job, and I find it truly inspiring the intensity with which these guys approach their goals both on and off the bike.