It's no secret that cycling, in all it's forms, is one of the best ways to meet new people and explore the world around us.  Many of us experience it every day, but there some folks go the extra mile to really bring people together around cycling. The founders of Swift Industries are exactly those people. They're a lovely little company from Seattle, Washington with a passion for bicycle touring and camping that they cant help but enthusiastically share. Enter: the Swift Campout. In its most recent iteration the friendly folks from Swift organized a group camping trip to share ideas, gear, demos, a ride, and a campfire to make new friends and get people stoked for the bicycle touring season ahead.
I received a special invitation from Steve Kirbach, Head Roaster at Stumptown Coffee, and long-time friend of Sellwood Cycle. (You might remember him as the chief organizer from the Sotor Vineyards bikepacking trip we went on a year ago, and the genius behind the cup of coffee you probably enjoyed earlier this morning) Steve was going to be doing some fireside coffee roasting demos, and he thought it would be a great opportunity for Sellwood Cycle to send along a representative to enjoy the trip and talk shop.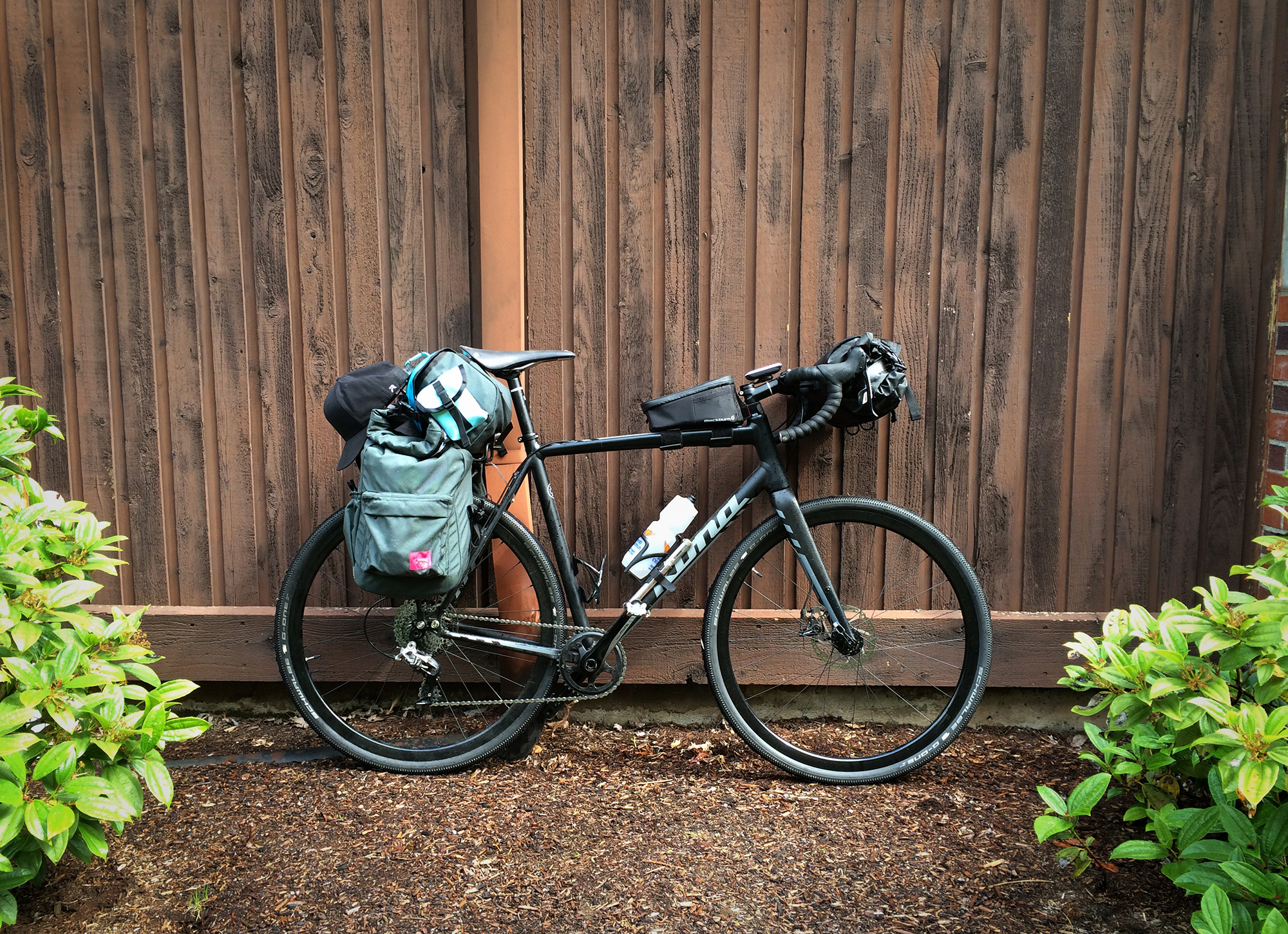 I should mention that I'm not terribly fond of carrying gear on a bicycle, and I usually do a lot of my long-distance touring by motorcycle. But I do love riding bicycles, going camping, and I've been meaning to give this bike camping thing a fair shake. So I grabbed the only reasonable ride I have in my stable: The 2016 Kona Private Jake and after a little elbow grease and the addition of some borrowed bags (a combo from both Swift Industries, and Blackburn) the PJ was ready to roll.
More specifics of this Private Jake build can be found here!
The campout was officially saturday night, but a handful of organizers and sponsors went out a night early to get camp situated and shoot the shit. I left straight from work and took the more direct route out to Stargazer Farms: a nice piece of private land available for functions and camping through Hipcamp.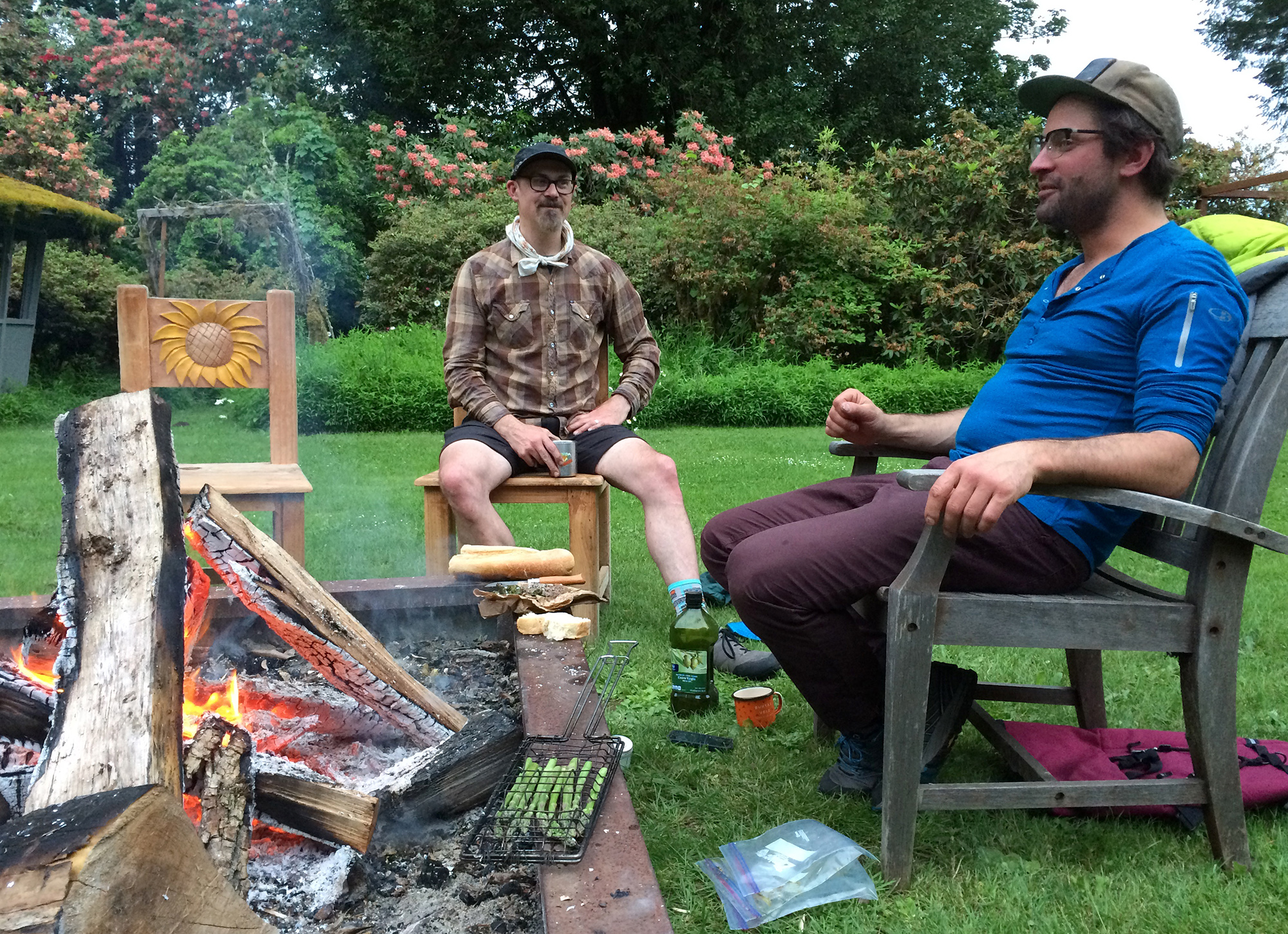 Immediately upon arrival I was handed a freshly cooked piece of steak by Gabe of Limberlost and a side of Jacobsen Salt dusted asparagus. Seriously, if I was handed steak every time I rolled up to a spot I'd be doing this every chance I got! On the scale of eating well in the woods Gabe resides near the top.
All this was washed down with Gin and Tonic ON TAP generously provided by Sun Liquor Company. They teamed up with Swift on an awesome camp cocktail kit (see below), and served up the weekend's libations. Camping doesn't have to be all granola and Clif Bars… It helps to know the right people.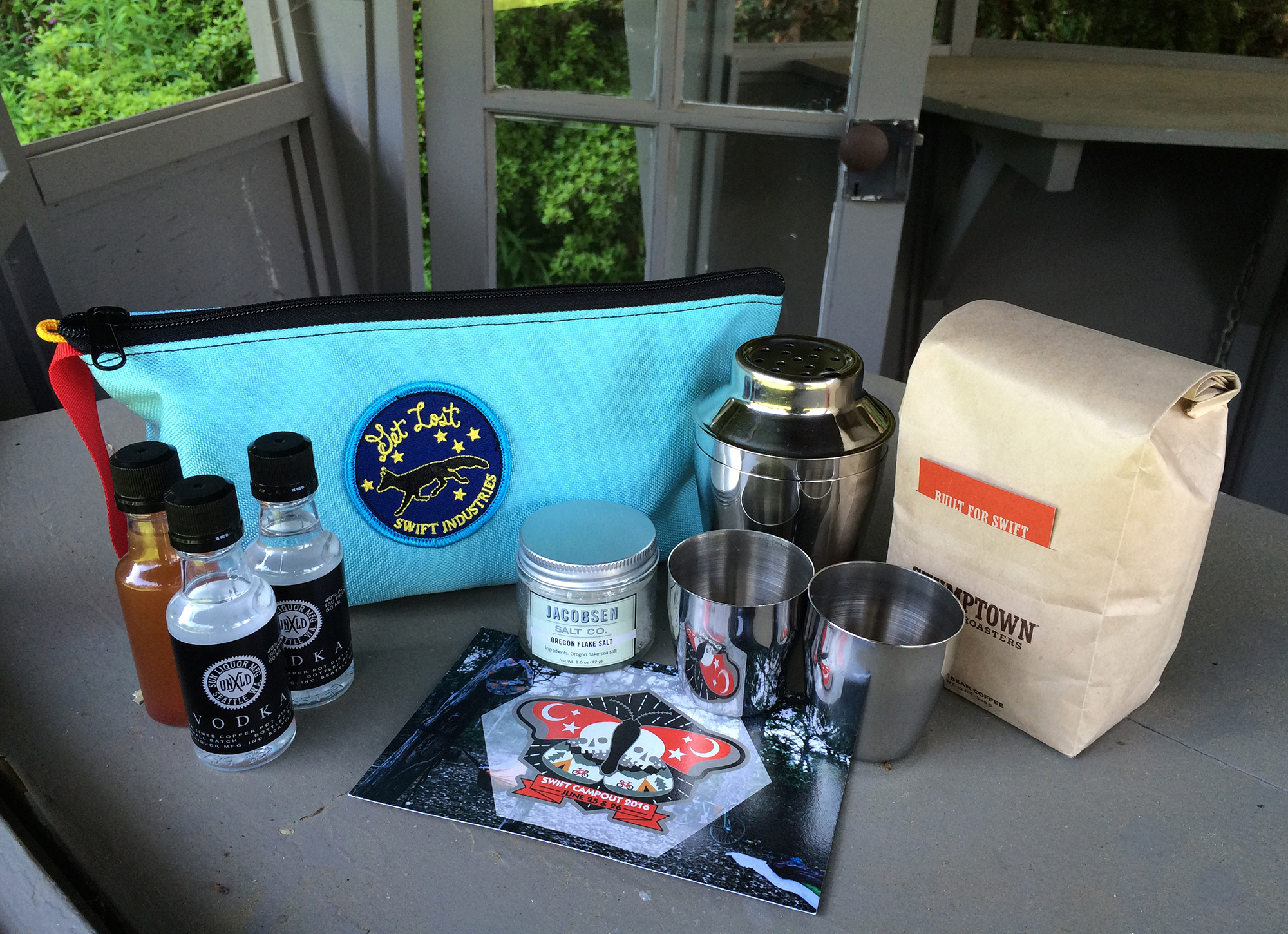 Breakfast the next morning was a simple one. It was tough to compete with the fire-roasted Snickers and salt banana that was cooked up for desert the night before (don't knock it till you try it).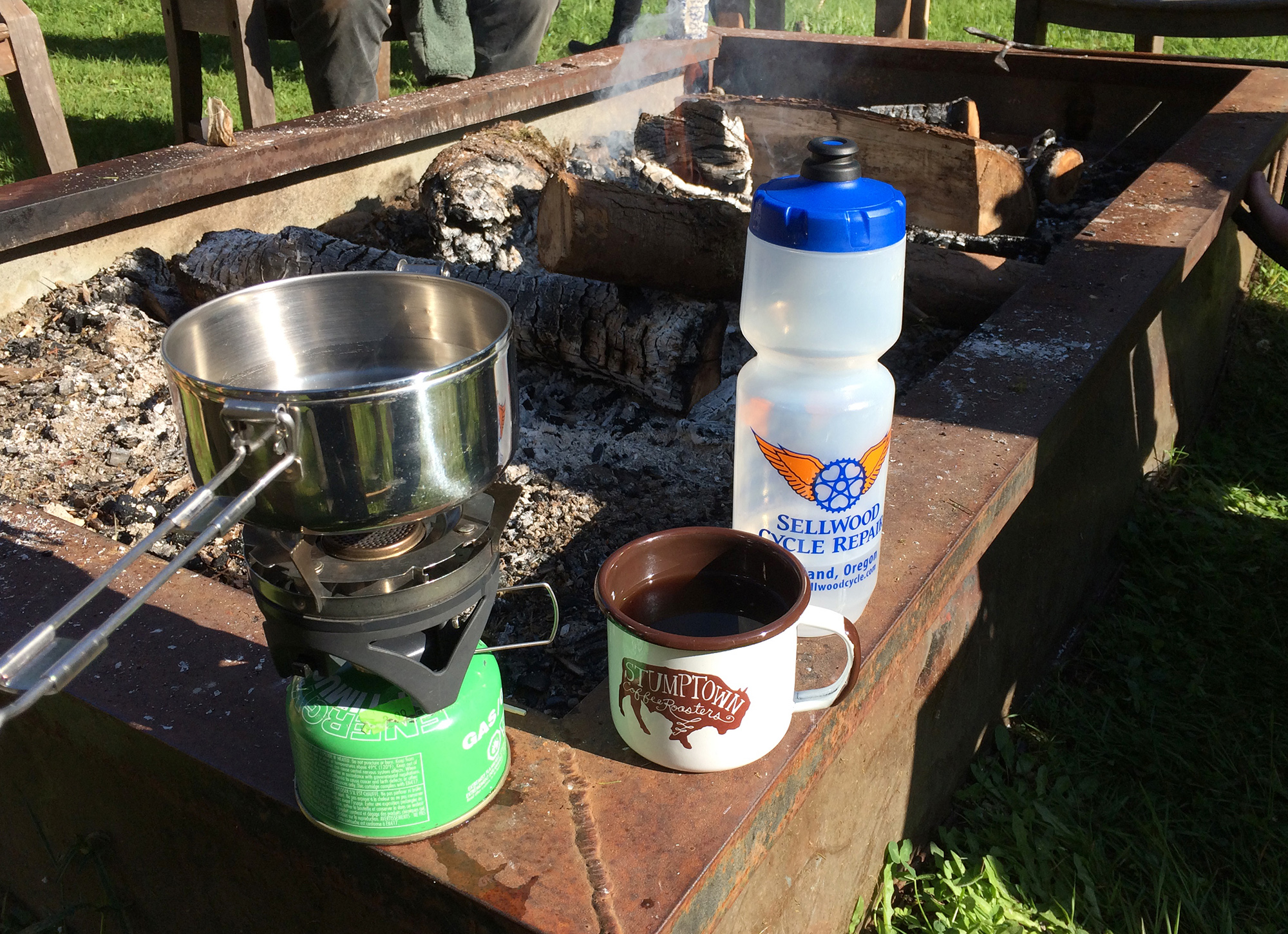 After a quick bite I had a chance to wander around and check out some of the different rigs at camp.
There's been a lot of talk in the touring circles of people taking old steel Specialized mountain bike and converting them to touring purposes. One such bike was leaned up not too far from my tent. Such a brilliantly simple setup, and clearly one that wont break the bank.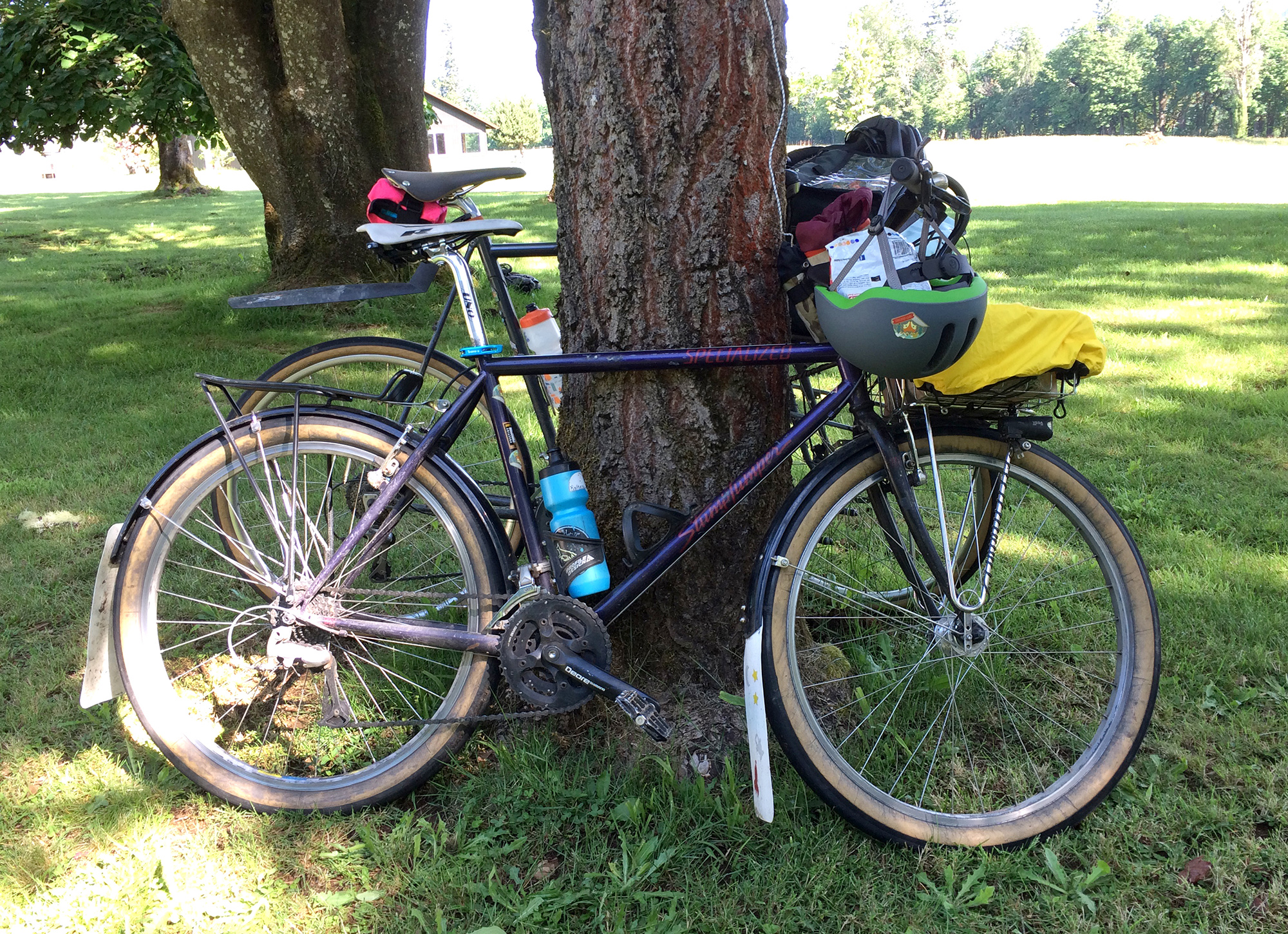 My friend Tom Rousculp was another early arrival and his minimalist Ira Ryan setup definitely brought the right touch of class to our campground. Amazingly his entire touring setup fit into the one Carradice bag! He's got the "less is more" philosophy on lockdown.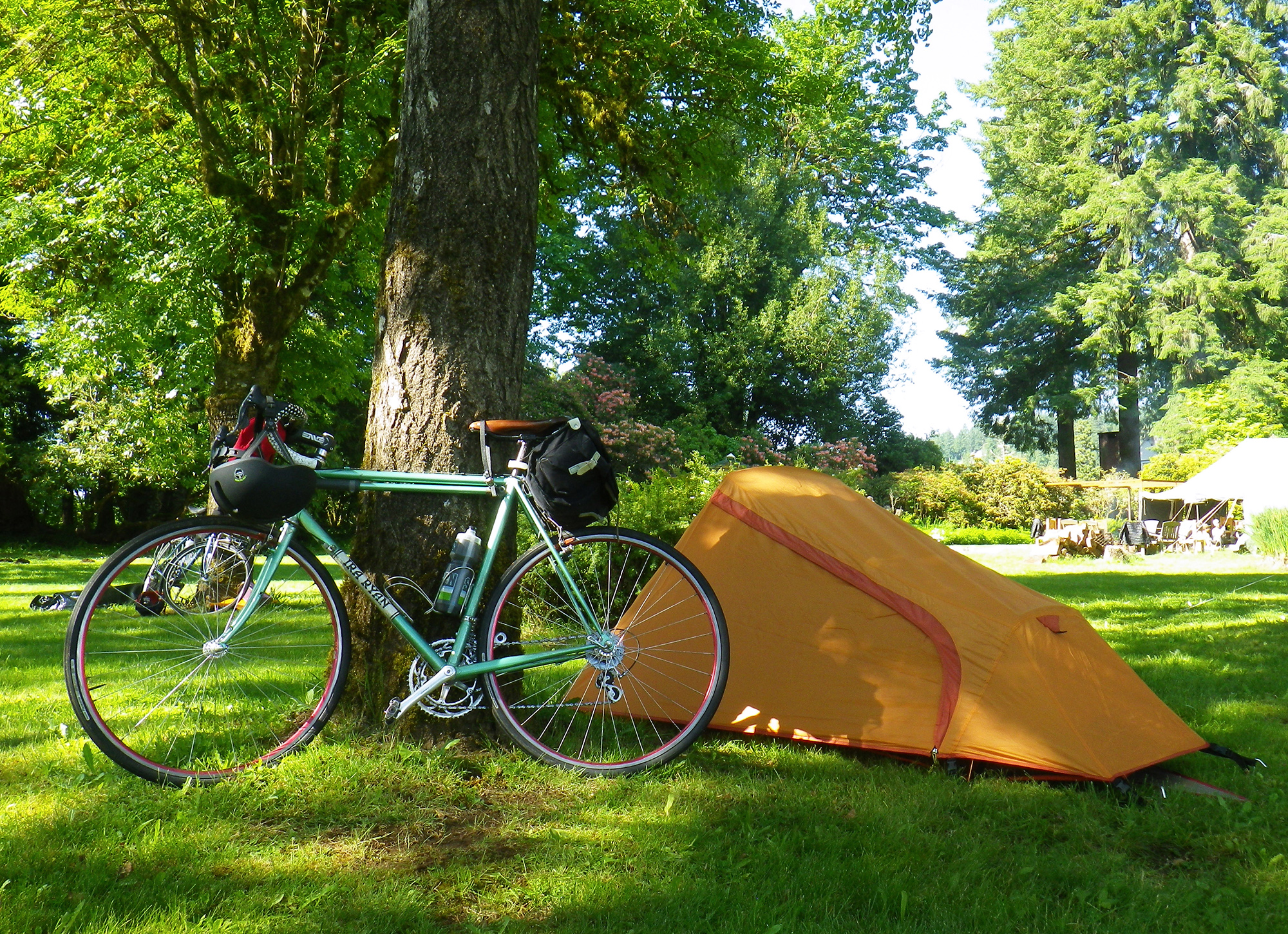 The rest of the attendees weren't scheduled arrive from Portland until later in the afternoon so we had some time to kill. Some of the group kept to camp to wander down to the river, while the rest of us tagged along with Zach Holz from Nutcase Helmets who put together an excellent day loop to ride along the Sandy River.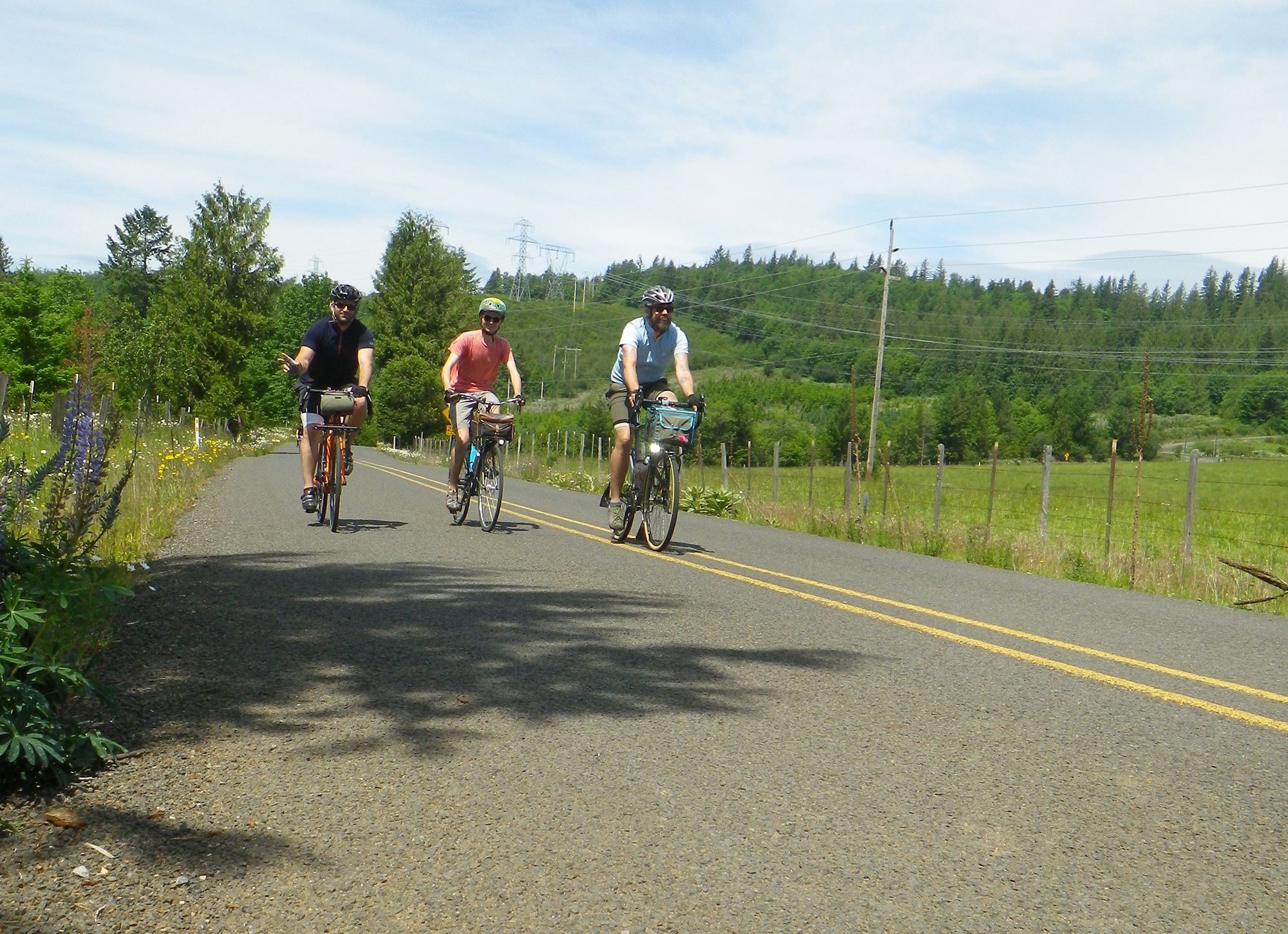 No day ride trip in Oregon would be complete without some local wildlife…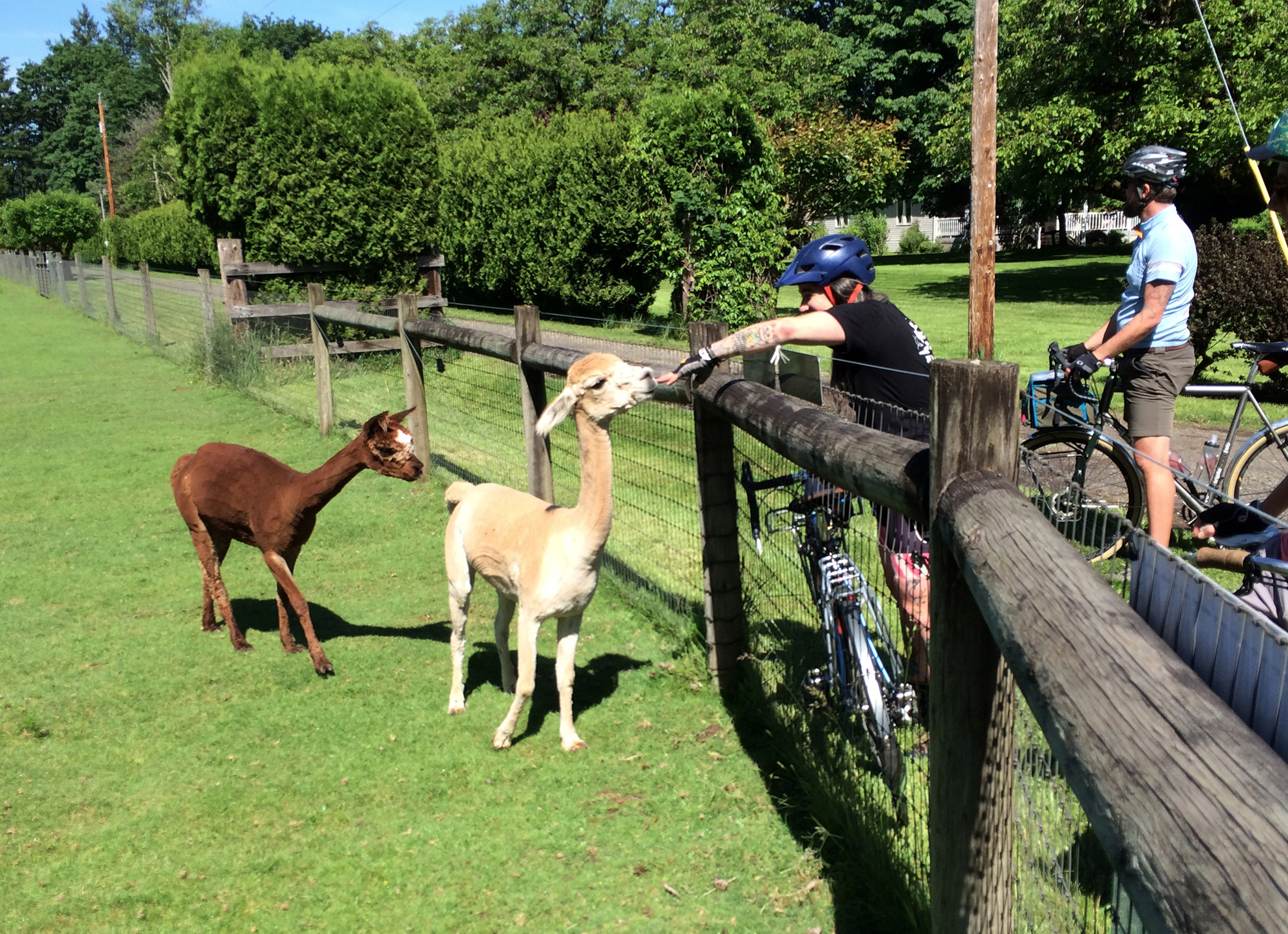 Snack breaks…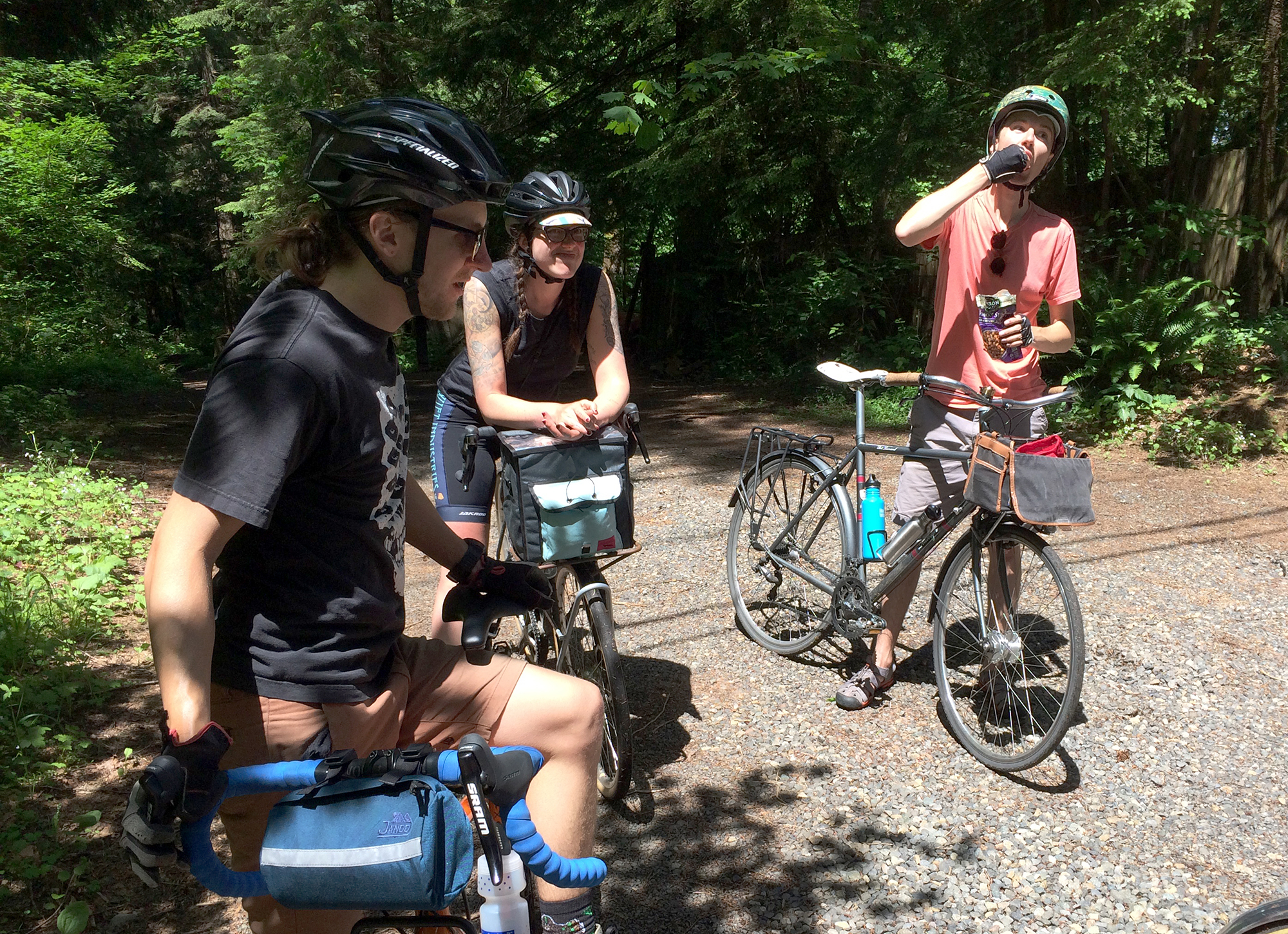 And gratuitous views of Mt. Hood.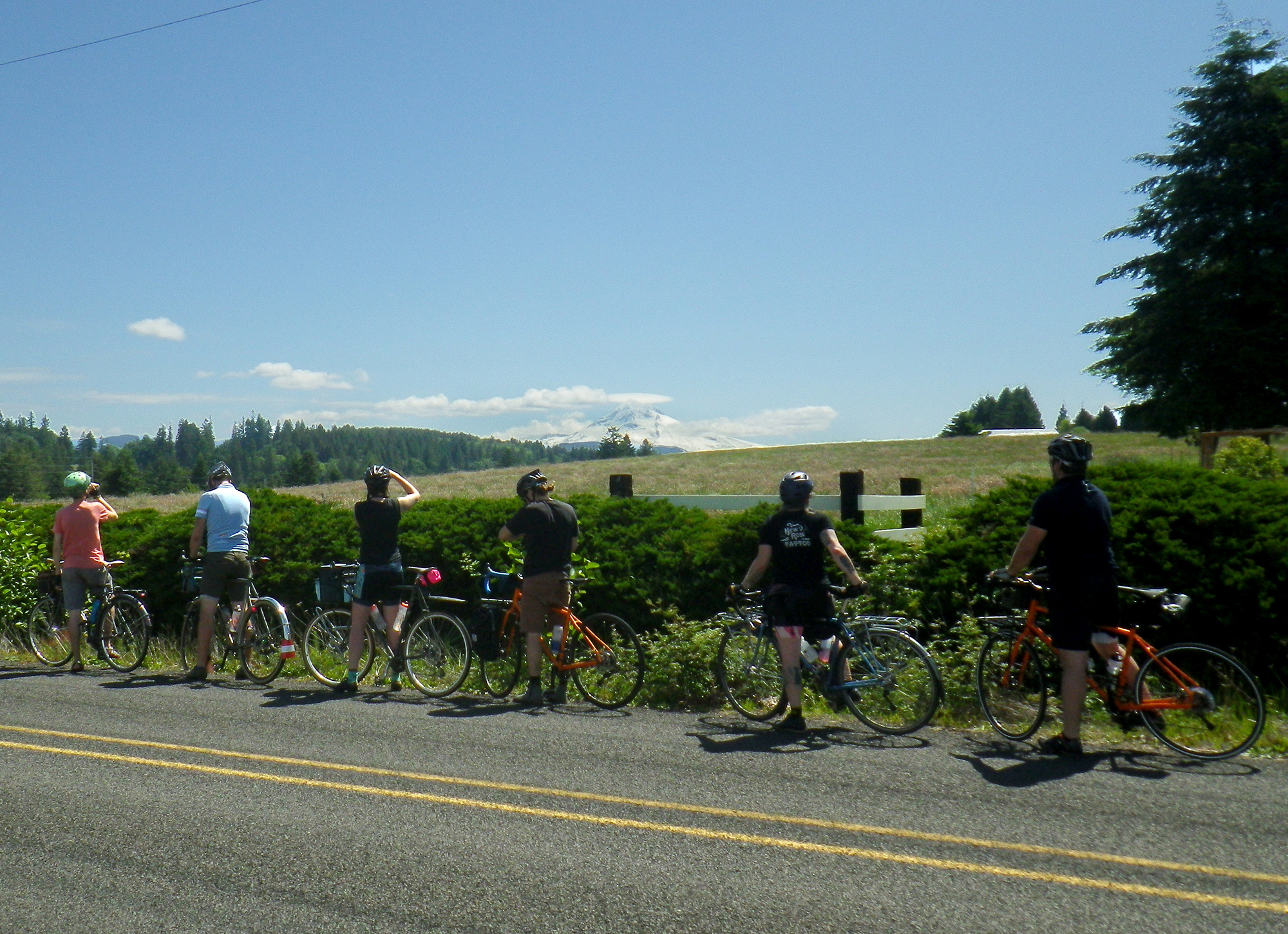 The weather was also nothing short of awesome. We made a quick stop in Sandy for dinner fixings (and beer) before heading back to camp and making our way down to their swimming hole on the Sandy River.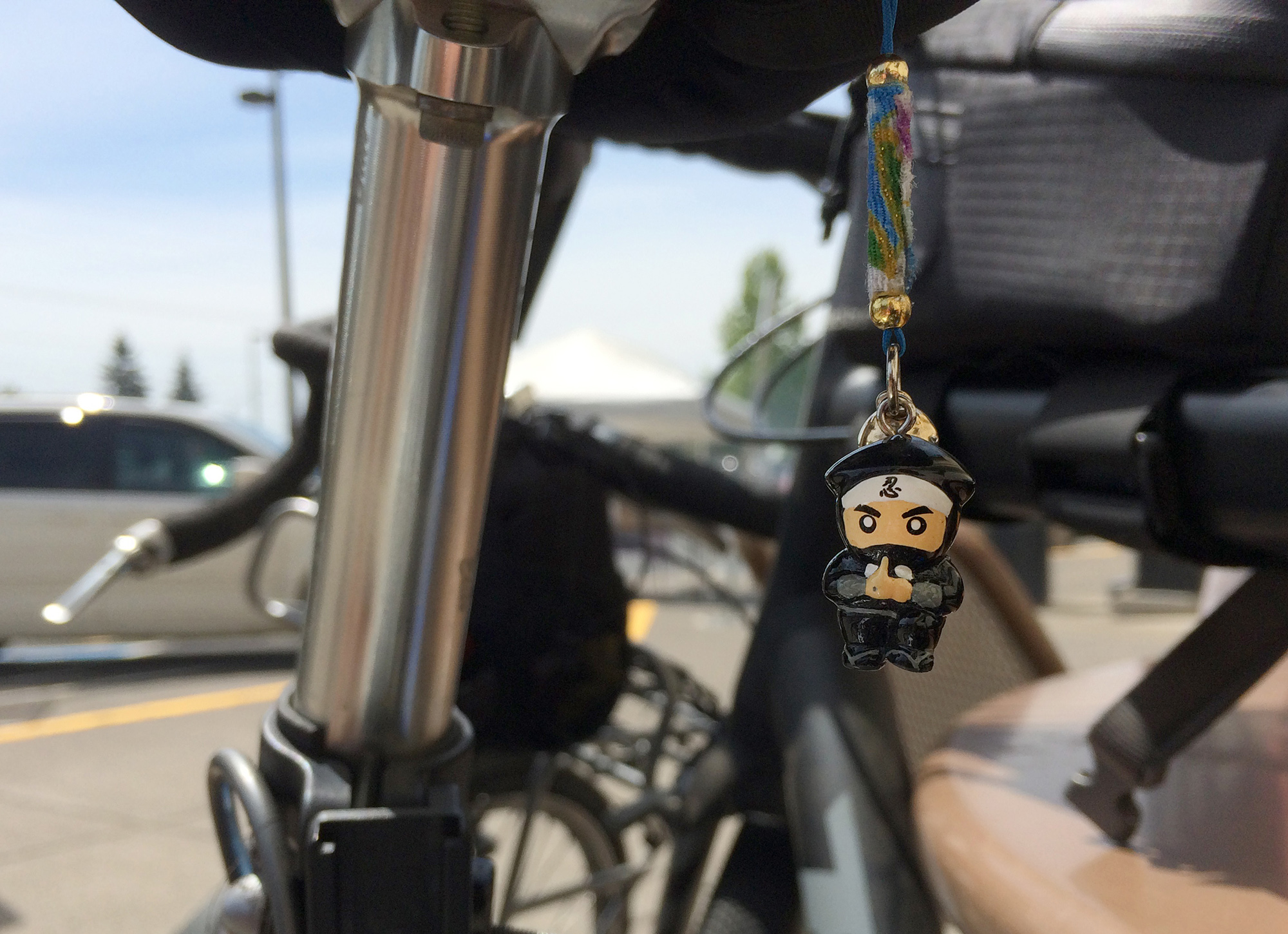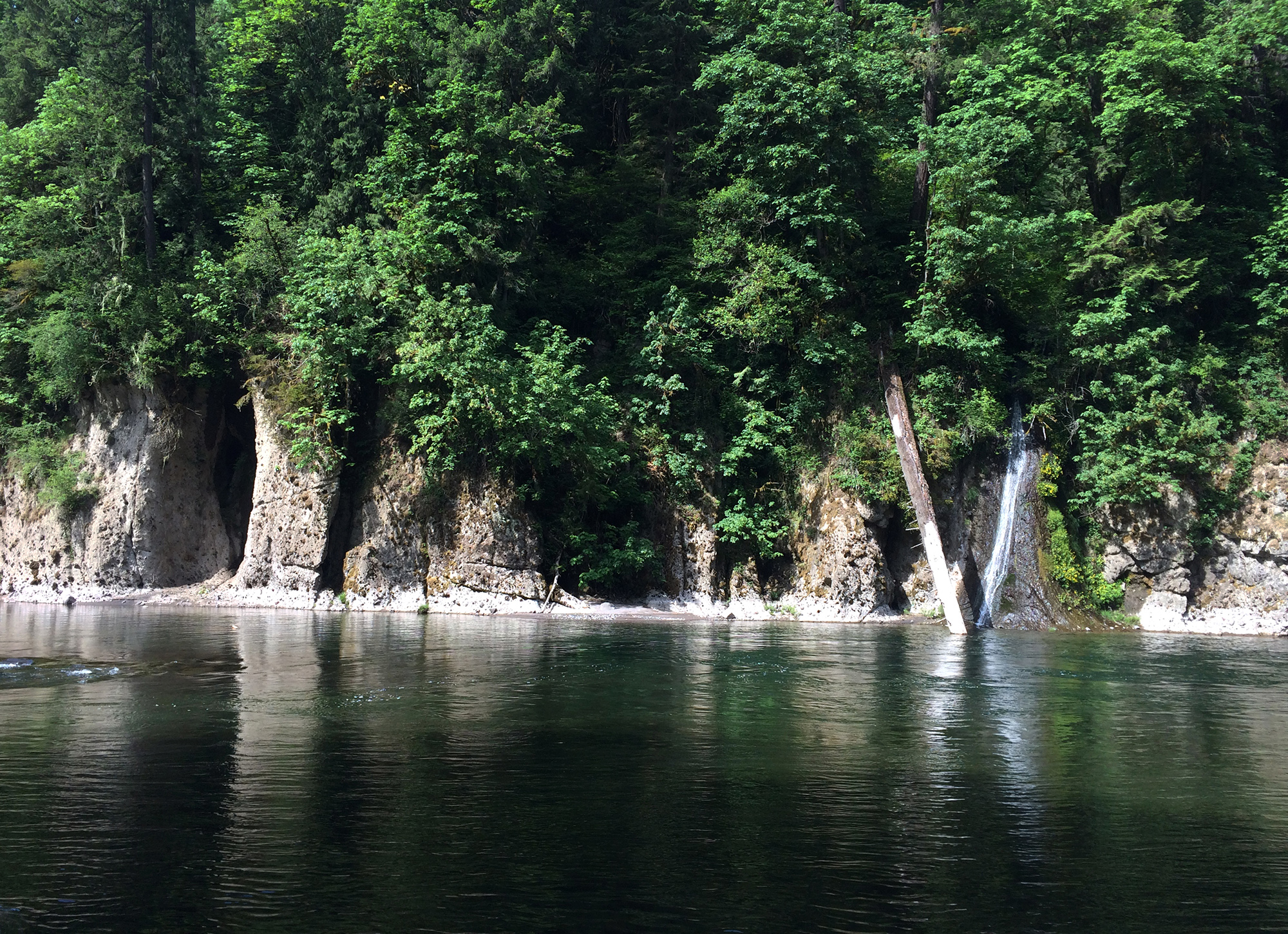 One of the greatest parts of the whole Swift Campout was the skill sharing that took place. Really, the entire point of the trip was to show that touring/camping by bicycle doesn't have to be a suffer fest, but that you can live and eat well (like, REALLY well) on the road.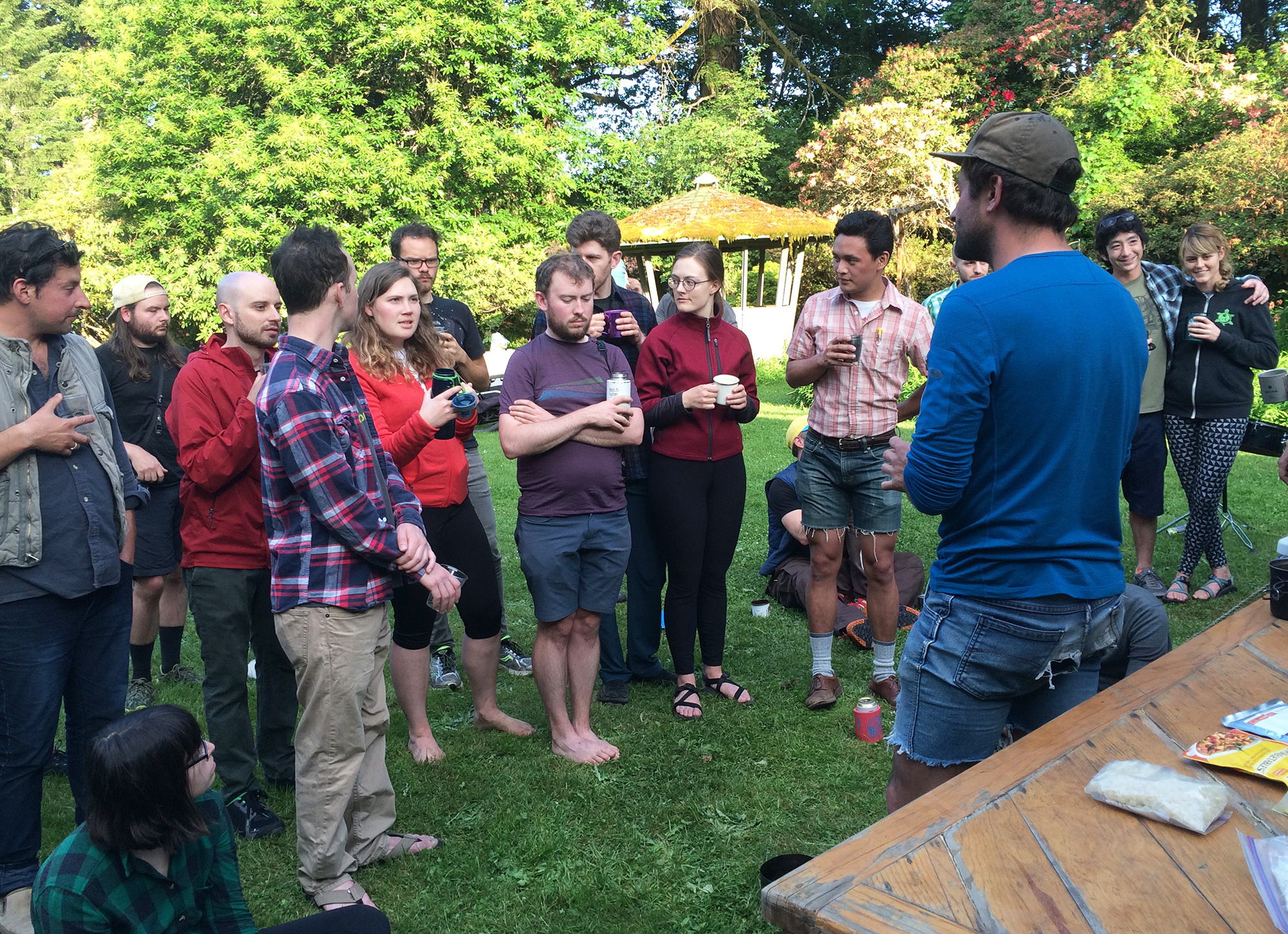 Gabe provided some wonderful insight about how he preps his meals when traveling light, and gave demo on a packable Pad Thai dish. He even brought along enough to share. Everyone got their own "Limberlost" takeout boxes (which he brought by bike!).
Erik Chapman, one of the fine folks behind the Sun Liquor provisions gave an engaging demo on crafting a camp cocktail. Want to make your demos particularly memorable? Just hand out Gin and Tonic beforehand. Or does that make the audience forget it happened in the first place? I don't know… It all gets a little hazy…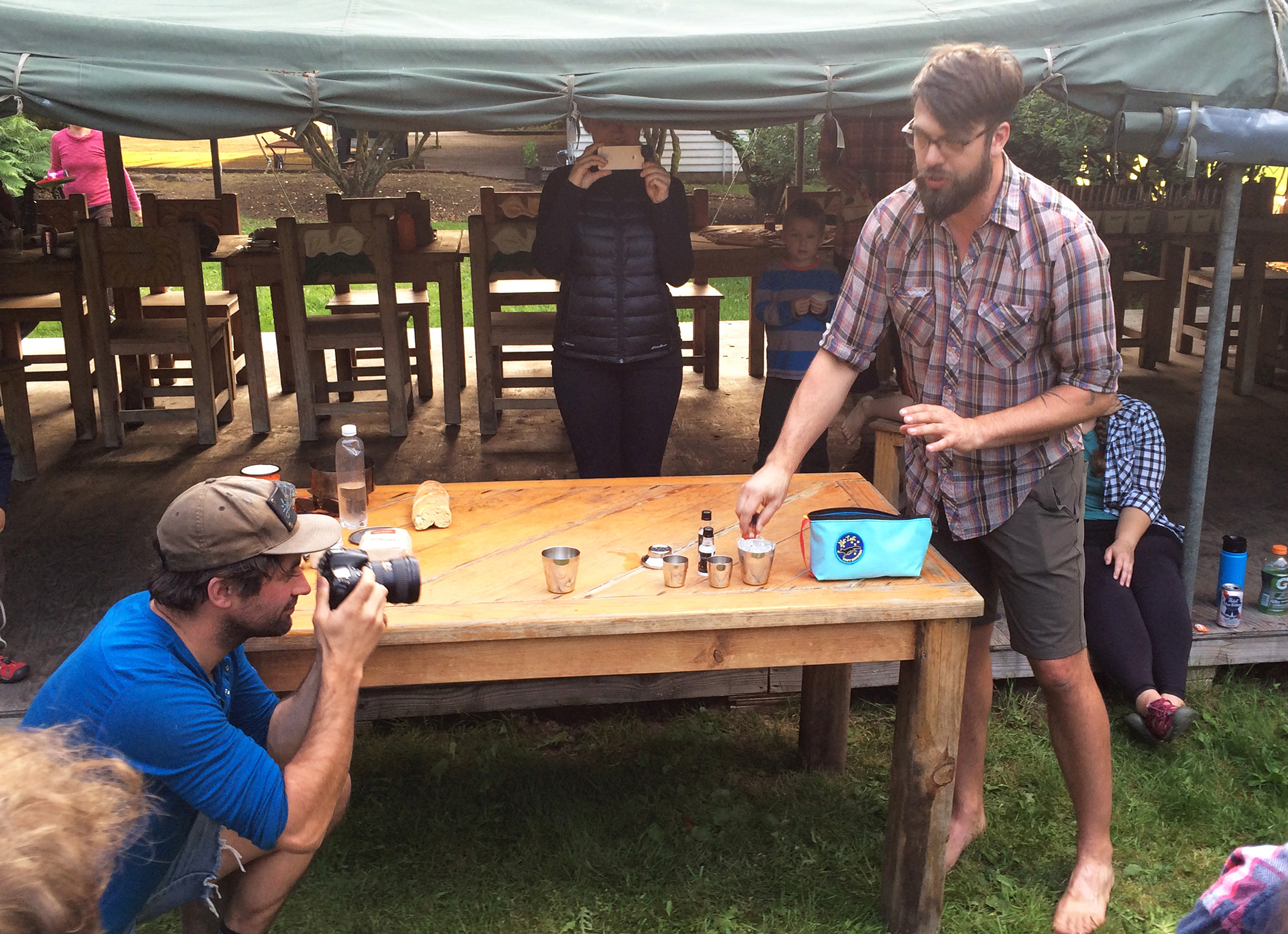 Erik also happens to be an accomplished bicycle tourer having logged thousands and thousands of miles over the years. I caught him indulging in some red wine and a Van Holten's Pickle. Next-level Pro Tip? Or serendipitous success? You decide!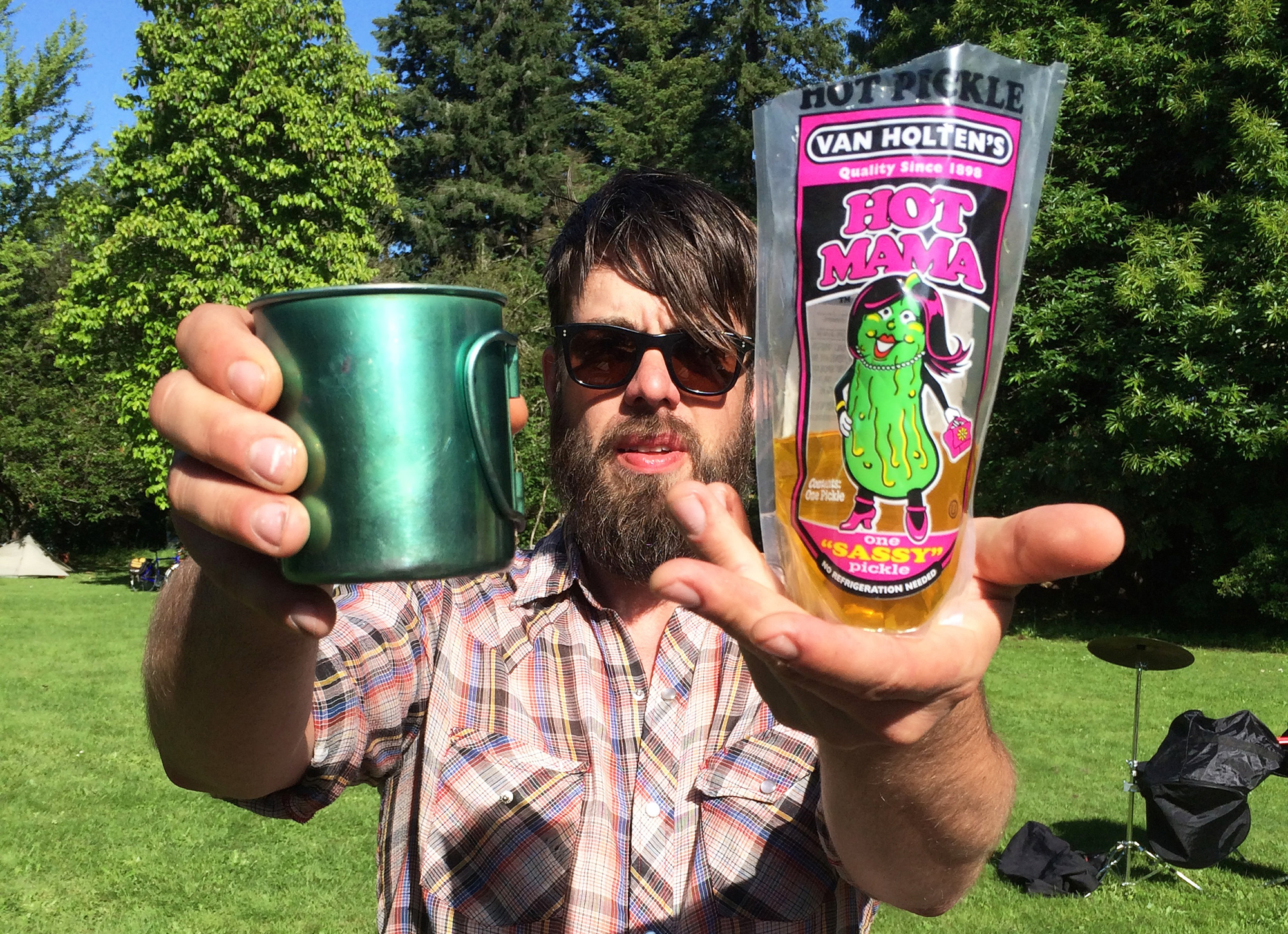 Finally a Moment of Zen: Steve's fireside coffee roasting. I've grown quite fond of packing a portable coffee brewing kit to enjoy some Stumptown Coffee on my moto trips, but this little ceramic coffee roaster is simply amazing. I don't profess to know the first thing about coffee roasting, and I don't think I'll soon try, but having our camp slowly fill with the fine smells of slowly roasting coffee beans is indeed a good way to live. It would be easy to say it's all way too excessive, but you can go camping with your instant coffee, and I'll be sipping freshly roasted beans with this guy.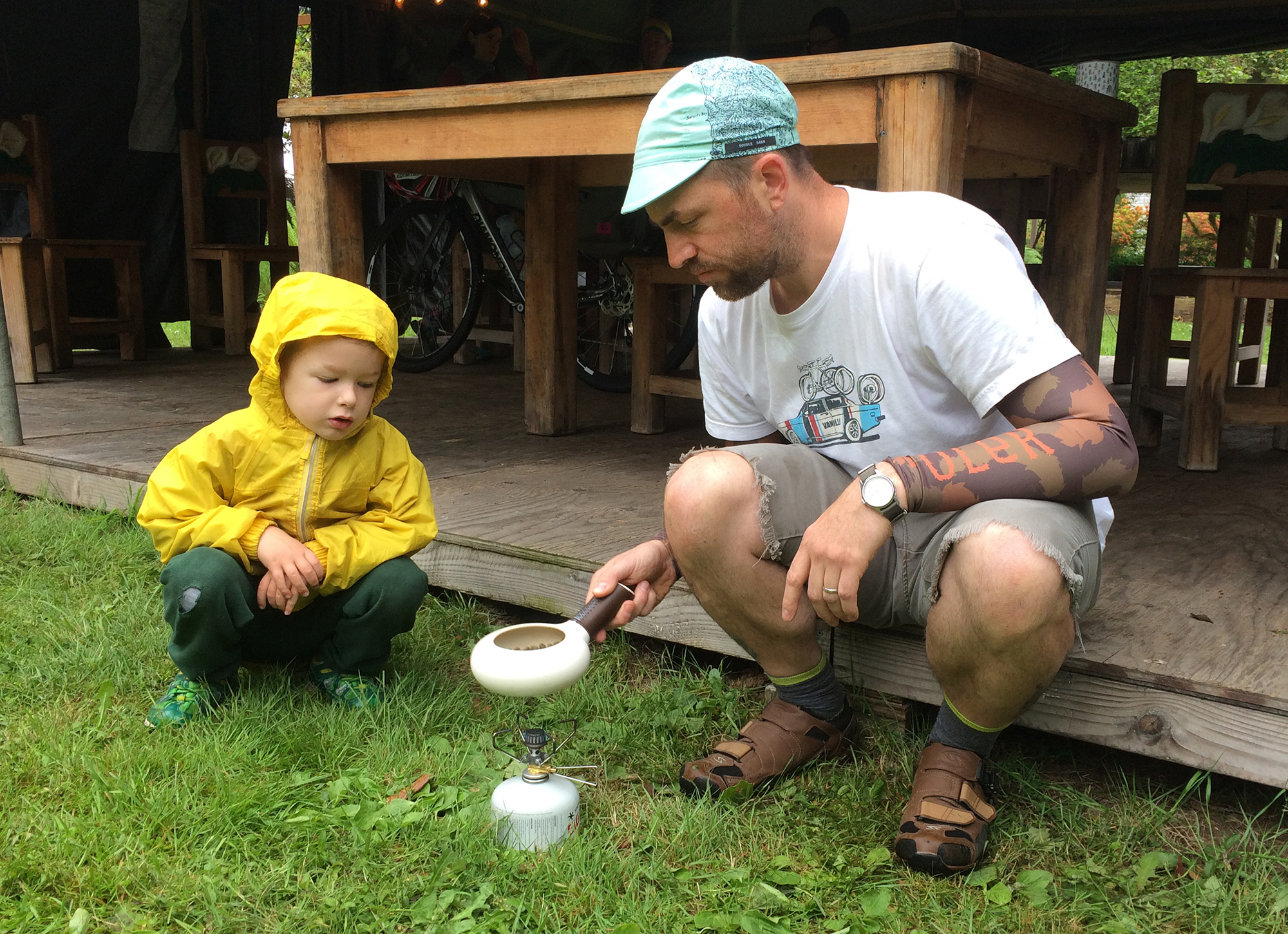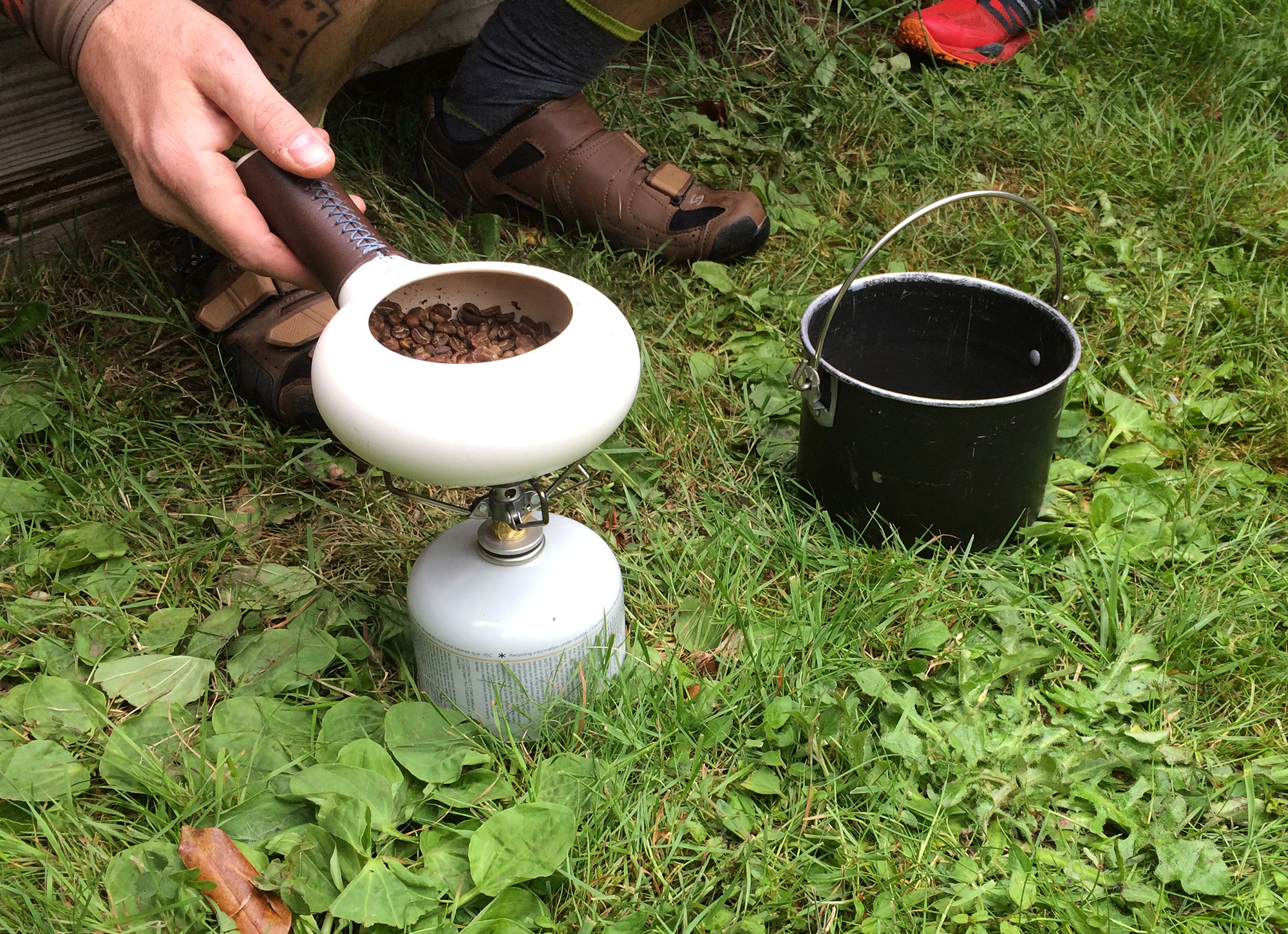 The rest of our weekend was filled with exchanging war stories from past trips, moments of quiet reflection, and grand plans of future tours. So many different people brought together under the same sky with a shared love of bicycles and the outdoors.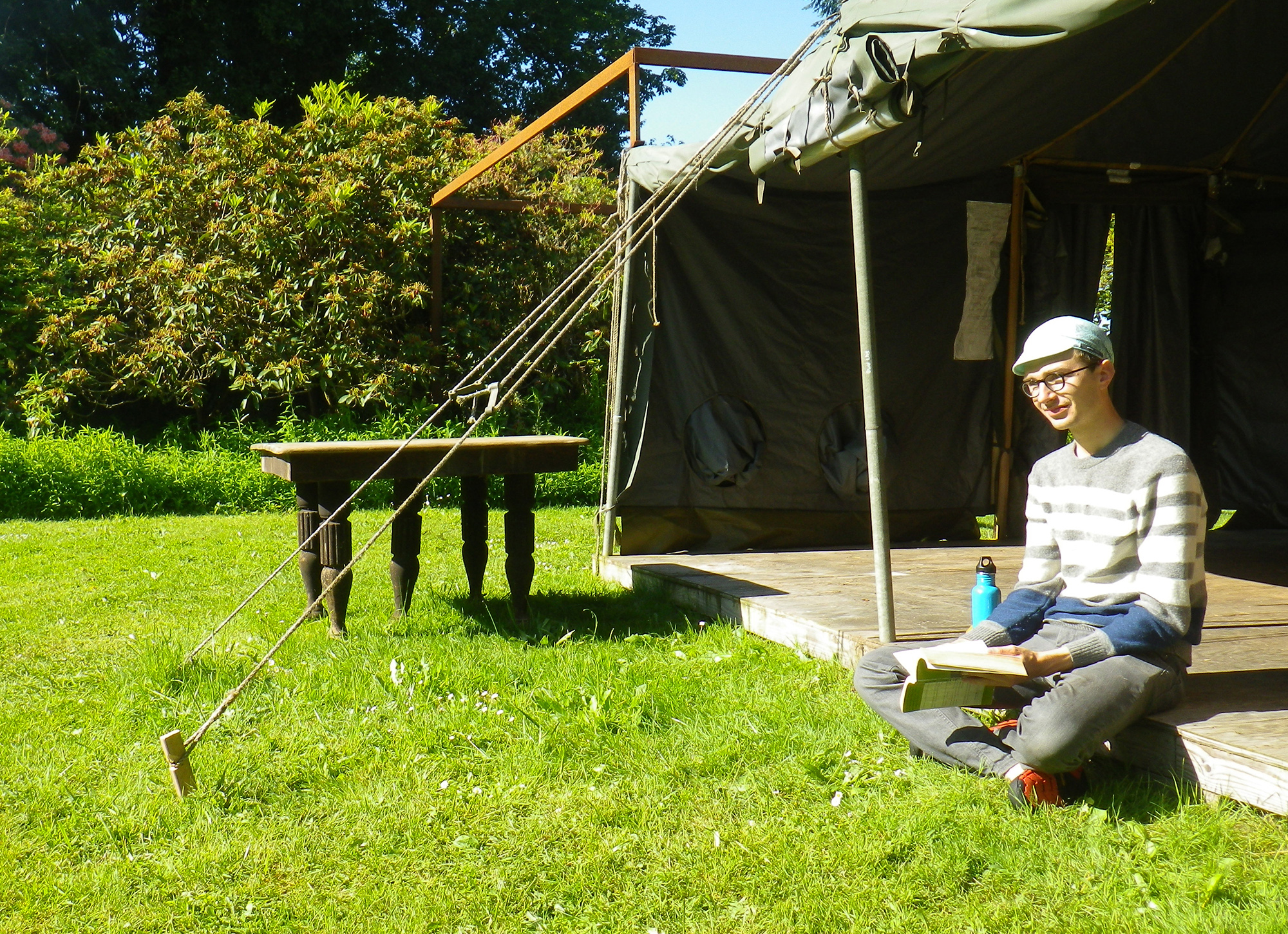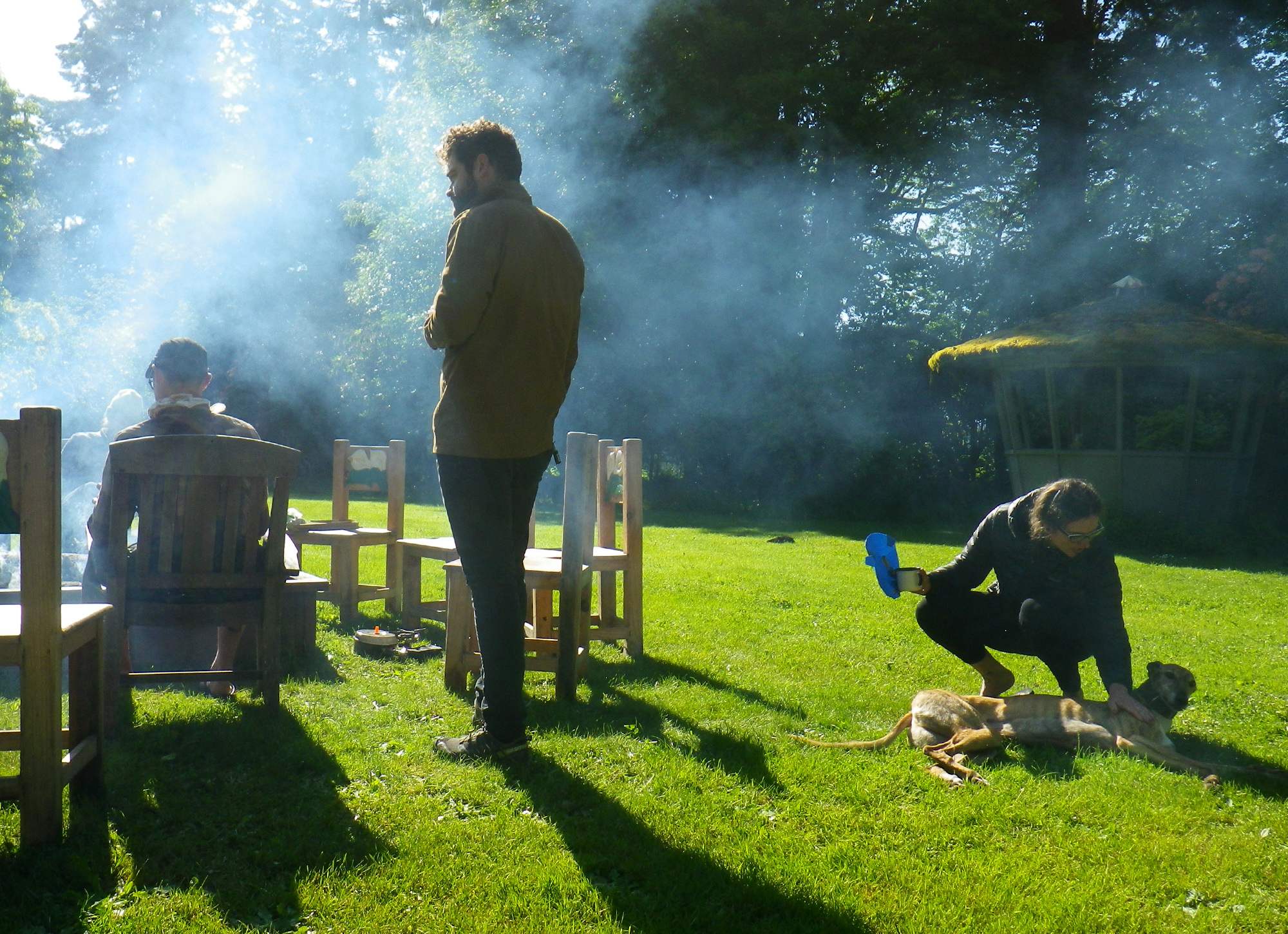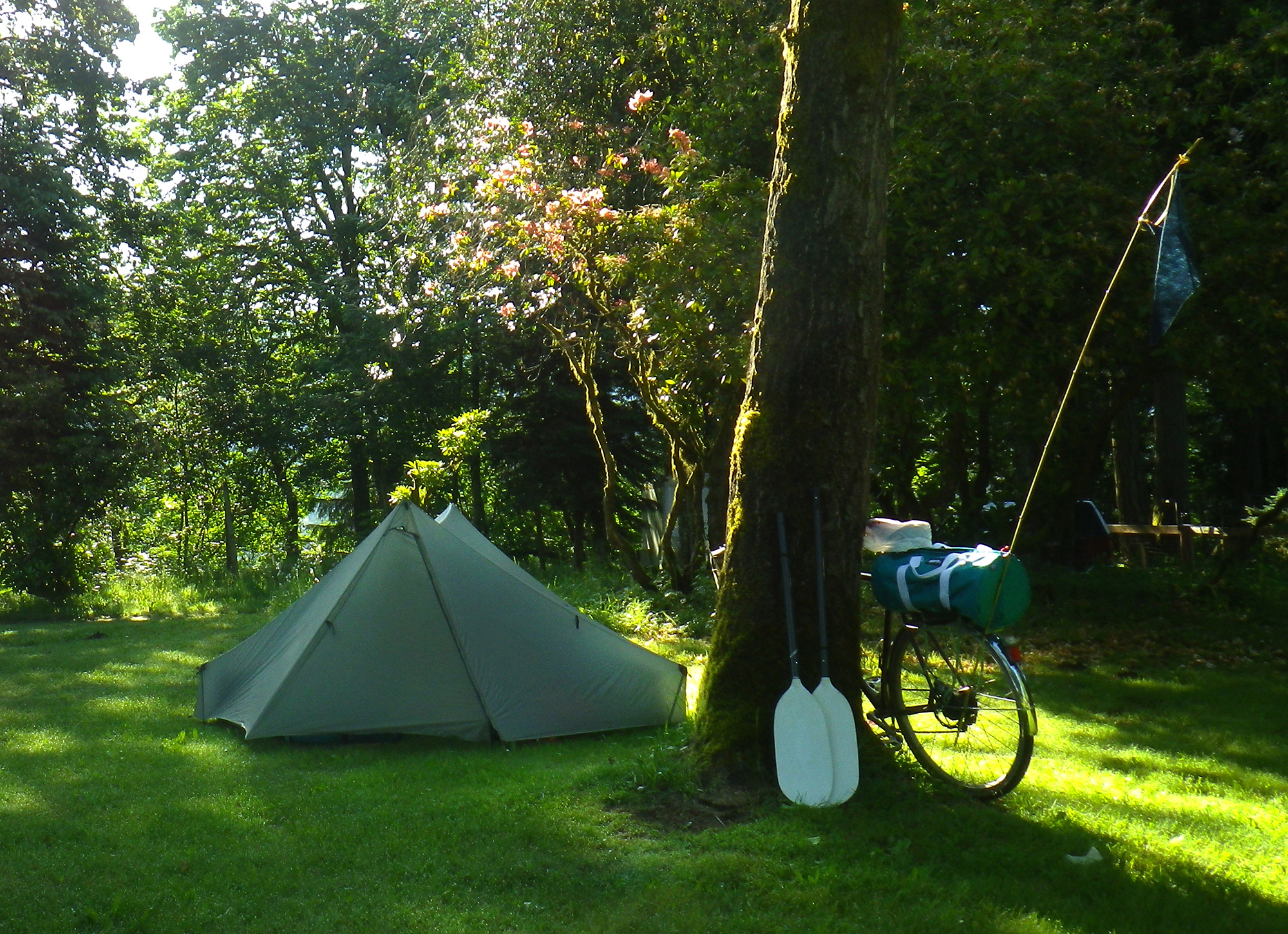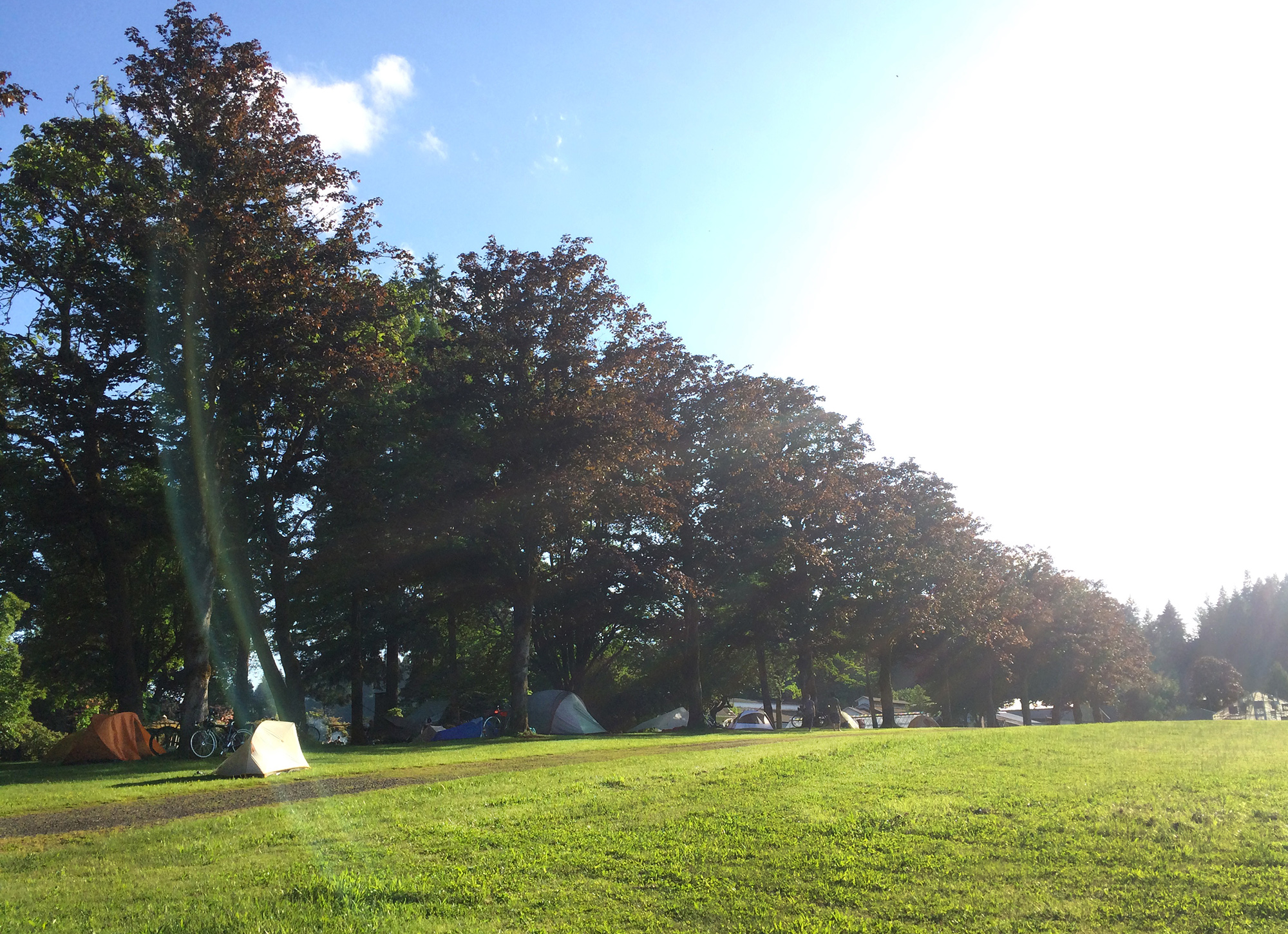 No doubt there was a lot of extravagance on this trip, but the whole idea was to show what's possible with a good plan and a bicycle. For a guy who doesn't like carrying a lot of stuff on his bike, I learned a lot and had an excellent time.
You don't need much: grab your bike (whatever it is), round up your friends (even if they're a bunch of jerks), and go on an adventure (if only a few miles from home)!
And when you're done stop in and tell us all about it. We love hearing about your grand cycling adventures, and can offer a bit of advice on where to start if it's your first time out.
Happy riding!