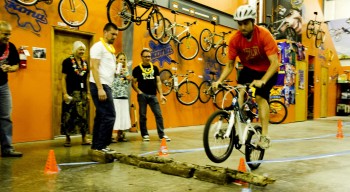 As many of you already know, we recently took some time off to check out the new 2012 bikes at Kona USA headquarters in Bellingham, WA.  Here is a brief recap of the events that transpired over the course of 3 days:
We arrived late in the evening on Sunday and immediately descended upon the convention center where every 2012 model of bike Kona has was on display to put our hands on.  The entire event was sponsored by Pabst Blue Ribbon Beer, and there was PLENTY to go around.  Despite this, we managed to restrain ourselves from debauchery.
After breakfast on Monday morning, we listened to a few presentations from Kona USA employees and watched a few videos about some of the new models.  I'm usually not one to stay awake during power point presentations of any kind, but true to Kona form, this was far from a snoozer.  Heckling the presenter was encouraged and Kona branded remote control fart machines went off in semi regular patterns.  Just my style.
That afternoon we set out to ride some of the local trails on the new fleet of mountain bikes.  I got to ride a sweet new Hei Hei Supreme 29er full suspension and I must say it rocked!  Maybe it was the fantastic trail system, the bike, or a combo of both, but it was probably the best mountain bike ride I've done all year.  More to come in the form of a review regarding the bike later…
After the ride, PBR's were cracked before we even set the bikes down and we were soon on our way to the Kona USA headquarters on what amounted to no less than a party bus.  The Kona warehouse is huge and contains a full size basketball court, half of which was used in the evening's festivities that included heads up full speed racing on 20" kids bikes.  Basically everyone signed up to race as there was a brand new 29er fork from Rock Shox going to the winner and the competition heated up quickly.  I of course won my heat cleanly, but was prepared to cheat as needed to win.  Our guy Butch laid down the fastest time of the night, and Sellwood put 3 guys in the final round of 8.  I always knew Team S&M breeds champions, and this night was no exception.  Nick Makanna took out the win in the championship round to bring the fork home to Sellwood. Here is the interview I had with the Nick after his big win:
Me:  Hey brah, you looked pretty radtastic out there, how did it feel?
Nick:  Yo brah, it felt amazing to shred on such a gnar-a-licious course.
Me:  Yeah brah, you looked right at home and your race face was legit.  Now then, you were riding the 20" Kona Makena kids bike and your last name is Makanna, was there any way you could lose?
Nick:  No way brah, it was my destiny and I just went out there and grabbed it by the b***s  and said "look here bike race I'm gonna OWN you".  And that's what I did.
Me:  For sure brah.  Congrats on bringing home the dub for Sellwood!
Nick:  Oh hell yeah brah!*
*actual interview may not have occurred…
The beer flowed like wine (but the women didn't flock like the salmon of Capistrano) the rest of the night.  We all had a great time and I believe we showed Kona and the rest of the dealers what Sellwood Cycle Repair is all about.
The next and last day we had at Kona was more of the same.  Eat, talk bikes, ride bikes, drink PBR, eat, play Frisbee, play croquet, etc.  We were basically just delaying our 5 hour drive home, but eventually threw in the towel and made the trek home.
Throughout the trip, I had met and had conversations with most of the people we work with at Kona and it is clear to me why our shop sells Kona bikes (besides the fact that they ride and look great).  Kona is as down to earth as they come.  The people behind the name have a keen sense for what works and what doesn't and stay true to their core as a brand.  They don't jumble up their bike lines with tons of models that overlap and confuse the customer (which includes dealers), but seem to have an awesome solution in the form of a bike for almost every type of rider.  I know firsthand that they actually seek out and listen to dealer feedback.  Sellwood Cycle Repair, more specifically Erik, gets calls from Kona on a semi-regular basis asking for opinions on spec, geometry, color, and whatever else they want to figure out for various bikes.  Although I'm somewhat green to the bike industry, I believe Kona is a very unique company for the reasons listed, among many others, and will continue to be that way as long as they keep doing what they are doing.  After getting a true feel for what Kona is all about, I can draw many parallels between them and Sellwood Cycles and am happy to sell and service their bikes.