We survived! We know it's not all that surprising; we tend to enjoy stupid feats of strength almost as much as we enjoy growlers of beer. It's still a bit fuzzy, but let's see if I can remember some of the highlights.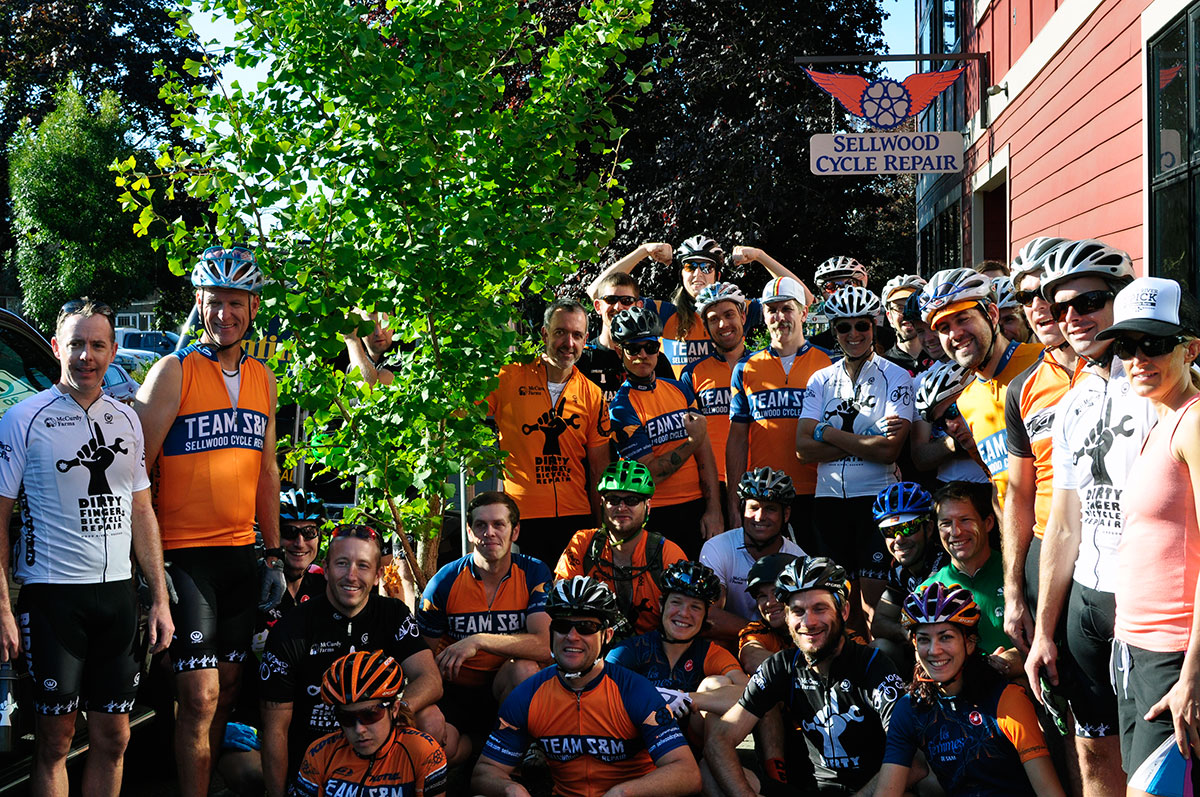 Why on earth?
We're two shops, bred from the same stock. We occupy similar places in the world, but happen to be just far enough apart that we don't see each other all that often. We're both Kona dealers, which means we're also stoked on riding. So, back in August, Erik (Sellwood) and Mitchell (Dirty Fingers) came up with the plan. They were sure the plan was an instant classic, and we all blindly followed them.
Saturday
We spent all day Saturday getting ready for our friends from Dirty Fingers to show up. We tapped the keg, cut the sleeves off our shirts, and put Judas Priest on the speakers; we were set to impress. Right on schedule they showed up en masse and started drinking all of the beer in sight. Some games of foosball were had, and high fives were exchanged. Some of us bailed out to get a good night of rest, while others stayed up all night in pursuit of good times. Success was imminent.
Sunday
Early the next morning, we gathered at the shop around pastries and coffee and donned our stretchy clothing. There was lots of chatter and laughs, and everyone was excited to get on the road. Sometime around 9am, Erik gathered the motley crew of 40(!!!) riders for a quick group photo. With visual proof in hand, we saddled up and hit the road for 108 miles of awesome times. With Andrew driving the sag wagon, we were sure to have a great day.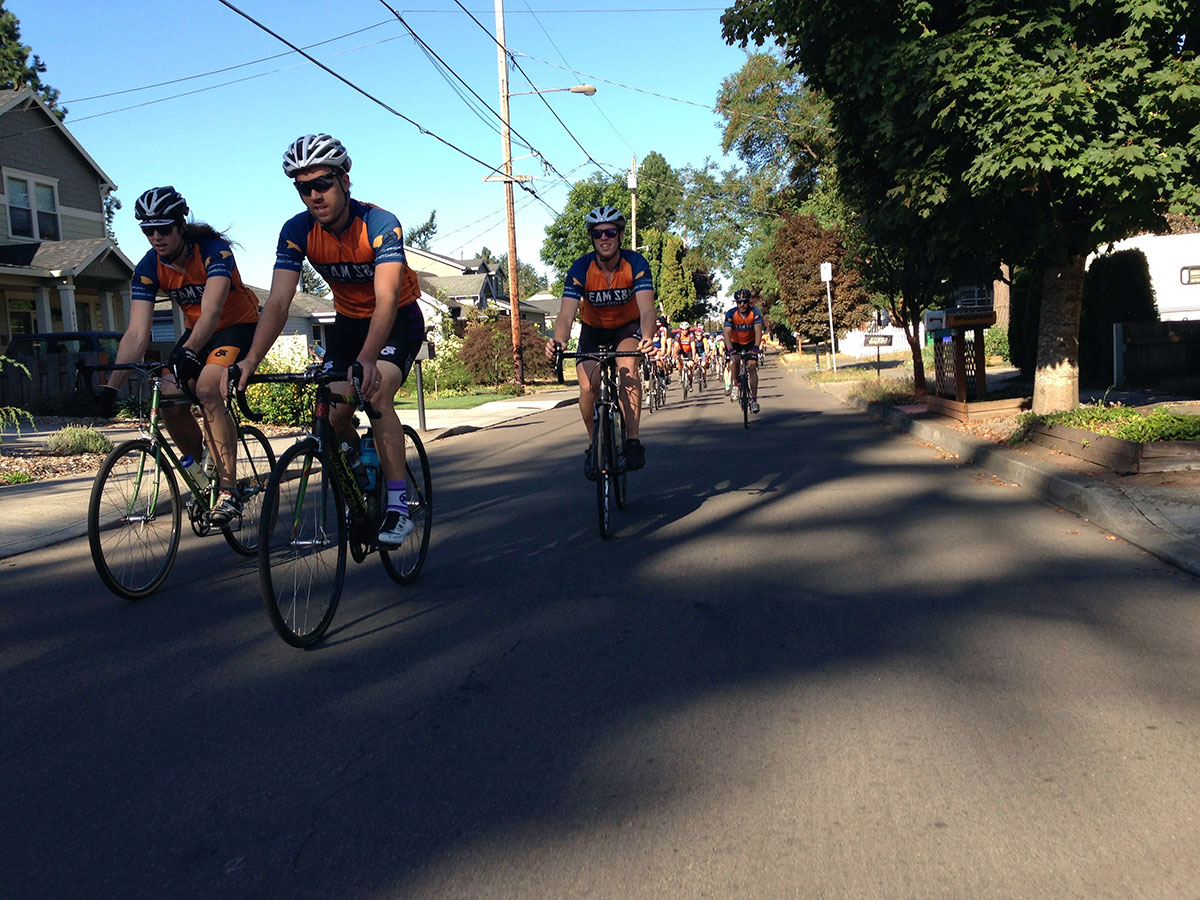 We rode the first 50 miles as a group. The pace was lively, and solid pacelines formed and evolved. As we rode through outer SE Portland and further up the valley, we were excited to share some of our favorite pavement with our friends from Dirty Fingers. They in turn would share some of their favorites with us on the second half of the ride.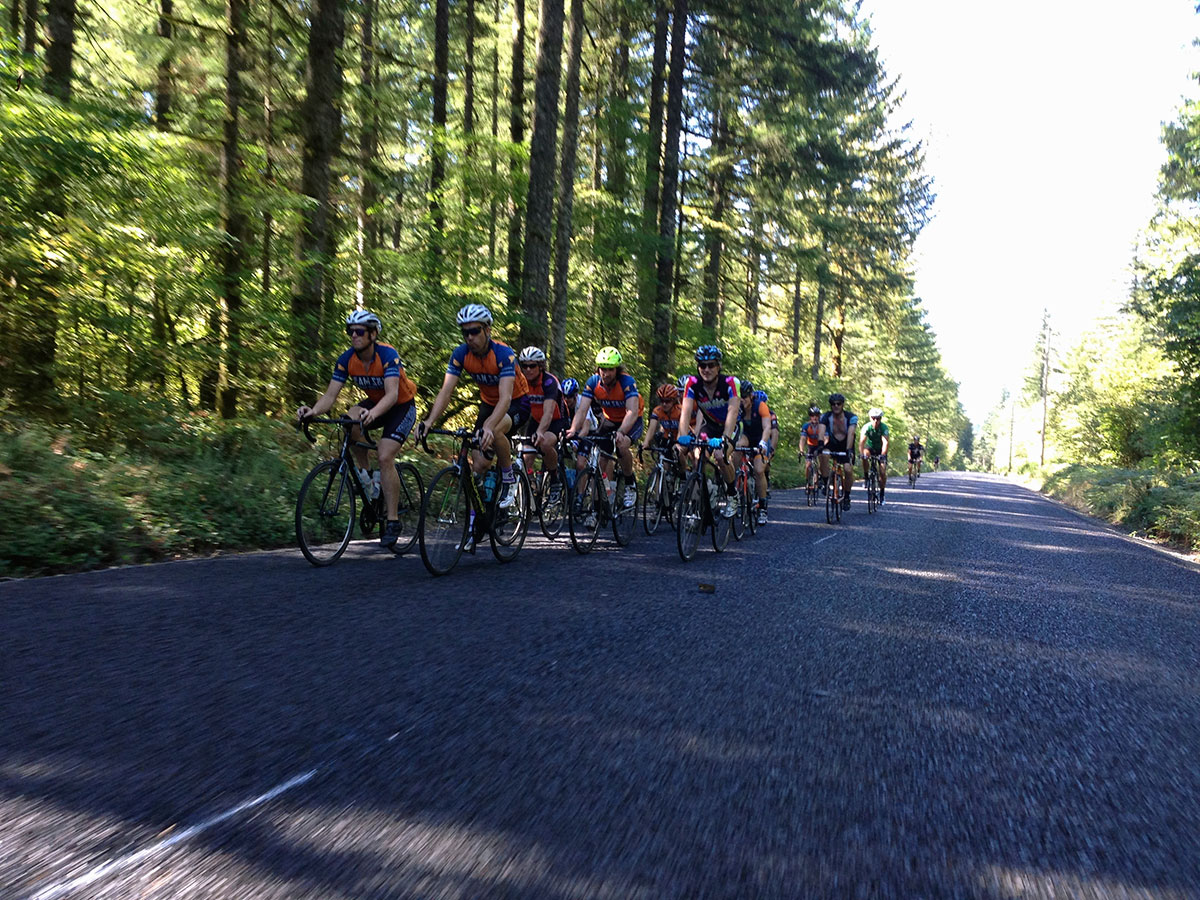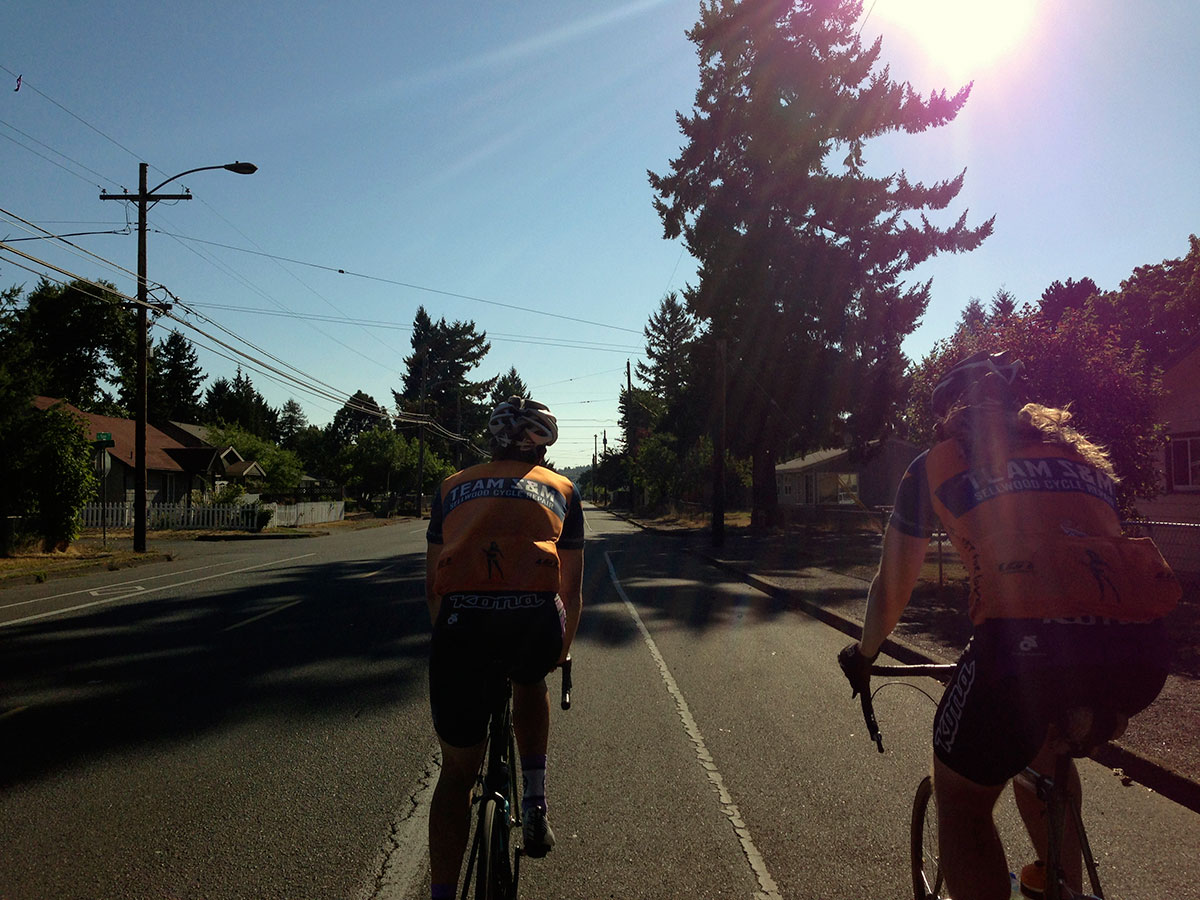 Soon enough we were in Zig Zag, where we overwhelmed the staff of the cafe by ordering 40 blackberry cobblers and a couple plates of enchiladas. Cold beer was consumed (and some saved for the climb) and again we were off. The lions share of the climbing was at hand and many riders were eager to get to it. Nick and I were some of the last to leave the cafe, and ended up spending the rest of the day by ourselves, casually climbing and descending through the forests surrounding Mt. Hood. The rest of the group was ahead of us, crushing each other to pieces in glorious fashion.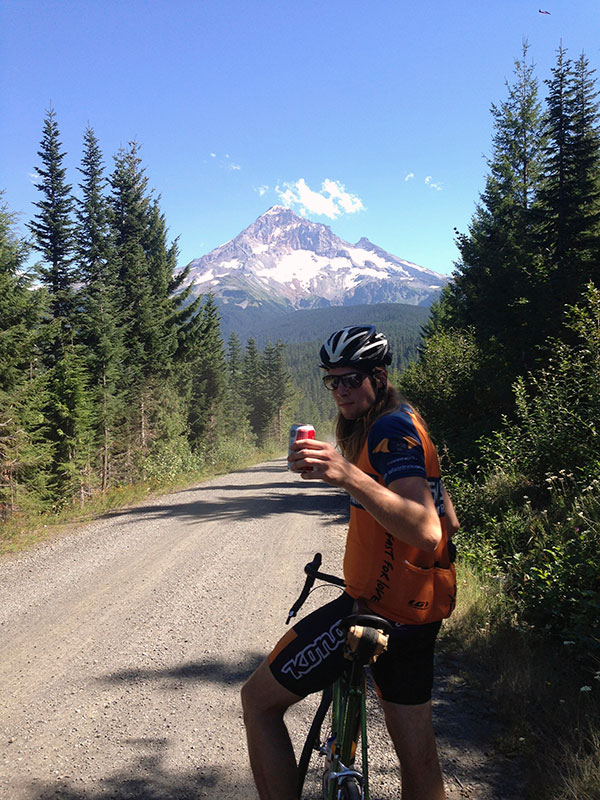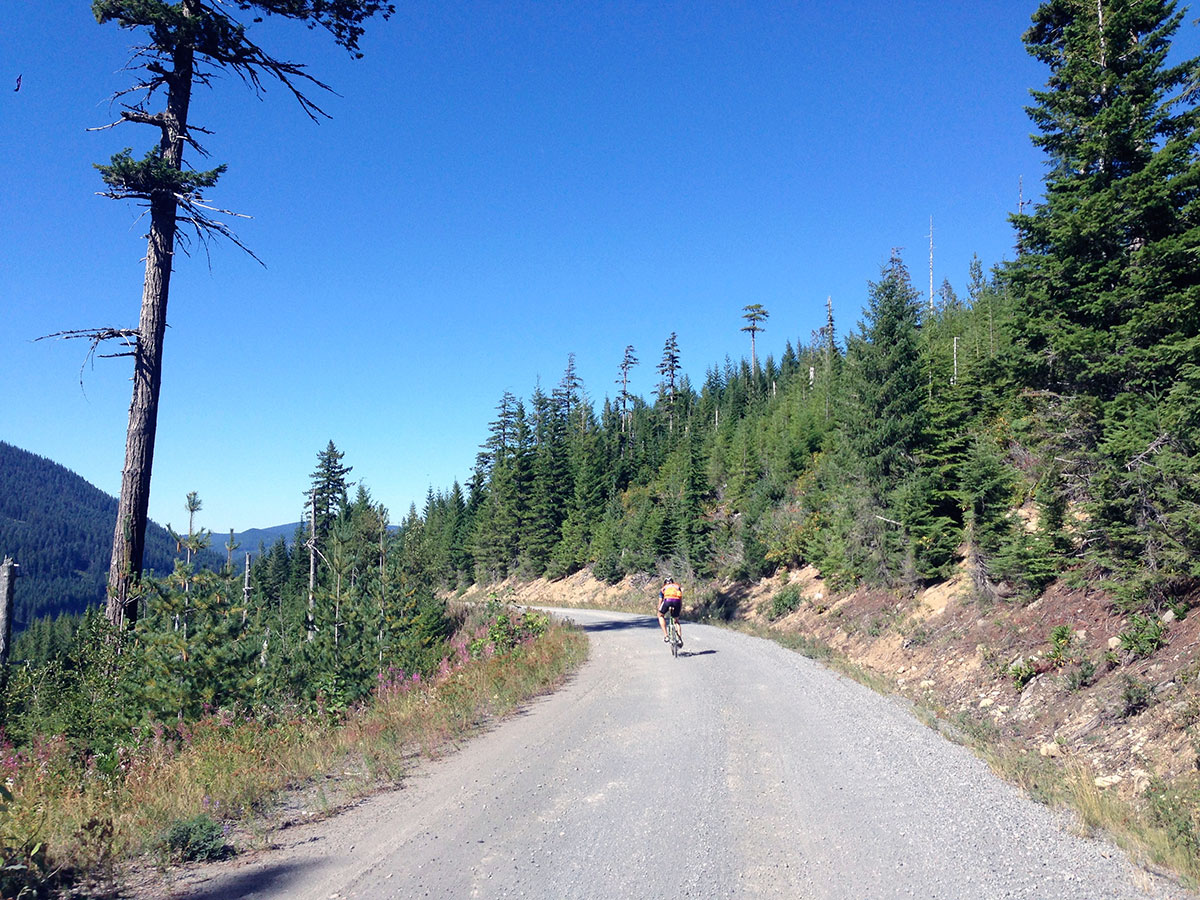 Two significant climbs marked the day, the second of which offered a refreshing margarita stand at the top. By the time we reached the stop, the mix was gone, but the tequila was still flowing. We thanked our new friends for their hospitality, and then shredded one of the best descents I've ever seen. NF-16 flows right into Parkdale where the brewery awaited us.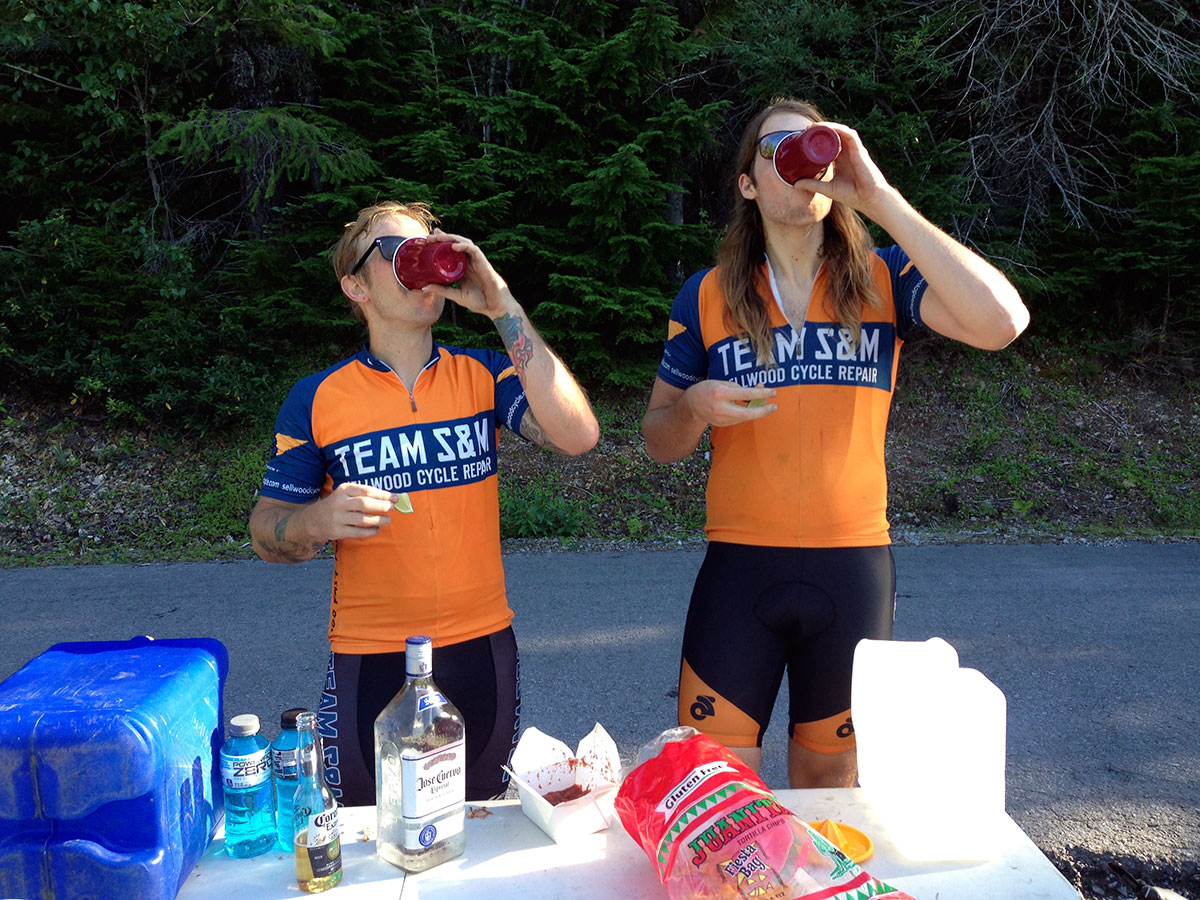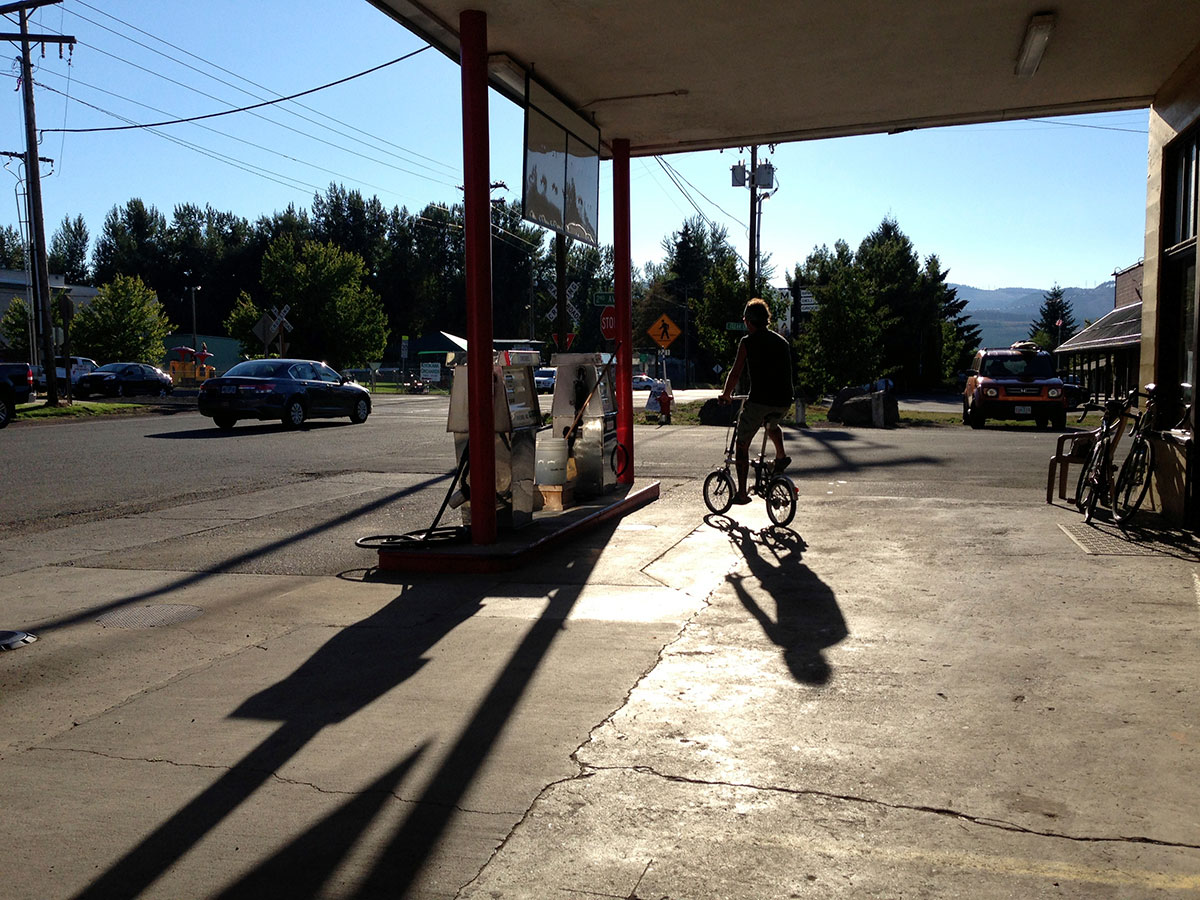 And then a mere 20 miles later, we rolled into Hood River. Dirty Fingers laid out the kegs and a pile of food fit for an army. We descended like wolves and ate everything in sight. The bonfire was small, but warm, and everyone had a great time.
What's next?
Without a doubt, Dirty Sellwood was an immediate success. Two great shops, forged from the same hard metal, separated by a forest, and bred to shred gave life to a new classic. Sometime next summer, we'll start leaking details for another jaunt into the woods. Stay tuned; we're just getting started!

Additional Highlights from the day
The clerk at the gas station in Parkdale jibbing the gas pumps on his folding bike listening to his ipod
Peach rings will get you through anything. Dylan Varekamp taught us well.
The cafe in Zig Zag has great enchiladas. And blackberry cobbler.
Jake Ryder rode in shorts and tshirt and killed it all day long.
Tequila, salt, and lime together are amazing.
Dirty Fingers is awesome. If you're in Hood River, swing by, have a pint, and give them high fives. You won't regret it!