The bike industry seems bent on convincing everyone they need a purpose-built bike for every occasion, but a lot of times the bike you already have will work perfectly! We recently went on the Swift Campout outside of Portland, Oregon and decked out a Kona Private Jake just for the trip. It was the bike we had, and it worked just dandy.
The Private Jake is NOT intended for for bags and gear and all that, and to be honest we DON'T care (we'll do what we want)! So if you're curious about how we made it happen here are some of the finer details of the build. Maybe you can take a few tips and convert your ride for the open road and do a little camping in the woods.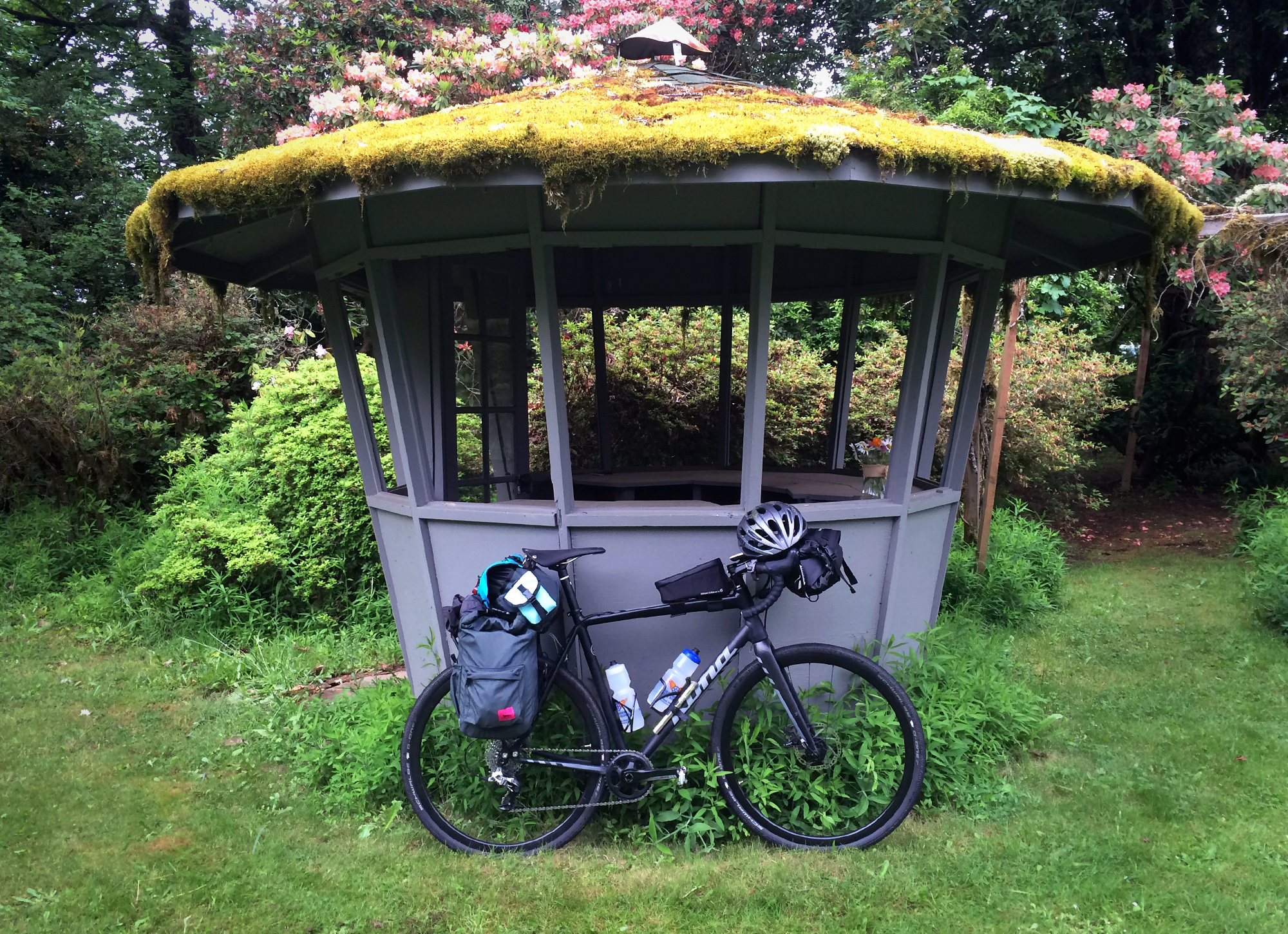 As a shop we're already really stoked on the Kona Private Jake. It's fast, fun, and an incredibly adaptable bike. It comes standard with clearance for larger tires, wider rims (which set up tubeless so easily it's ridiculous), sliding rear dropouts for adjusting your wheelbase or singlespeedification (shut up, it's a word now), disc brakes, and thru-axles front and rear. Some folks complain about this bike's lack of a front derailleur but we found the SRAM 1×11 speed setup turned out to be an excellent range when loaded down from the flats to the hill climbs. The overall geometry has a slightly lower BB height with a more upright riding position. It's intended to be a great CX race bike, but all that translates well to touring and "gravel grinding" (whatever that's supposed to be).
For our camping setup we took a virtually stock bike and worked with the existing features to carry gear. There are no dedicated rack mounts (hidden fender mounts, yes. Rack mounts, no) so we got creative. The sliding rear dropout uses four stainless M8 bolts. In a "not factory approved"  way we cut down a Blackburn EX 1 Disc rack and replaced two of the stainless bolts with slightly longer counterparts to handle the added width of the rack.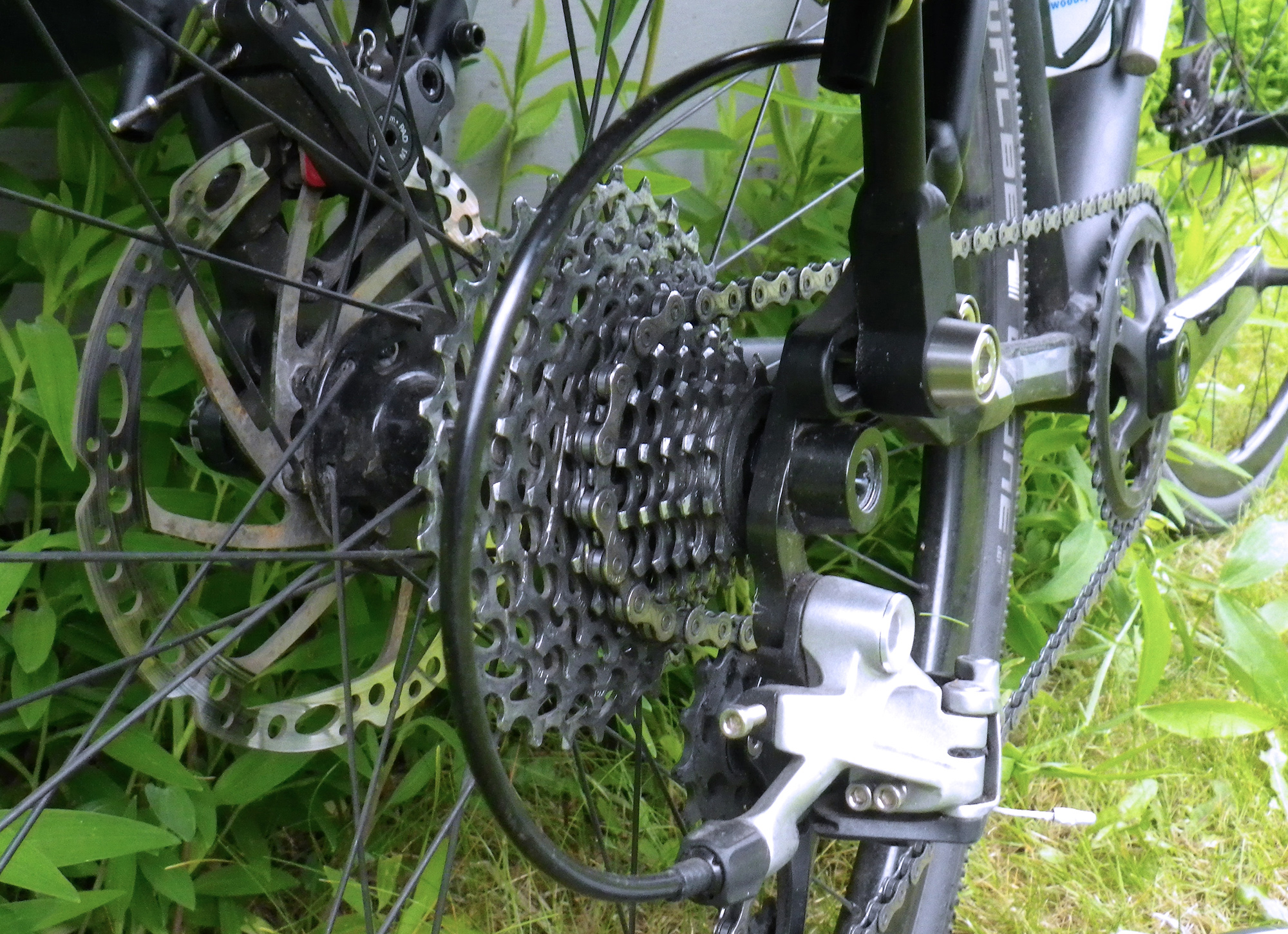 This isn't the first time we've made similar use of this Kona dropout system. See Exhibit A: Erik's Dad-Wagon.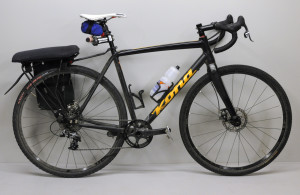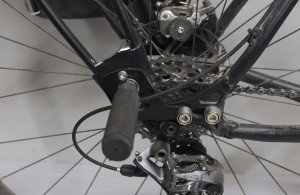 File it all under "it's probably fine" and let's move on…
We doubled up the support struts off the front of the rack and routed them to the fender mount. A great alternative would be to acquire a Problem Solvers seatpost collar with built-in rack mounts.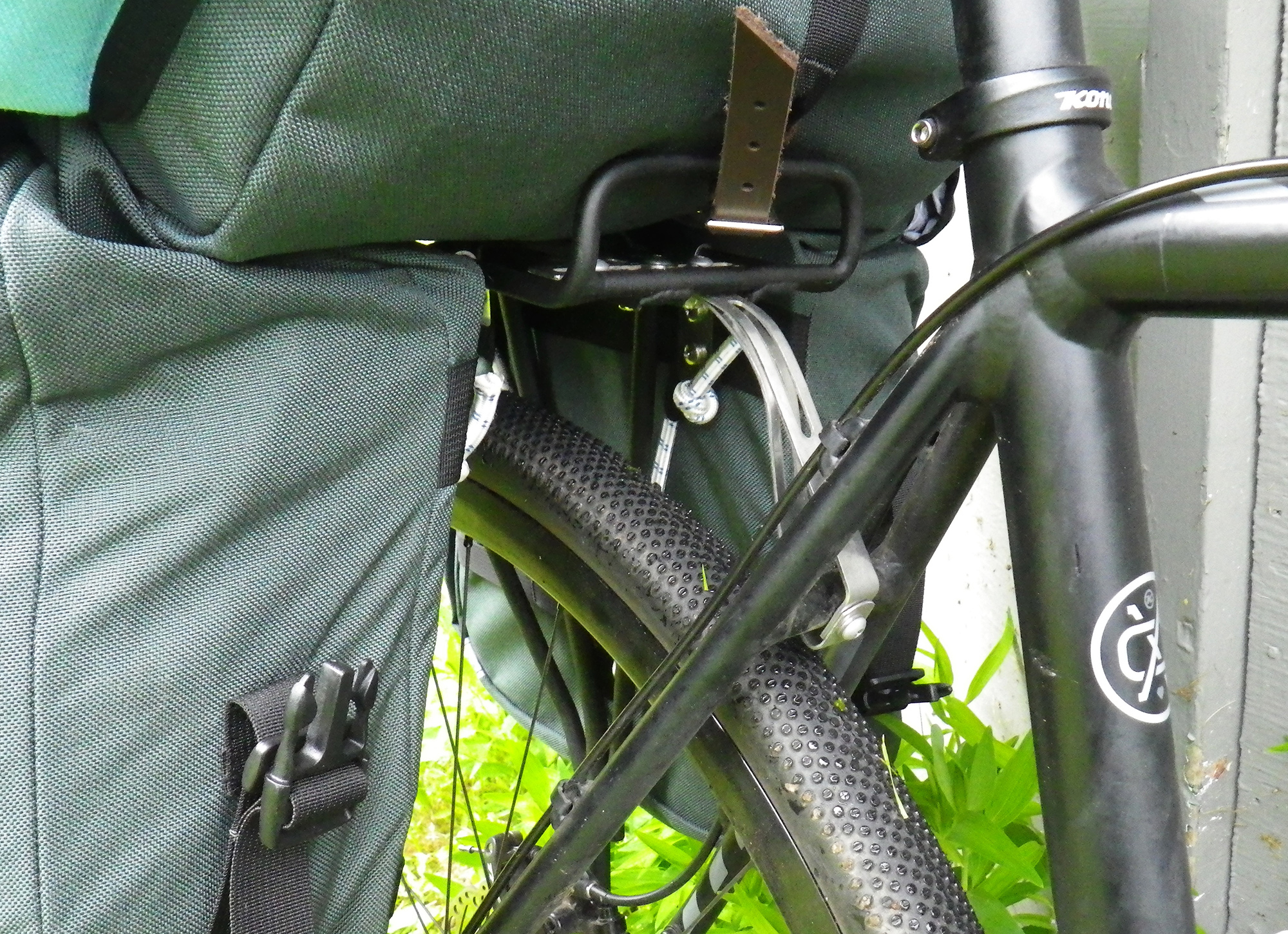 We tried out an interesting combination of bags for the trip. A little Blackburn and a little Swift Industries.
Many of you will recognize this Blackburn Outpost Roll from our Bikepacking Unit build. It worked fairly well in this application though due to some random reasons we swapped out their standard bag with a Sealine dry bag. Blackburn's design was just fine, this just goes to show how adaptable their handlebar roll can be. Shifting and braking were all largely unaffected by the bag so long as it's contents weren't "overstuffed".

We also tossed the Blackburn Outpost Top Tube bag on the bike. Super handy for phone/camera-carrying, and best of all has a Carrot Pouch built right into the top! Seriously. Absolutely brilliant on their part. We know everyone has been on tour and struggled with proper carrot placement. Fear not, Blackburn has your solution:


We were also generously lent a set of Swift Industries Roll-Top Panniers and a Zeitgeist Saddle Bag. We've definitely heard a lot about Swift in recent years as they've been producing some fun and practical on-bike storage solutions all hand made in Seattle Washington. Good looking, smart, design handbuilt in the Northwest is a win-win in our book. (Also, they've got themselves a pretty inspiring Instagram worth checking out.)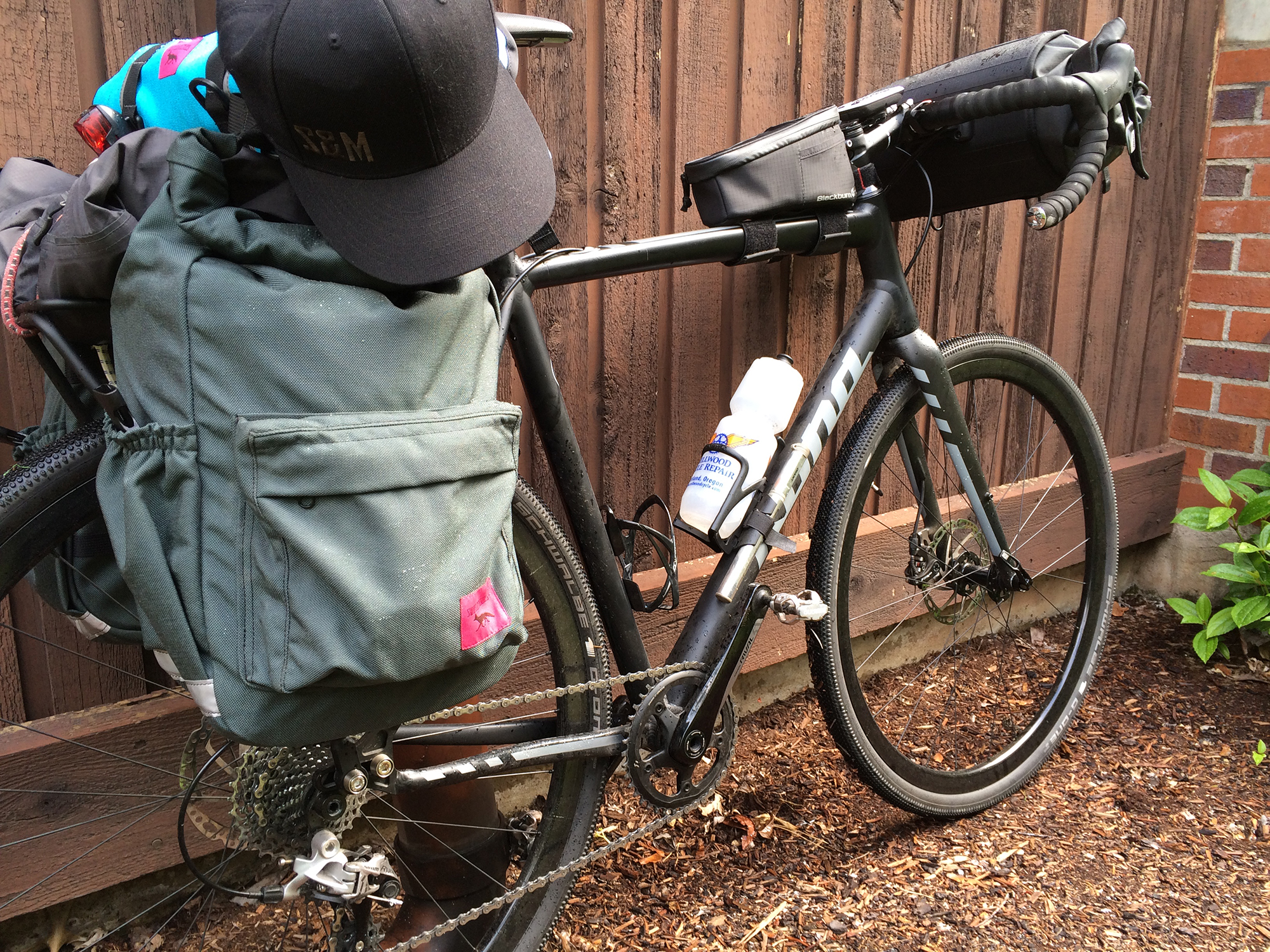 The Panniers worked great and helped keep the weight low and more secure on the bike than the now in fashion "stinger" style bags. And the Zeitgeist made for great quick-access storage. We did end up securing the bottom of the bag to the rack (it's intended to attach to the seatpost) to keep it more vertical and off the back out our legs when pedaling. It has an inner cinch to keep everything secure under it's top flap, but we had some waterproofing concerns so we used a second dry bag inside the Zeitgeist. Probably not necessary, but neither is sleeping in a wet sleeping bag.
Lastly we messed around with tire choice for this trip and swapped out the stock Cross Boss tires for a set of the Schwalbe G-Ones in 38c. On this particular trip we ran them with tubes. First impressions were how incredibly underwhelming they rode. Fine, but not special. Counter to what most folks would think from something that has a "G" in the name (and here we were, ready to use ALL the hip hashtags). They have since been set up tubeless and that has dramatically improved the ride quality in a straight line, but at the loss of cornering confidence. Make of all of that what you will… When they're burnt out this particular bike will probably see the Cross Bosses put back on. But for now, they'll do.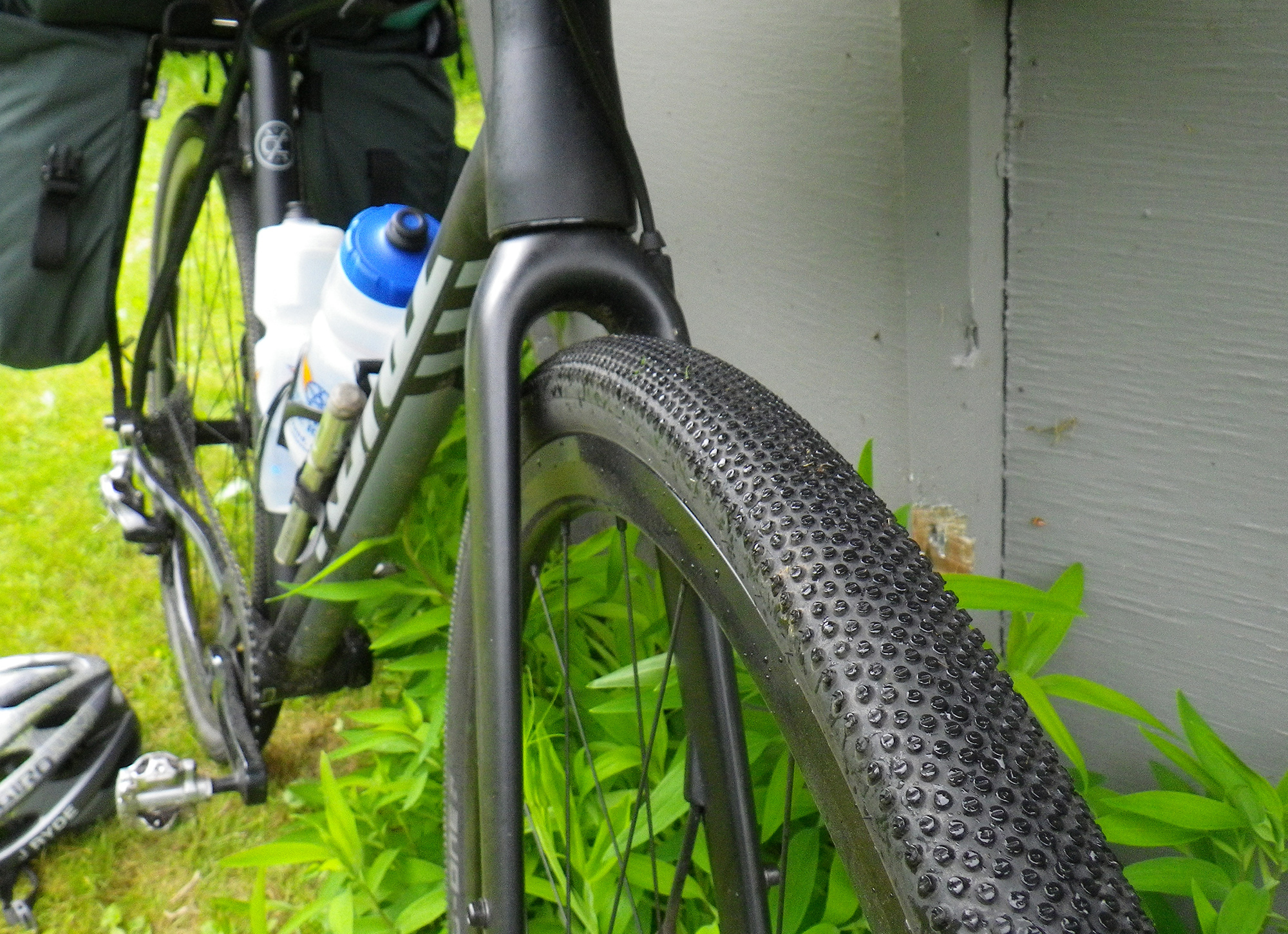 So take the bike you love to ride, make some tweaks, toss some bags on it and get out there with your friends. If you're curious about ways to make your ride do more for you stop into the shop and we'll be happy to discuss some options. And if you just so happen to find yourself really wanting to buy a Private Jake we wont stop you.