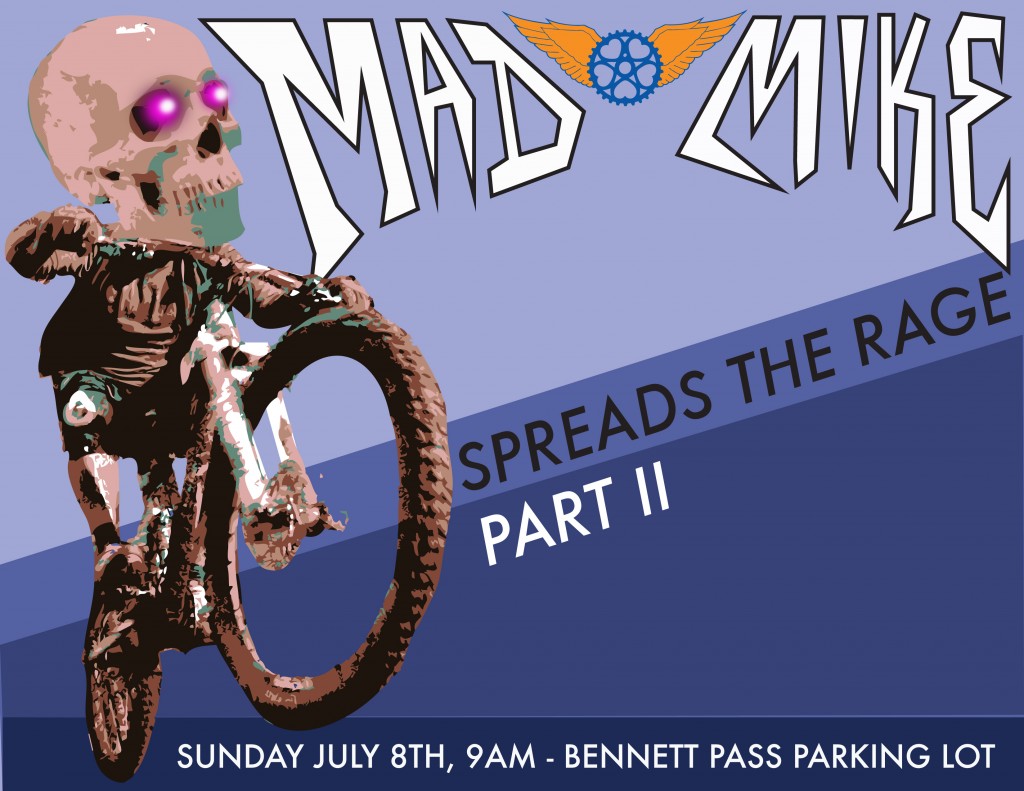 Our own Mad Mike Lilienthal is organizing another awesome ride… Here's what he has to say:
Sunday, July 8 @ Bennett Pass parking area, OR-35
Stage at 9am
Preliminary suggestion: More details to follow.
Group roll-out up the forest roads to the first choice of adventure :
|Choice A is to jump on the Gunsight Ridge trail (685) and make the 10ish mile haul to the High Prairie junction below Lookout Mountain.
|Choice B is to continue on the forest road and hit the loop off of Bonney Meadows, trails 472 and 473. A hard, but rewarding 10ish miles. Following this you will continue back to the intersection of FR 3550 and proceed with Gunsight Ridge.
Once at the High Prairie veer east and descend FR 4220 and drop in to trail 450. 450 connects down to the Fifteenmile Creek Campground. This is the second big option:
|Choice C – Drink beers eat meat
|Choice D – Drop in to Percy Creek Trail (TR 457) and climb back 456. This is a very demanding 10ish miles and could easily take over 2(3?) hours after the earlier riding. Following this you will continue with option C. then more option c and some more and some more
There are additional ways to prove oneself, but this is a good day in itself.
Sellwood Cycle Repair will provide some mild support for this ride. We'll likely claim a camp spot on the 15 mile side of things and have beverages and some food and all that. Other than that, this is a serious mountain bike ride and you'll be expected to be self-contained for the trails (even though a secret aid station may be thrown together). In other words, this aint no 'forest park' mountain bike ride; you can actually be quite stranded if bad luck erupts all over.
Since this is a nat'l forest, you can camp anywhere for free except in designated campgrounds, e.g. Bonney meadows, 15 mile. Coordinating cars on both ends ought to be planned in advance, so rsvp with michael at sellw00dcycle dot com.
Update:
See this video for a google earth flyover to get an idea of the layout of the area.
The roads are symbolized with red paths and trails are green.
No changes to the suggested route at this time.  The snow still exists on Lookout Mountain at this time, and it will probably be there in a week.  Likely, snow will not effect the route but I haven't visited this point yet this year.  It will be fine, though.
What you need to do:
Make sure your bike and body and tools work.  You are on your own and do not expect the group to aid you in any way.  There may be beer and sausages provided by Team S&M and Sellwood Cycle Repair at the halfway point.  Get a map (We endorse & sell Adventure Maps for $12 and they are worth every penny).
Check the route and know your limits.  This is an unsupported ride, yet there are 2 loops to lengthen the day.  The shortest route is out the road from Bennett pass and over Gunsight Ridge ending at the 15 mile creek campground.  It's probably like 15 miles.  The 2 loops are about 10 miles each and they are serious business.
As a point to point ride, y'all need to coordinate your own transport [15 mile creek end point and Bennett pass start point].  Contact the shop if you're unable to do so.
Bring your own post ride food and drink and don't forget lots of water.  There are no services within 20+ miles.