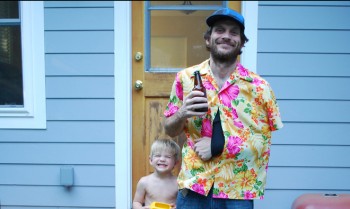 It's an image of me fresh from the 2nd Annual Kona Luau. Yup, we were all in Bellingham, WA at Kona USA to participate in Kona's in-house product launch. All I got from it was this broken shoulder, broken ribs, and punctured lung. (The Hawaiian shirt was from Matt.) I was an outpatient Tuesday evening at the friendly local emergency room. I talked them into letting me go home early. At least I'm still tough and stoopid.
We really dropped the ball by not "blogging" (do I have that right?) about the trip and all the cool stuff we saw and did and did to others. But you can see we were busy. I–of course–spent most of my pre-hospital free-time updating my MySpace page rather than working. You know me! (Actually, I don't have MySpace…not yet, anyway. JT might've convinced me to finally take the plunge.)
Seriously though, look here for cool info. about some of the new Kona models we like. I'll have some posts on the new Roundabout, MinUte, and Tanuki Supreme as well as notes on an upcoming titanium hardtail 2-9er frame and certain parts specs.
Thanks for reading…and for laughing at me. –Erik