First a little history and overview
The Kona Honky Tonk is one of our favorite bikes, and for many reasons. One of which is that it's a direct result of Erik Tonkin (Shop owner for those uninitiated) wanting a Paddy Wagon with gears. The result was an affordable and durable steel road bike for riding, commuting, whatever. Kona offered a frame-only version the first year, and after immediate success, released a complete bike the following year. Each iteration has built upon the last, with different color schemes and component choices, while keeping the price affordable. Stock 2013 units retail for $975, but we also offer framesets for $450 which we can build up with the parts of your choice.
My Personal Tonk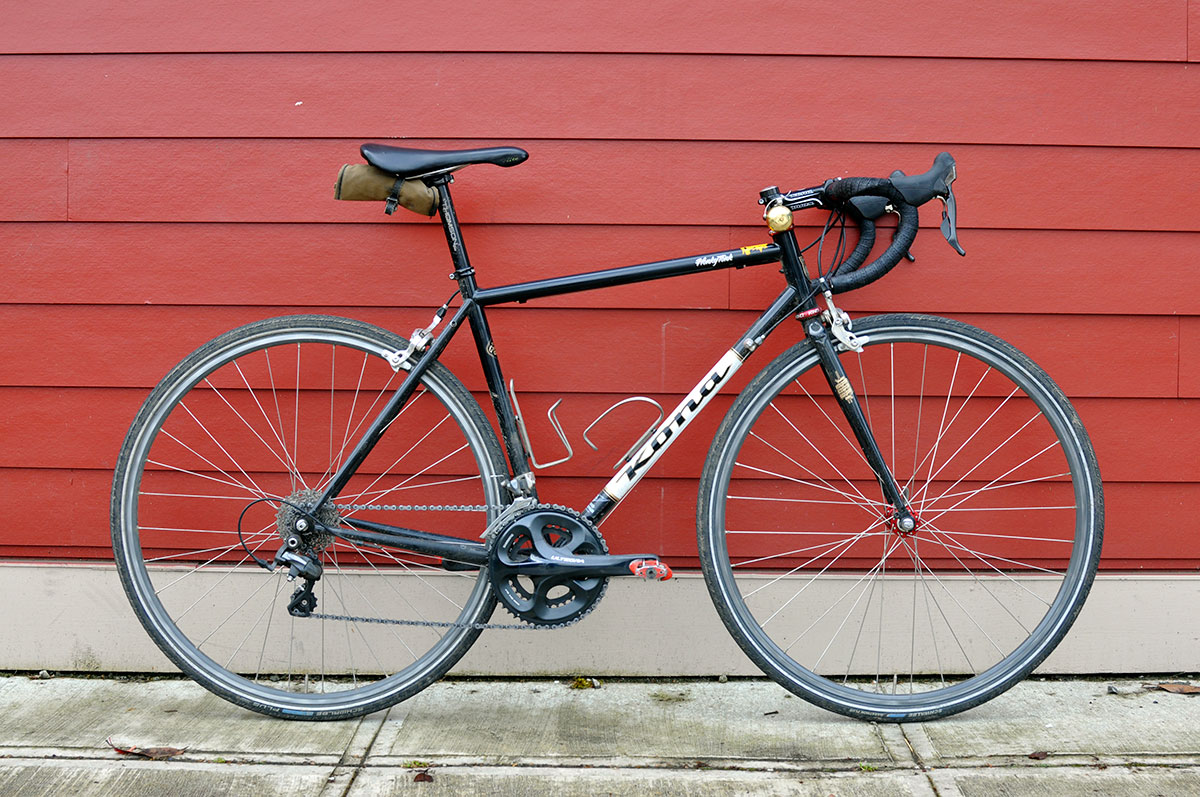 My name is Jason Britton, and I'm the web nerd here at Sellwood. I've been working with the shop for the last couple of years, and recently came on board full time. As I was making my transition I realized I needed a truly Sellwood-worthy bike. Never being the type to go with the status quo (my wife will attest to that), I decided to build up a Honky Tonk from the frameset.

Parts Selection
A large part of our business is in used bikes and parts which makes building up a custom project easy and fun. Once I had chosen the frame, completing the build was a matter of browsing our site, digging through various bins in the shop, and using parts from home.
To start, I found a matching red Chris King classic front road hub and headset that we had on consignment. I ordered up a matching rear hub and bottom bracket that same day to match.

The Dura-Ace shifters (generally well beyond my paygrade) were here on consignment from Team S+M rider Sean Babcock.
The Ultegra drivetrain was a mix of new and used and was chosen for stylish good looks and durability.
The brakes are Shimano long reach road calipers. Durable and very strong.
The stem and bars were take-offs from other projects at the shop.
The Thomson Elite seatpost and Selle Italia Flite came from home where they had been waiting for a new life.
The tool roll on the back is a custom piece from a friend that carries a tube, levers, patch kit, and co2 pump.
I added a PDW Alexander Graham bell that mounts to the steerer tube for multi-use paths and busy streets. Who doesn't love the sound of a brass bell?
Rounding out the bike (see what I did there?) are hard-anodized Mavic Open Pro rims laced to my King hubs with DT Swiss 14g spokes.
I'm currently riding on 28c Schwalbe Marathon Plus tires. They're a bit heavy, but they perform exceptionally well in all types of weather on pavement and dirt roads. They offer a reliable amount of flat protection as well, which is why I like them despite their weight.
Intended Use
The Honky Tonk is a great bike for just about anything. The modern road geometry and cromoly frame have made this bike my go-to for commuting, long road rides, and (very soon) ultra-light touring. It easily accepts fenders and larger tires. I've been riding this bike nonstop on pavement, gravel, and dirt roads, and even the occasional trail in the woods. It may not be the lightest bike, but it's perfect for me.
Coming up
If you're interested in building up a Honky Tonk (or any frame for that matter) stop by the shop and chat with us. Building the perfect bike for you is one of our favorite things to do, so why wait? Summer is almost here and the riding is about to take off.
As for the Honky Tonk Roundup, we've got a few more to highlight over the next couple of weeks. Stay tuned!