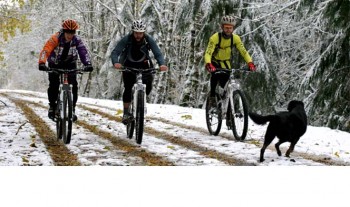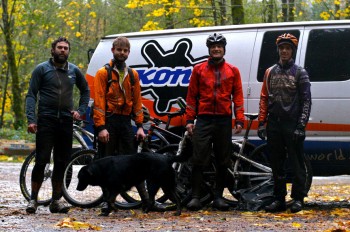 Our new guy Patrick went and did a bit of testing with the boys. Here is what he had to say:
Kona bikes at Sandy Ridge.
Having spent the last 8 years of my life in Bellingham, Washington, moving to Portland, Oregon has been quite the change. Allow me to elaborate. I'm a mountain biker. So for the last 8 years I've been going on really great mountain bike rides, that start and end at my front door, regularly. So you can imagine my enthusiasm when Erik told me that Ian from Kona was coming down for the weekend and if I wanted to not work on Friday and go rally some cool Kona 29ers around the woods at Sandy Ridge, I could do that.
Of course, we had to time it perfectly with the first real storm to hit the Pacific NW. The forecast was calling for Rain ("no shit?") and even snow later in the day. But this is the part about being a mountain biker in the Pacific NW, you kinda relish those conditions just a bit. All your favorite single track that's been so familiar in the dry months, is totally changed. The turns are in the same spot, maybe the rocks and roots too, but traction and speed are both compromised, it's like riding a whole new trail!
So a couple Friday's ago, Mad Mike, Ian from Kona, Boobs (a.k.a. Sean), Roscoe (Mike's dog) and myself, all loaded up the Kona van with a grip of cool bikes, warm clothes and even warmer tea. After the obligatory stop for donuts in Sandy, we arrived at the trail head.
Between the four of us, we had 5 bikes to ride. They included, two Satori's, Kona's brand new all-mountain 2-9 wheeled beast with 150mm of travel; Two Hei-Hei 2-9s, a 100mm travel all-around mountain bike rocket ship; and one Tanuki Deluxe 26″ wheeled trail bike with 130mm of travel.
I'd never ridden at Sandy Ridge but I'd heard lots about it. I was on one of the Hei-Hei's as I was pretty keen to see if this could be the new race bike for the 2012 season. Sean (a.k.a. Boobs) was also trying out a Hei-Hei, while Mike and Ian humped the Satori's up hill beside us. We suited up and started the pedal up to the top.
The last mile or so of the climb was in snow that got progressively deeper. There was probably a good 5 inches or fresh pow for us to track up on the way down! It was amazing! After ripping the first run with a couple obligatory stops for logging photographic evidence of the day, we roasted the last half of the decent, and, grinning ear-to-ear, switched bikes and started another pedal to the top!
I jumped on a Satori while Ian quickly adjusted the Hei-Hei to fit him and off we went for another lap! We had to threaten to leave Mike to survive on his own to convince him to keep on pedaling to the top, but it was worth it! For this descent we left the camera in the truck so there would be no excuses to stop. One run, completely uninterrupted. I'd say we all rode like small children on that last run, by way of giggling and catching air the whole way down.
I've always preferred 26 inch bikes for their handling and nimble charateristics. I like to feel that I'm on a toy that can hop all around the forest, break the tires loose, catch some air, and roost fluffy corners like the Dukes of Hazard. Oddly enough, this Hei-Hei full suspension felt incredibly nimble, even more-so then some 29 Hardtails that I've ridden. The Hei-Hei felt like an all-around rocket ship made for off-road trouble-shooting. Kona got the geometry totally dialed on this bike. And the 142 thru-axle rear kept things incredibly stiff and responsive in the back. It was easy to keep speed on the punchy uphills and the tight steering was super quick in the slower twists and turns. I might have asked Erik to locate me one of these for me so I can have too much fun more often next year. It'll be the race bike too.
The Satori, on the other hand, was the steam roller. The less you steer and the more you just run into everything, the better! For a 29 inch wheeled bike with 150mm of travel, it was more nimble then I would have guessed. The wheelbase on a 19″ Satori is only 0.2 inches longer then the same size Hei-Hei! This made the ride super nimble and fast. Anytime you can point the bike, and steer and brake less, you're going to go faster. The big wheels combined with the super tight geometry and 150mm of travel made the Satori almost scary fast. Like riding a DH bike with the seatpost at max height, the Satori is a perfect candidate with a gravity dropper seatpost. I should mention, for how well it descended, it did climb quite well.
We finished off the perfect wet PNW day of mountain biking with a burrito from La Sirenita in Sellwood and then hanging around the shop and swapping ride stories with the duders who didn't get to join in the fun!
We'd like to throw out a HUGE Thank You to Ian and Kona Bicycles for making the day a huge success, and I guess Erik Tonkin too, for the "day off" and making the day possible. The jerk probably knew it'd be crap weather! But you know he wanted to come too.
Patricky out.