Longtime Sellwood customer Erin Greeson is living in New Orleans these days and recently sent this over to us. We're excited to share a perspective of riding in another part of the country, especially one that embraces culture and food just as much as we do. Thanks for sharing this with us Erin! If you have questions, please leave them in the comments. She also has an article on BikePortland that is similar and worth checking out!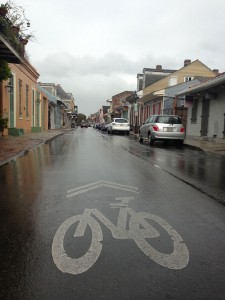 Biking in New Orleans is as colorful an experience as the Crescent City herself, and much could be said about what to do and what to avoid while cycling these below-sea level streets. Let's simply explore some of the things worth celebrating in the city where unexpected bonuses happen every day, where lagniappes are given and received. But you must tap in to take part.
New Orleans unfolds in gifts unique to its culture and landscape. Perhaps it's some poetic justice for a people that have risen above disasters unfathomable to most: from Katrina's cruelty, to the worst oil disaster in U.S. history, to obstacles of corruption and injustice. In "the City that Care Forgot," it's not hard to see a million reasons to care. By connecting with its streets, you meet today's inhabitants and old ghosts around every turn. So, play some Professor Longhair, and come take a ride with me through my New Orleans.
St. Charles Avenue is a bike-able artery. Famed Uptown and Garden District historic homes anchor immaculate lawns. Some owned by wealthy dignitaries during golden years are now, or have been, inhabited by creative figures of note, from musicians Bob Dylan and Trent Reznor to actor and "Nola" advocate, John Goodman. "Parade Route" signs are posted permanently like loading zone and stop signs. "Mardi Gras trees" line the street; look up to see branches strewn with plastic strands year-round, colorful at first and fading with time. When you bike St. Charles, the mantra to have in mind is: I share the road. Share the road with the olive-green St. Charles streetcar line as you watch living history rumble by (be wary of the tracks as you ride). Share the road with the pedestrians and students at Loyola and Tulane University. And share the road with jammed traffic and boisterous drivers, some of who may well have paid a visit to the drive-through daiquiri joint. Be "on" at all times.
If you want to haul for miles without interruption, head to the nearby Mississippi River Trail. This smoothly paved bike and pedestrian path runs about 22 miles upriver atop the levee from Audubon Zoo through Kenner, where airplanes descend into Louis Armstrong International. You'll see scores of migratory birds, from the black Glossy Ibis to the snowy Great Egret. Delta sunsets are spectacular from this vantage point. Clouds look like Michelangelo made them. The shipyards and the water shape-shift into scenes from Turner paintings at the National Gallery. As you ride along this river, remember it's inseparable from New Orleans' spirit, historically and today, sacred in many ways.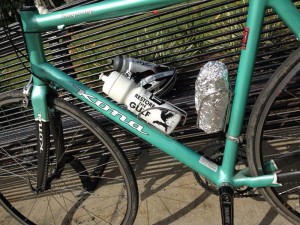 After a levee ride, I like to roll down Oak Street, grab a po-boy (which, I've discovered, fit perfectly in bottle cages) and head over to Audubon Park. Grab a bench, take a bite and take in views of classical fountains, sculptures, sprawling fields and live oaks draped in Spanish moss. Groups lounge in the grass, play soccer, and rehearse dance choreography for Carnival parades (as they say, "only in New Orleans"). Afterwards, cruise the short paved bike loop around the picturesque lands. Be mindful of the 10-mph speed limit as a courtesy to many local and visiting pedestrians who enjoy this path.
The best way to experience New Orleans is to connect with its people. A good place to connect with its people is on its streets. Do greet folks as you bike or walk by; greeting passing strangers is the norm and a consistent source of joy. Don't confine yourself to tourist zones. Any time of day, any time of year, something interesting is happening around every bend. The secrets are in understated things. You might roll past them if you move too fast. This rare American city is about time, not speed. Notice how cast iron writes shadow calligraphy on stucco walls. Pause to see gaslight waver, mysterious as tales of ghosts and vampires eagerly told in this town.
Esplanade Avenue is the divide between the French Quarter and Faubourg Marigny ("The Marigny"), the Treme and Seventh Ward. Bike lanes encourage two-wheeled transit. Palms and oaks line the grand boulevard and its median, creating a lush canopy for mansions, bustling restaurants and bars. Here you breathe a balmy concoction of honeysuckle and exotic plants. It can render you drunk beyond Bourbon tourist degree, as though Marie Laveau threw a spell from her nearby grave, refusing to let you leave.
Around the way is Frenchmen Street's huddled row of music clubs, where you can hear anything from the blues to reggae, rock-in-roll to straight jazz, bluegrass to brass bands any night (listen to WWOZ Livewire for daily listings). Lock your bike alongside funky cruisers, cargo rigs designed to transport instruments and, yes, occasional tall-bikes. Do yourself a favor: take in incomparable talents like the Dana Abbott Band, Meschiya Lake and the Little Bighorns and Another Day in Paradise with their horns and, if you're lucky, guest appearances from Big Chief Alfred Doucette. In New Orleans, music's soul is alive and kickin', defying an America overrun with mass marketing yield mislabeled as art.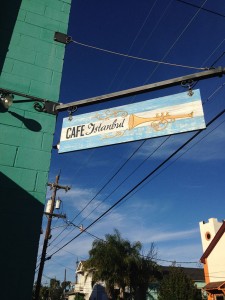 On nearby St. Claude, with its hole-in-the-wall joints and beautiful New Orleans Healing Center, ride to Café Istanbul. This hub for arts and community serves up mind-blowing open mics where anyone from a world-class opera singer to a 17-year-old trumpet prodigy may show. Its diversity of events and performances gives stage to defining expressions of the city, from Mardi Gras Indian rhythms to the unparalleled spoken word of poet Chuck Perkins.
In the Bywater neighborhood, an influx of young people has brought new character to shotgun homes and Creole cottages brightly refurbished after the flood. Cyclists are common and welcome in this zone. Keep a heads-up for potholes, some of which are large enough to swallow a man whole. Here in the Ninth Ward, notice street names like Piety and Desire. Follow past and present-day "second-line" footsteps of the neighborhood's residents, from Fats Domino, who celebrated his 85th birthday this year, to trumpeter and Rebirth Brass Band co-founder, Kermit Ruffins. In the Lower Ninth Ward, which had the highest percentage of black home ownership in the city prior to Katrina, streets have name like Roman, Galvez, Miro, Law and Flood. The streets of the Crescent City tell many stories, but my perspective just scratches the surface.
So visit New Orleans. Ride a bike. Bring one, rent one, or borrow one from a friendly local. See what stories you discover and create as you engage with this great city. And as you receive her lagniappes, consider how you can – and why you should – give back.
This slideshow requires JavaScript.