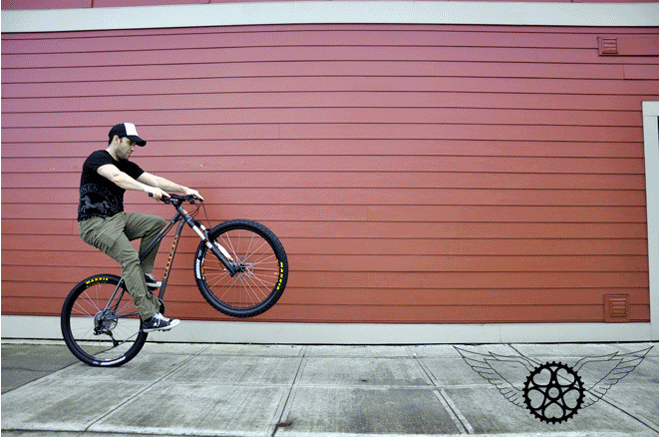 Our pal Tony spent his young adulthood racing dirt bikes professionally across the desert.  But after a pretty catastrophic crash involving a massive drainage ditch, he took to bicycling instead – running his own shop in southern California before making it up north.  Recently Tony has taken it upon himself to start Coalition Racing Development, a shop-sponsored Enduro / Super-D-focused offroad team that will likely be wreaking havoc come this year's enduro season. Having recently sold off his entire fleet of mountain bikes to make room for sponsor bikes, he found a need for a highly-versatile fun hardtail that could handle the sort of stuff where an enduro bike might be overkill.  Thus enters Kona's brand new Explosif.
As I wrote in an earlier post, the 2013 Explosif utilizes the 650b wheelsize, with its diameter roughly between that of a 29 and 26″ wheel – the 650b size combines the benefits of a larger wheel with the kind of agility that a 29″ wheel can't afford.  The bike comes setup with a RockShox Revelation 120mm fork, a SRAM X7 / X9 component spec, and a tubeless ready wheelset – making it quite shreddable out of the box.  Basically, the Explosif utilizes the burgeoning 650b wheelsize to continue upon a lineage of highly adaptable, long-lasting, and most-importantly – fun mountain bikes.  Tony sure seemed to be enjoying himself on his first ride around as I took some photos of him wheelie-ing around.
Don't hesitate to give us a holler if the 2013 Explosif piques your interest, and we can check on current availability from Kona.