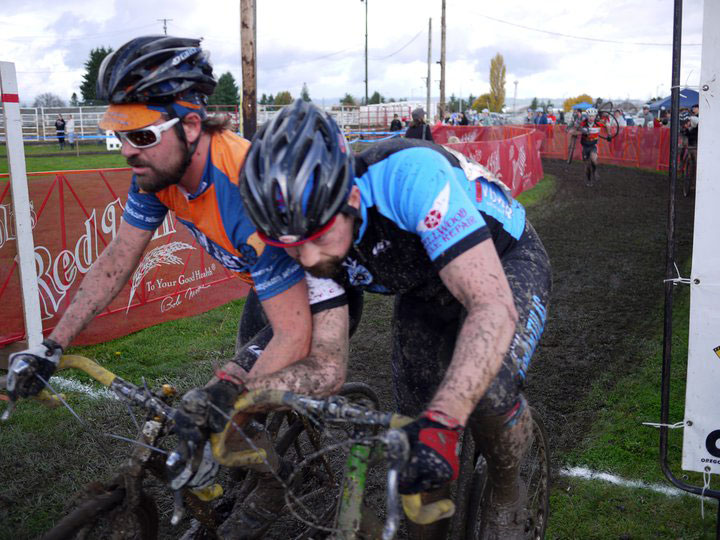 The start of cyclocross season is nearly upon us, and the schedule is stuffed to the gills with races. There's something for every skill level around the state, and even across the Columbia. If you're looking to polish your skills before things get started, or are new to this wacky sport, we welcome you to the Beginner Cross Clinics starting next Wednesday.
Team S&M and Cross Crusade present
Beginner 'Cross Clinics
Why?
The purpose of these clinics is to train proper technique for the sport of cyclocross. Our focus is not only on riders new to the sport but any rider interested in practicing and refining technical skills. Get measured practice first so you can train properly later. Socialize with your brethren. Learn about the sport from some of the most experienced 'cross coaches around. And so on!
Where?
The Alpenrose Dairy is located at 6149 S.W. Shattuck Rd., Portland, OR 97221.
When?
This year's dates are the Wednesdays of August 28, September 4 and September 11 — the week before the first Blind Date at the Dairy race.
Clinics start at 6:15pm sharp and end about 8:00pm (or dark).
How much?
Each clinic is $10. No charge for all Juniors (ages 13-18) and Kids (ages 12 and under). Pay cash in-person day-of at 6:00pm or, better, register online at www.crosscrusade.com!
This is an OBRA event, so all participants must be Oregon Bicycle Racing Association members (OBRA). Annual ($20) or day ($5) licenses are available at the event. Best, the annual CX-only license is just $15 ($10 at )–it'll cover the clinics and the race season.
More questions?
Contact Erik Tonkin at Sellwood Cycle Repair at 503-233-9392 or tonkin@sellwoodcycle.com.
Notes on the Clinics
Register early so we can be ready to practice by 6:15pm. This will be important as daylight dwindles!
We're here to practice our skills rather than get a workout. Go slowly at first to hone your technique, and then gradually speed up.
The first clinic might not cover everything. Clinics 2 & 3 will review the previous week's work.
Race strategy and technical issues will be discussed at the clinics.
The clinics provide the skills necessary for riders to practice on their own or with friends outside of a structured environment.
Many of our volunteer coaches offer private tutorials. Contact one of them directly or simply contact the promoter.
Any bike ('cross, MTB, or road) is acceptable to use at the clinics. However, it's best to practice with the bike you plan to race. (Narrow road tires are not recommended.) It's also best to practice with the pedals you plan to use. (Single-sided, clipless road pedals are not recommended.)
We'll practice rain or shine, so be prepared for the weather–it can quickly turn cold, wet and dark.
Helmets must be worn while bikes are being ridden!