With a cross calendar as packed as ours is, we weren't quite sure what the turnout would be for a new race, especially one the day before a Cross Crusade race. But when the City of Sandy called us up in September and asked for our help in promoting Corn Cross, we didn't hesitate. We've been more-or-less looking for a race of our own to promote and the offer was too good to pass up.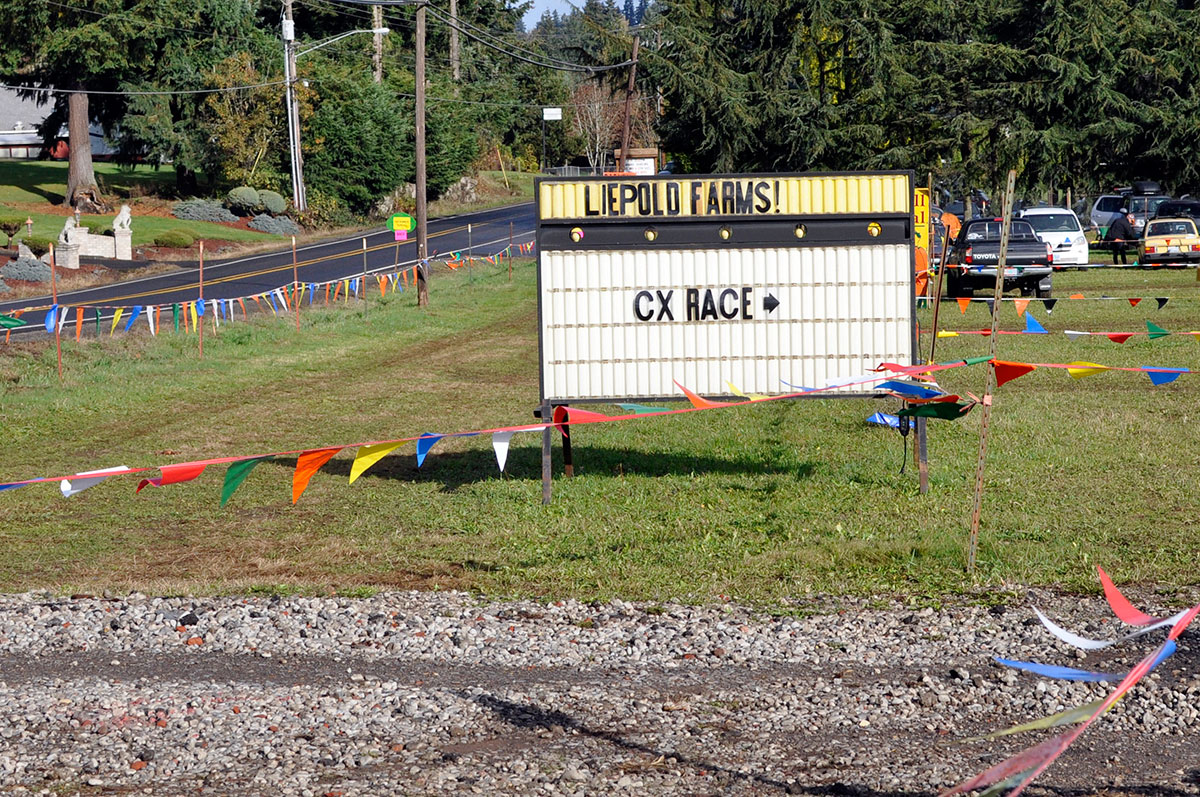 The Course
Located on Liepold Farms in Boring, OR, the potential for an exciting course and future growth was obvious. A mere 20-sih miles from Portland, right off the Springwater Corridor, the farm is in a prime location. (For reference, Barton Park is a scant 4 miles south.)
Seizing this opportunity, we set out to create a course that was fun, challenging, and unique; which we think we did quite well. The feedback was great, although we apparently billed it as a "flat" course. There were a few leg grinders, and one short, but very steep run-up which tired most people out quite a bit. The addition of a wide and twisty corn maze kept racers smiling and even provided a bit of recovery each lap.
We spent most of the Friday before the race setting up the course, taking measure to ensure a fun and fast course. At 1.5 miles in length, we aimed to keep the use of cones to an absolute minimum. Racing between course tape makes for a more exciting experience and with the exception of the corn maze and farm perimeter, we taped the whole thing!
The Venue
The City of Sandy pulled out all of the stops to ensure that everyone had a great time.  The Lumberyard set up the most impressive kiddie cross course ever seen, photos of which can be viewed here. Kids had a great time weaving around pumpkins, farm animals, hay bales, and of course other kids! There was also a large, covered pavilion with food, beer, and live music to keep people entertained throughout the day.
Over 225 people came out and raced with us, which was astounding! We had a lot of kids, men, and women all mixing it up and racing their hearts out. We received a lot of great feedback about the course and the venue and plan on taking that into account for next year.
Support
This race was the result of some serious effort on the part of the City of Sandy, OBRA, and the volunteers that put in so many hours. It was a pleasure to work with such a great group of folks, from the Hart family, our Team S+M members, and everyone else who took time out of their schedules to help us pull this thing off. We couldn't do it, nor would we want to do it without any of them. Thanks for helping to grow cycling in our region!
Future Plans
That's right! We're already working on next year's race. Word on the OBRA street is that a date has been secured, so have no fear; we'll be back with another awesome course. We hope to see you out there!
This slideshow requires JavaScript.