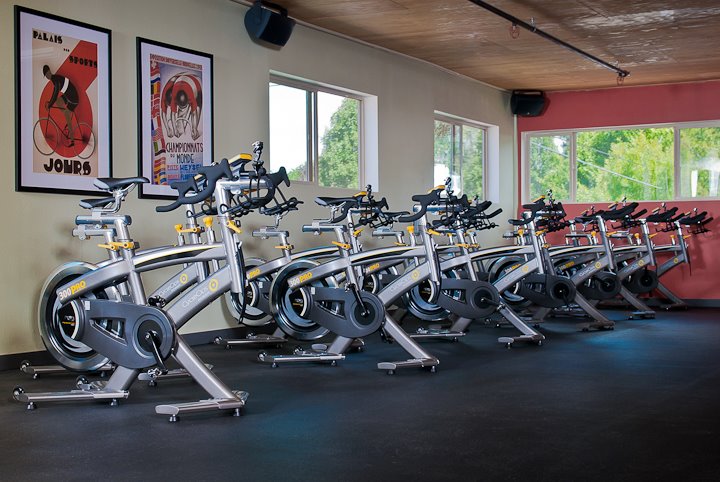 We're nearing almost two years since our big move from the cramped space on Milwaukie Ave to our new luxurious headquarters on 13th.  And while the new shop may be no cleaner than our old digs, there sure is a lot more space to be with one's own thoughts, or at least room to accomodate more bodies and more bikes of varied persuasions.
However to return to a time when plans for the shop were still in fruition, Erik and Pace realized that there'd be considerable space in the new building that could be utilized by another business.  Of course as with any large decision made by those two, a great amount of thought was put into what kind of business would act as a perfect compliment to Sellwood Cycle Repair.  One of our newer mechanics at the time, Brad Winn, had been working in his off time as a coach for C-Velo Cycling – a fitness cycling studio run by Rick Cady.    To make a long story short, it was decided that C-Velo would be this perfect compliment – an institution that could add an unprecedented depth and range to the cycling-specific services located at 7953 SE 13th Ave.  For almost two years now, the integration of the shop with our upstairs neighbor C-Velo has been seamless, with folks that we're previously only attending C-Velo classes now being our frequent shop patrons and vice versa.
The magic of C-Velo is that they combine some pretty state-of-the-art training machinery, specifically the Cycleops 300Pro indoor bicycle, with the expertise of Rick (Masters in Exercise Physiology) and Brad (a Masters in Excercise Physiology near completion) and a program that tracks one's progression in power output over a structured number of workouts.  C-Velo also caters to the competitive cycling scene of Portland with such services as cyclocross specific workouts beginning in the fall, and more…  Rick recently told us about a fun-competition that he'll be putting on starting at the beginning of April, called the "Inferno Series", which essentially aims to reward participant's performance through points, prizes, and even cash.
So if you've ever had any interest in checking out the cycling studio above the bike shop, now is as good a time as any.  There will be orientation classes starting this Friday 3/29, and running through Sunday 4/1 for those new to the C-Velo program.
Check out C-Velo's website for more info, or shoot an e-mail to Rick Cady with any further questions!