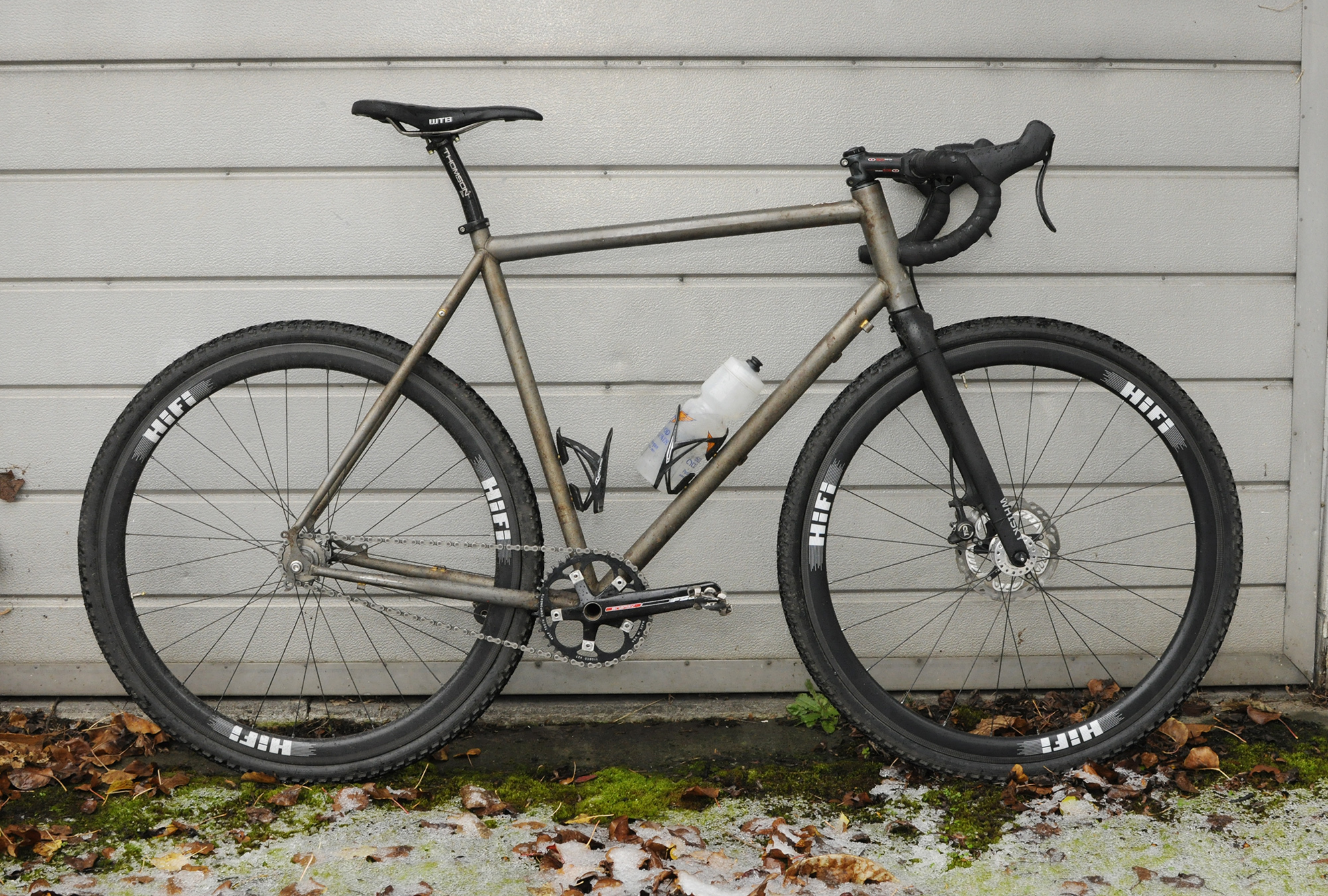 Some people in the Bike Industry tend to go a little crazy in the winter months. Some people were just born that way, and for those folks the winter is their time to shine!  We suspect Brandon has been borderline batshit most of his life, which is why we like having him here at Sellwood. He's always got a funky build in the works, and as soon as reports of an ice storm hit the newswire Brandon set about building up his Kona Rove Prototype into a bike that can only be described as being "So Brandon, it hurts".
Where to begin…
This is a Kona Rove PROTOTYPE frame. It was handed down to Brandon from the powers that be at Kona. As a prototype it wasn't painted, and it STILL is not painted. That's a raw steel frame you're looking at. And through the mystical mindset of Brandon himself, via a White Industries Eno rear hub, it's also a fixed gear.
Yes, seriously.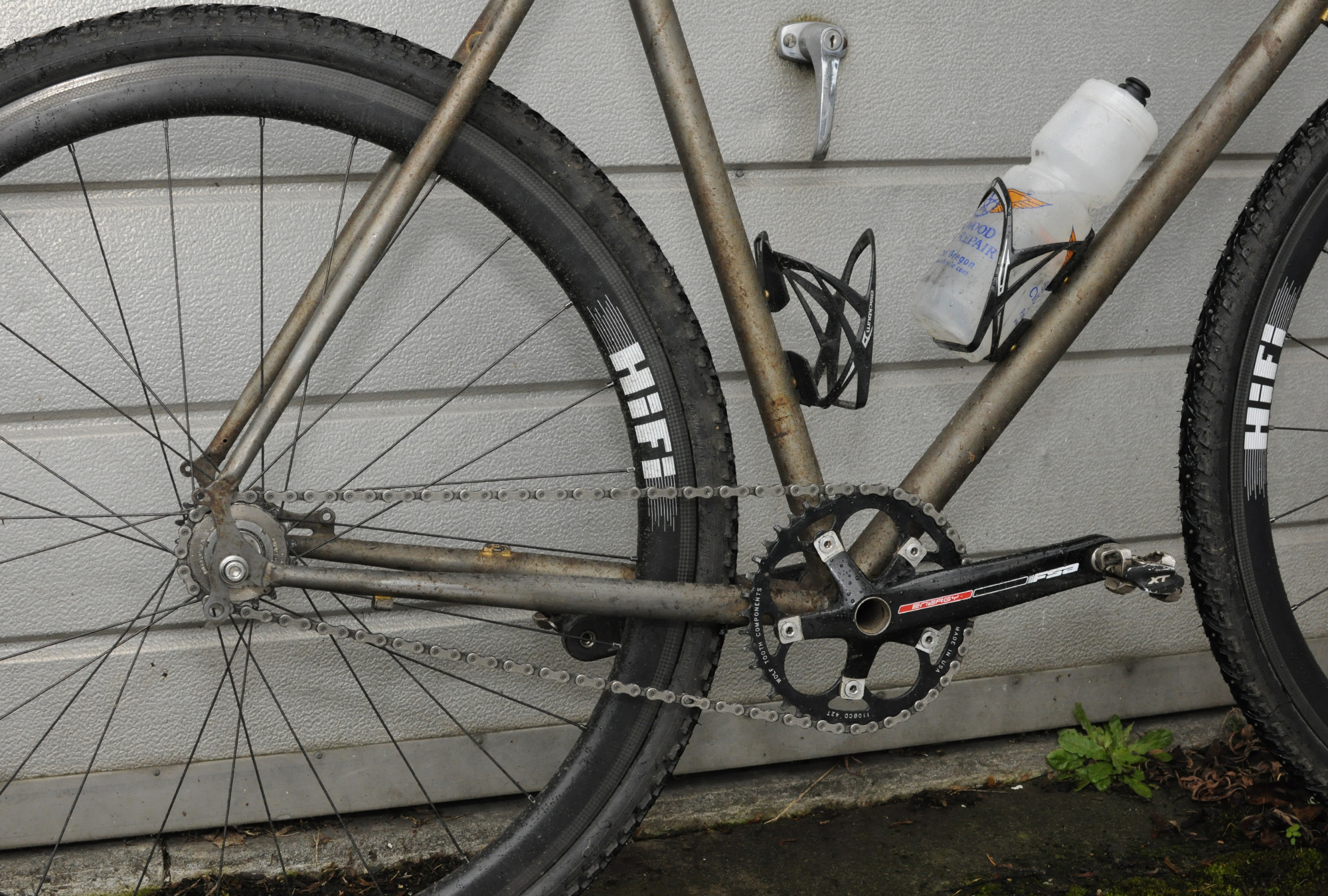 What better way to combat the icy elements than with some Nokian Hakkapeliittta 700x35c STUDDED cx tires. You can probably picture Brandon's sly little smile by now, can't you?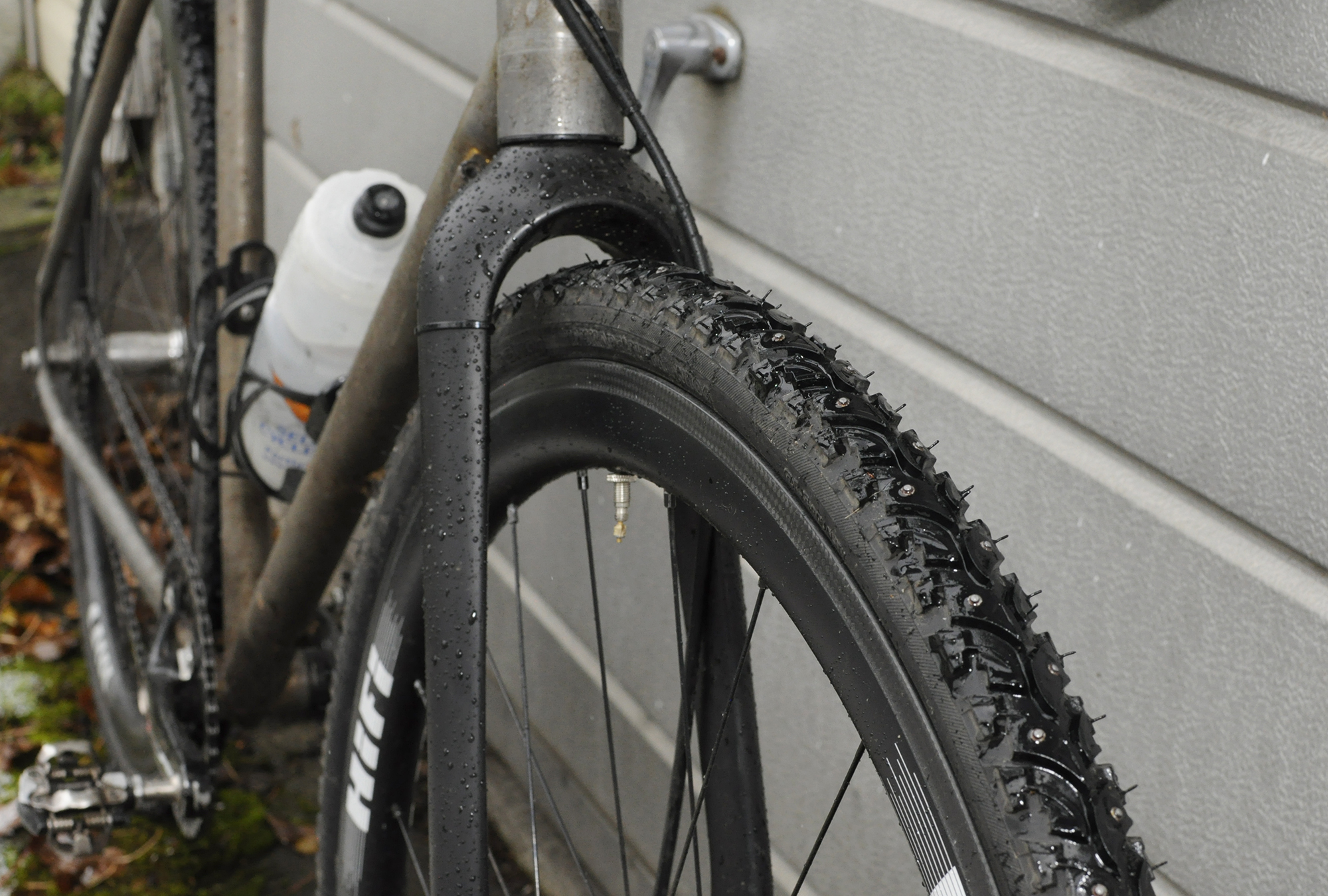 And in true-to-form fashion Brandon is running a front generator hub and light combo with the Busch & Muller IQ-X light, which is wired to a 32 hole Schmidt SON 28 disc brake generator hub. But wait, aren't those Hifi EP Carbon Clincher rims only a 24 hole?
Yes. Yes they are.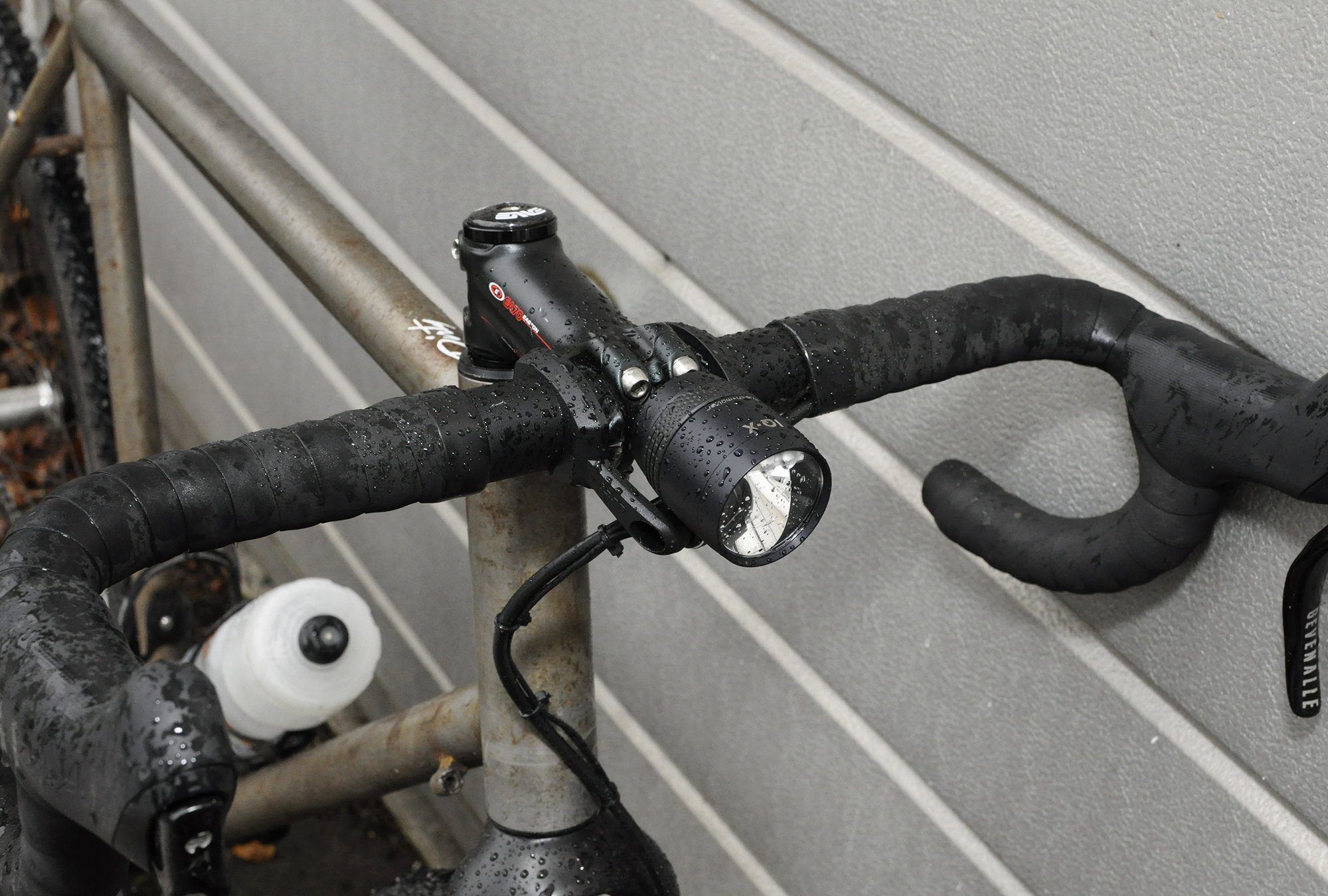 Note the skipped hole lacing coming out of the hub in the picture below.
Oh, Brandon…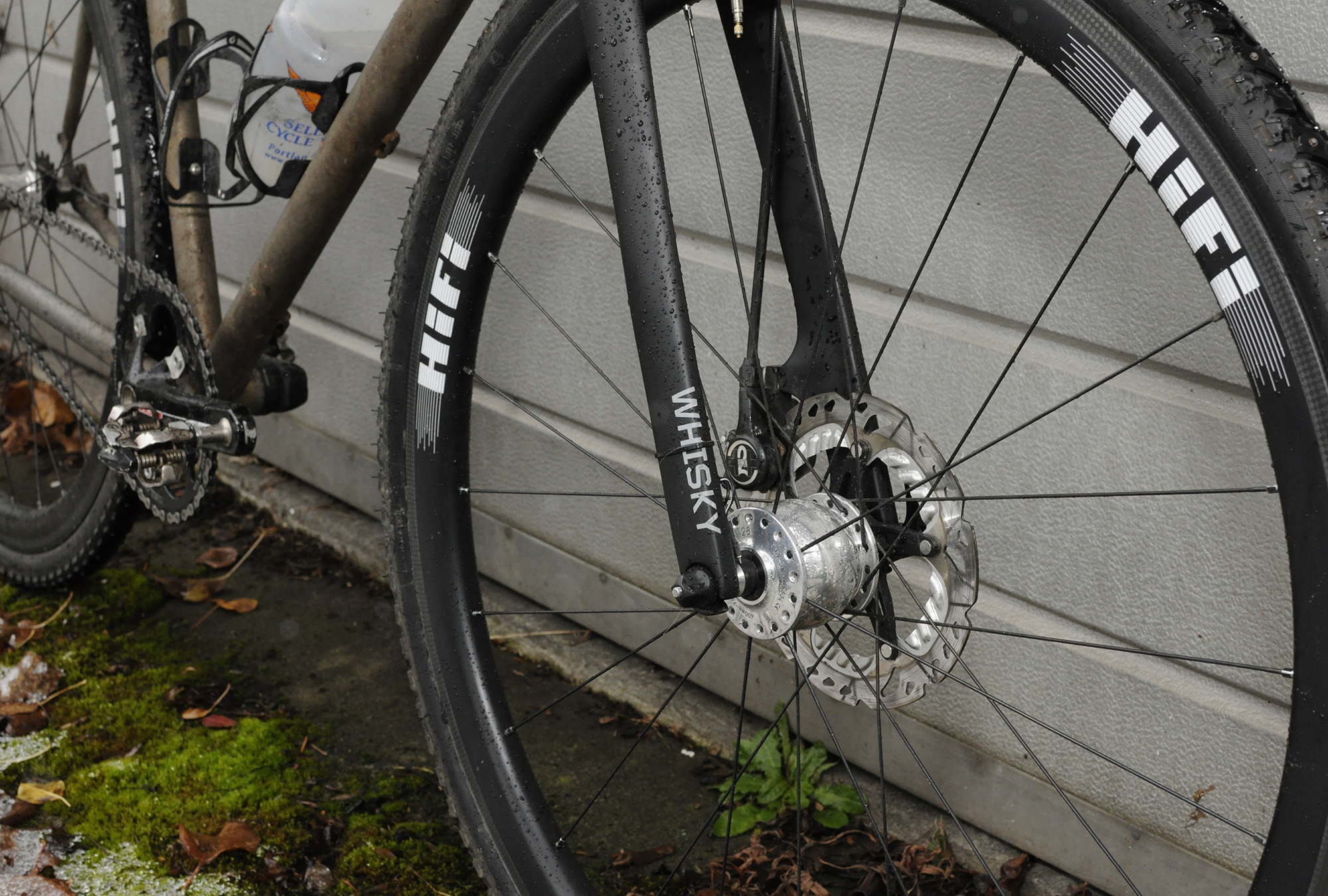 The rest of this build is topped off with:
a TRP Hilux hydraulic disc brake
a Gevenalle dummy lever (no rear brake after all)
a Whiskey carbon front fork
Thomson layback seatpost
FSA Energy crankset (42×18 and 42×16 gearing on the flip-flop hub)
And two water bottle cages, because when Brandon knows he's gonna get thirsty when he's lost in Centralia at 3 AM. And you thought this bike was unsafe! Ha!
This Rove Prototype has been through more variations than we can count, and this certainly wont be the last. The armchair cyclist is bound to get all worked up of how crazy this build is, but Brandon wouldn't have it any other way. It's built by someone who undeniably loves his bike, and rides to his own drummer. It's pretty darn "Sellwood", and so VERY "Brandon".
Now get out there, and be adventurous! (After all, we can't let Brandon have ALL the fun.)