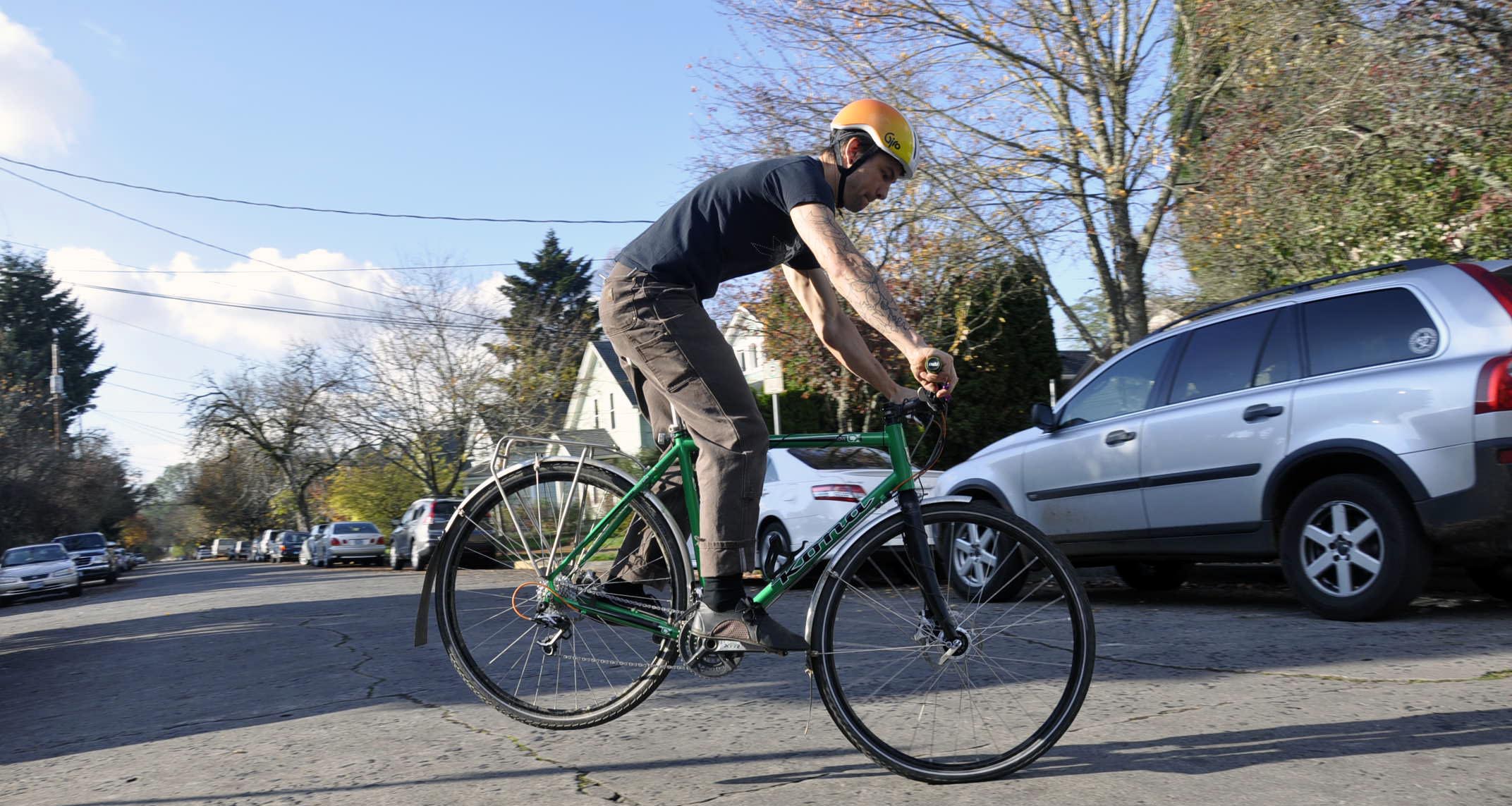 I'd like to think that as carriers of the Sellwood Cycle Repair faith, and arbiters of good taste (for the most part…), we have a considerable impact on the choices and personal enjoyment of our followers.  And while we try our best to impart our own knowledge and experiences to our customers – our own bikes that we ride are often kept hidden away from view.  In this vein, I've attempted to keep a fairly regular segment documenting the bikes that we, Sellwood Cycle Repair employees, are riding.
Our guy Peter really knows how to set himself up right, and I'm constantly informed by the gear choices he makes on his own rides.  His human powered car, a flat black Yuba Mundo (which will be featured here soon enough), is a work of utilitarian art – however I might go so far as to say that his Kona Rove commuter is his magnum opus.  Kona's Rove – a new for this year, disc-brake, cromoly, gravel-grinder / monster-cross frame, pushes the envelope in terms of what a "cross" frame is capable ("cross" being used – for lack of a better term).  Highly utilitarian bikes that defy conventions have become a staple of Kona's lineup these days – take the Minute, Honky Tonk, or Honzo for example.
Peter has done quite a bit to modify his Rove from the ground up – starting with throwing on Whisky's full carbon, tapered, disc ready fork.  For wheels he is rolling on Stan's Crest rims laced to an XTR hub on the rear and a Shimano Alfine generator hub on the front – thereby powering the impressive Supernova E3 lighting system.  For rubber he's rolling on the extremely light and puncture resistant, folding 700 x 40c Schwalbe Marathon Mondial tires – perfect for  riding the unimproved roads that abound throughout the southeast.  A range of sweet 9-spd XTR M970 components rounds out the rest of the build, with a nice Thomson post, and some choice purple brake levers to boot.  For carrying capacity Peter chose the stainless steel Tubus Luna rack, and used the shop-favorite SKS P45 fenders for rain protection.  Perhaps the last piece worth pointing out are the brakes that Peter threw on this past week – Shimano's brand new CX75 mechanical disc brakes – which he notes are easily the best mechanical disc brakes currently on the market.
In short, every piece that Peter has put on his bike has been carefully chosen – highlighting the do-everything nature of Kona's Rove.  Careening down the puddle strewn gravel paths through the southeast on his way to the shop atop his Rove – it's no wonder he shows up to work each day in such a good mood.