Its tough to work in the bike industry and not become obsessed with the pursuit of the latest, greatest, lightest, and shiniest bikes on the market. It's also just as easy to realize that at a certain point, a bike is just a bike, and at the end of the day it doesn't take much to get the job done.
Enter Joel's Street Soldier: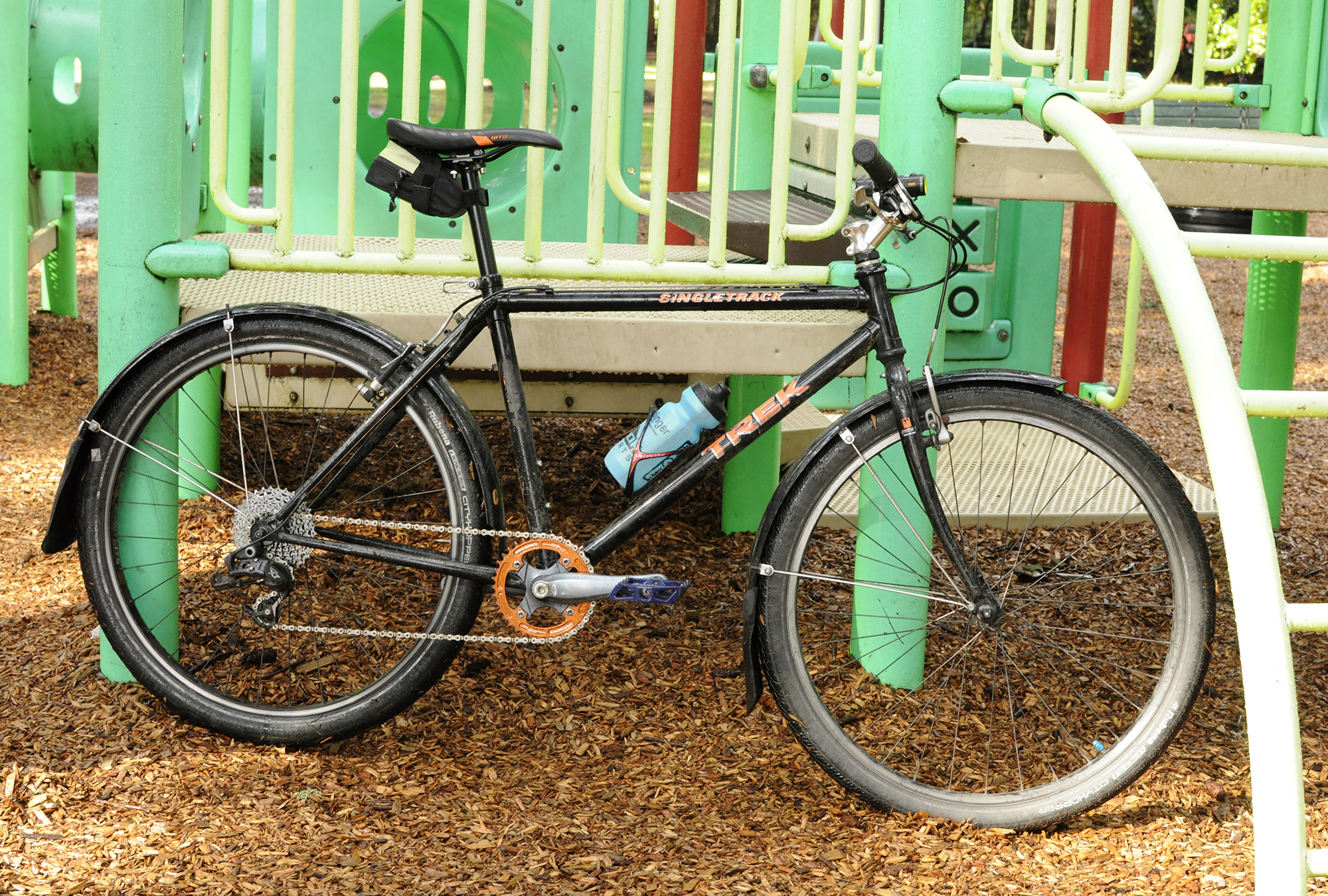 Built around a steel Trek Singletrack frame originally purchased from the Bike Gallery some unknown years ago which was later gifted to Joel. How old is the frame exactly? Peep the vintage frame sticker below and you do the math.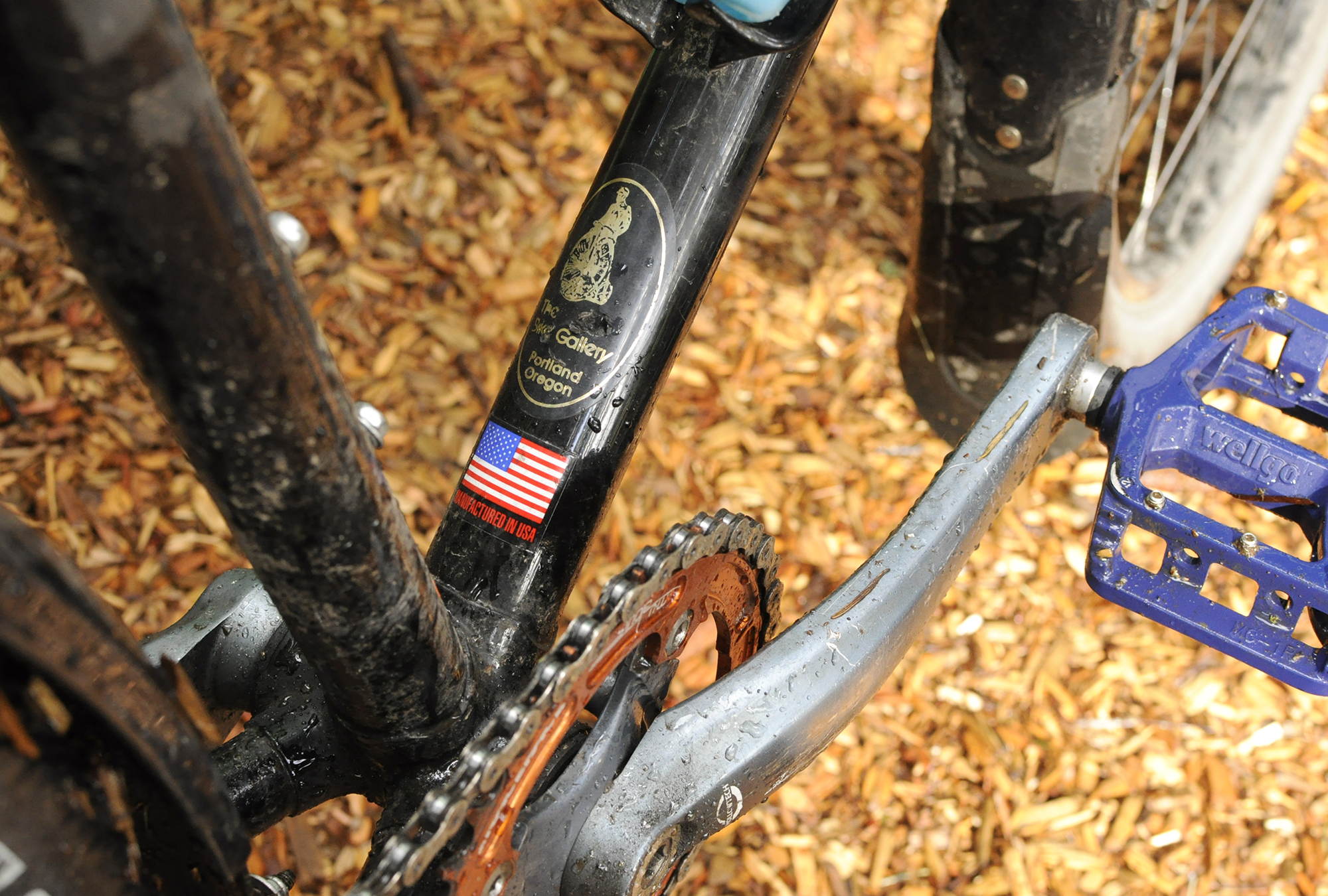 Most folks would see this bike and figure it's not much to look at. And they'd be right, but let's let the facts speak for themselves! (Don't worry, there's a payoff)
This bike is heavy. 35 lbs give or take (probably give…). It has that magical combination of a steel frame, big thick tires and Wellgo pedals. Nothing short of a power drill would lighten it up any.
It's cheap. Most of the parts were repurposed or gifted. The nicest components are the RaceFace chainring and Paul Moto rear brake, which, other than the Light and Motion headlight, is probably worth more than the rest of the bike! The RaceFace bar is the least expensive bar they make, and the rest of the drivetrain is SRAM X7 something or other. Honestly, nothing special.
It might have a mountain model name but this thing is terrifying to ride off-road. The frame geometry was designed way before any one actually knew what a bike was supposed to do off-road (not that anyone has figured it out yet either). Even Joel is quick to point out the furthest he has continuously ridden this bike is 15 miles. 20 miles at most!
Nothing matches! Nearly every piece is different. Even the tubes are mis-matched Presta/Schrader.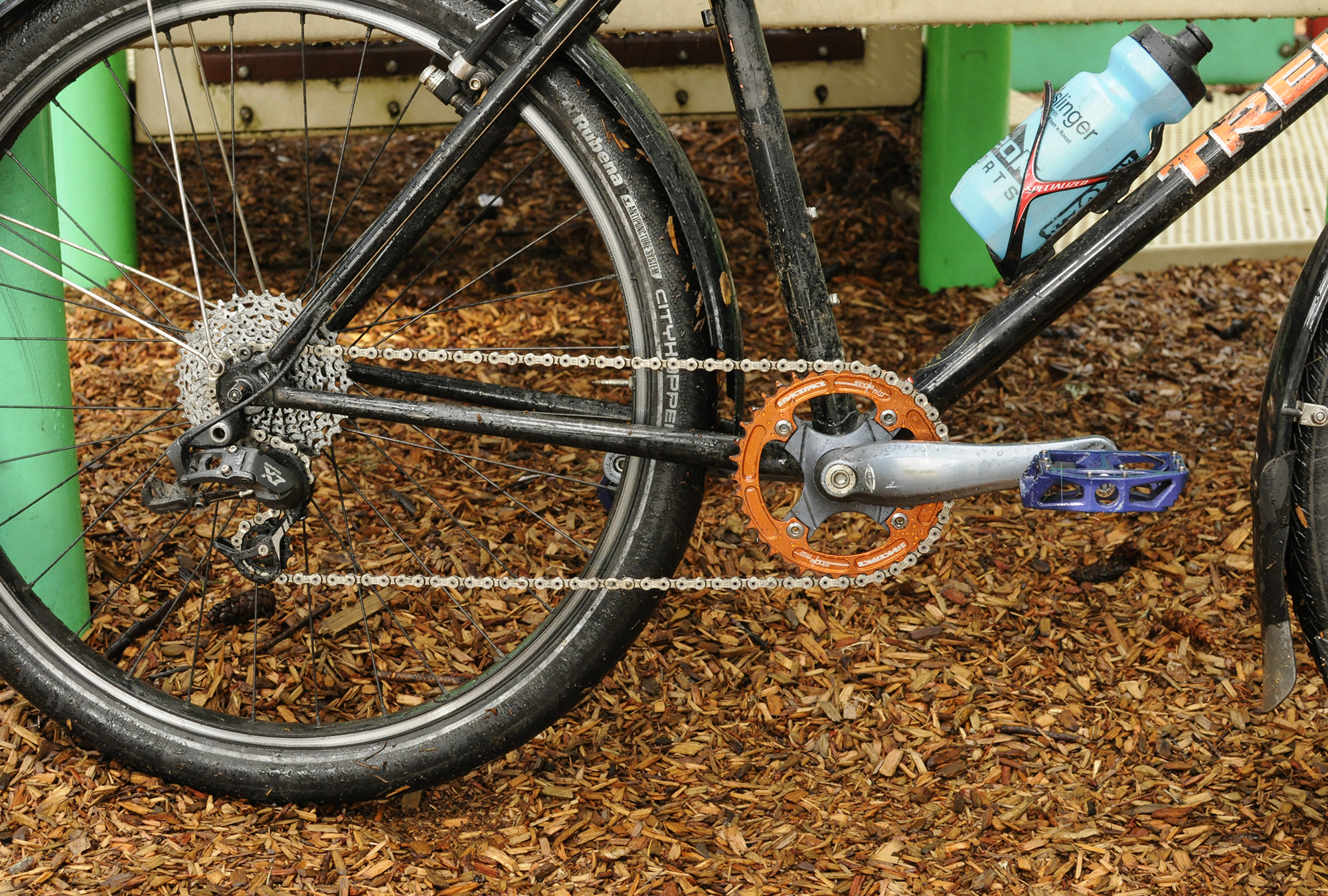 So why are we posting about it at all? Because this bike is awesome. Whether or not Joel wants to admit it we're betting this bike has seen more ride time than any other bike he owns. And there's no love lost between him and this bike's top-shelf brethren because they aren't in competition. The Singletrack is solid, durable, reliable, and it's not the end of the world if it gets stolen. This is a bike you can ride anywhere, or nowhere in particular. The simple jobs a bike has it does without complaint or dinging your wallet every couple of rides.
If you want an awesome commuter bike the rigid 90's mountain bike is where it's at. The geometry might be lacking off-road but they check all the other boxes just fine: Steel rides smooth, nearly every frame has fender and rack mounts and can carry plenty of extra gear, and they're darn-cheap to customize, accessorize, and repair. Some folks are even converting these into the perfect bikepacking rig! It's always worth checking our consignment page to find one for yourself.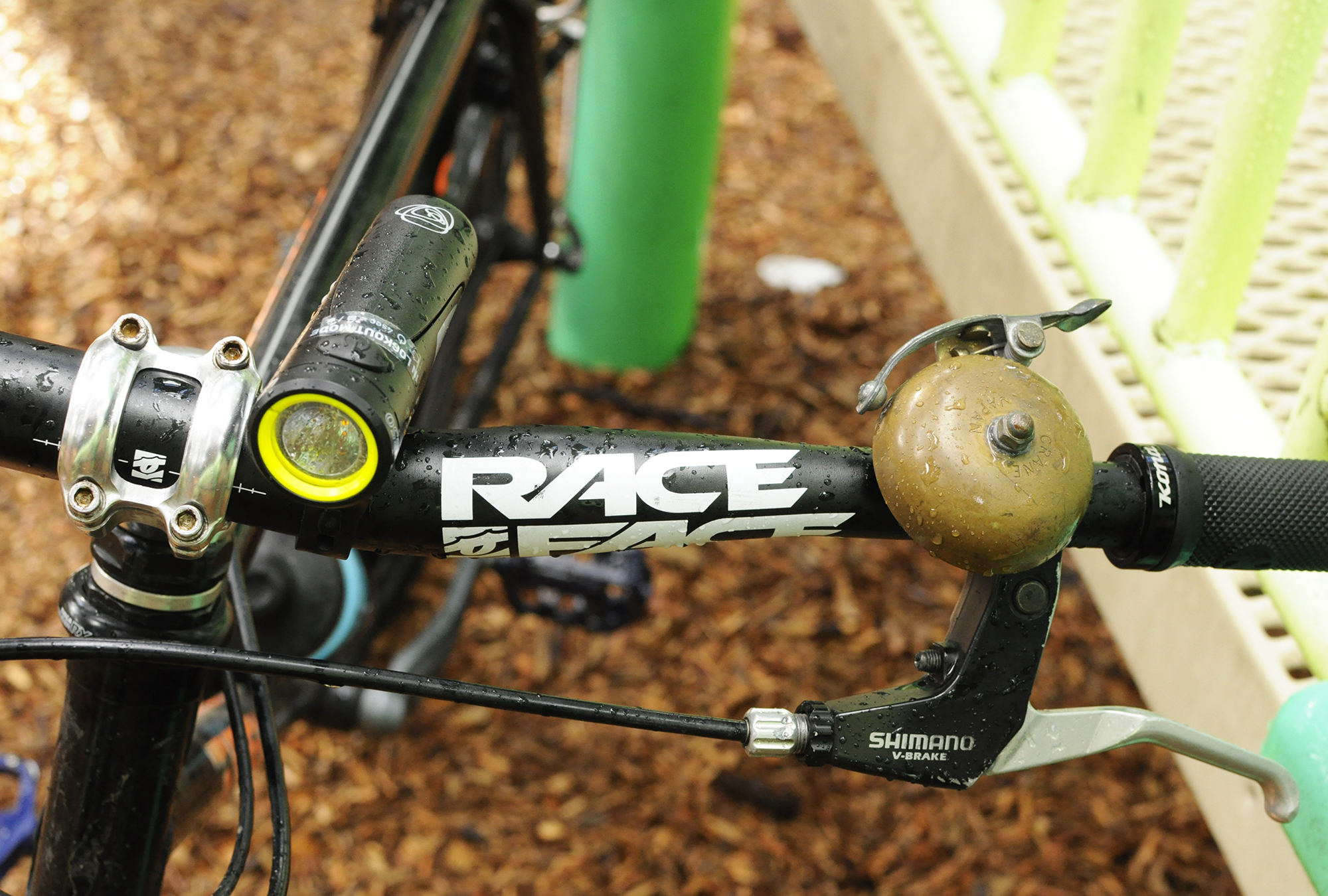 Let's be honest, who wouldn't want a bike like this? It doesn't matter whether its Big City Nights, or Slow Country Living, this bike fits in just fine. The price is right for what is technically a completely custom bike, and the ride is plenty fine. It's got the low-key personality we love. Even if it's easy to hate it's still kind of a perfect bike.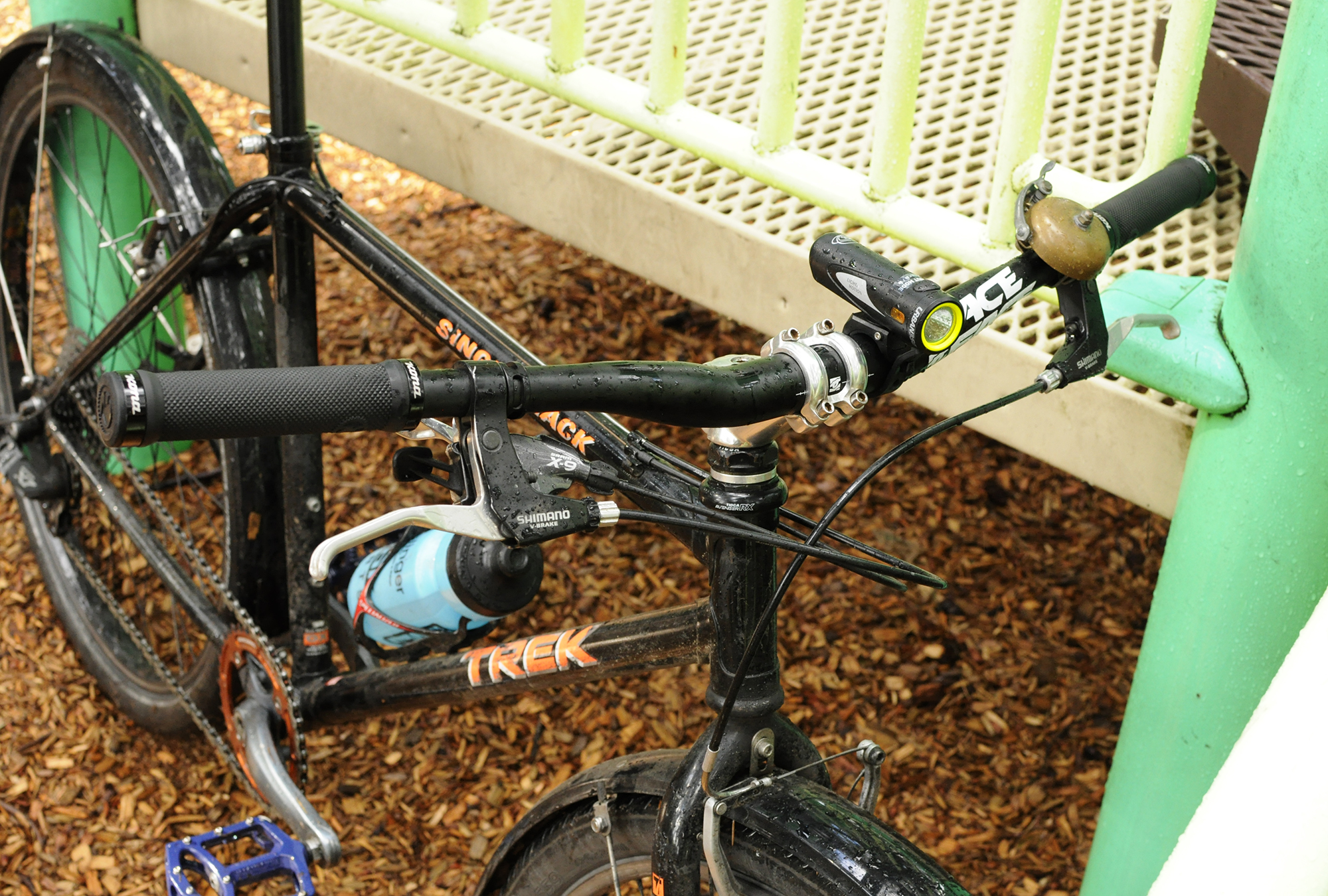 Undoubtedly Joel hates it too from time to time, but he also plans to ride on the Old West Scenic Bikeway with his dad. While carrying all of their stuff. Because it's perfect for that too.