The "Bikes We Ride" posts you see here are, if nothing else, authentic. No one is here trying to prove or pitch anything. For better or worse, clean or filthy, these are the bikes we stand behind and love to ride. That's why James' Ti Rove is so damn cool, and dirty as all hell: it's REAL. We'll let him tell you the rest of the story: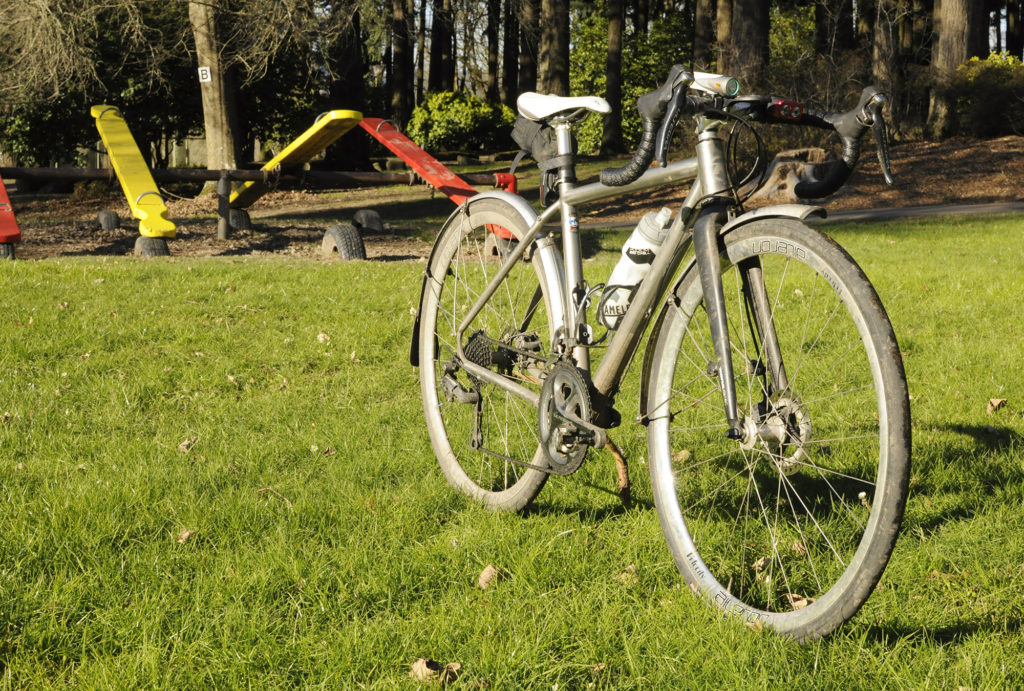 I built this bike two years ago to be a winter rain bike, and a summer offroad adventure bike. it has been excellent in both of those roles while also pulling a part time job as a legit cyclocross race bike.
It's a radabonzicle bike that I have sent down forest service roads and singletrack at reckless speeds, it's ridden down at least one staircase every commute, and of course, it has been wrecked multiple times, sometimes even without the help of Erik Tonkin and my other S&M teammates.
I won't pretend that it's a plush ride, it absolutely isn't! Then again, it does inspire utter confidence when smashing down the worst unbeaten path, and with ~40 psi in the tires it isn't too jarring either.
The full build specs:
47cm Kona Ti Rove frame hence the "Tiny Rove". Built up two years ago with the following components
full 6800 mechanical groupset
Shimano Cx77 brakes with compressionless housing
165mm mid compact crankset and 11-32 cassette for steeper adventures
Wheels are White Industries CLD hubs built 28/24 2x to Velocity Aileron rims with 2.0-1.6 spokes
Tubeless Maxxis Re-fuse 700 x 32 tires
Chris King headset
Thomson X4 stem, Thomson Masterpiece seatpost, old clapped out Bontrager saddle and a Whiskey carbon handlebar
The fenders lead a hard life, the front especially due to my foot and singletrack adventures.
Buy one for yourself today! It'll make all of your wildest dreams come true. Consider it a long-term investment in your quality of life.