Jake is NOT a racer!
How do we know? He wont stop telling us. Seriously he never shuts up about it. His love of bicycles is definitely diverse and far reaching, but it has never extended into the realm of "sanctioned" competitions, and he is reminding us of it constantly!
"What's with all your logos and spandex?"
"Yes, I'm doing this century in cutoff shorts."
"Power output?!"
You get the picture…
So it begs the question WHY ON EARTH would he build Kona Super Jake frame into one of the sexiest singlespeed cyclocross bikes we've seen in a long time? We hope it wasn't based on namesake alone.
Jakes answer? "Why wouldn't I? It's awesome."
Jake has gone with us to Bellingham the last two years for the Kona Launch. It's a weekend getaway where we get to see, and ride, the next year's Kona lineup. Being the kind of guy that he is Jake let's everyone else ride the new mountain bikes and grabs a cross bike to pedal around on.
But it's Bellingham, and those Mountain Bike trails are tough to stay away from. Next thing you know he's shredding alongside a Kona Process  111 on a high-end carbon fiber cyclocross bike. Does he think, "what I'm doing is wrong"? Nope, he just wished the bike had flat bars!
Thanks to someone else's bad packing job this frame arrived at our shop with a crack. But if there's one thing Jake likes it's damaged goods a good project! So with a little help from our friends over at Ruckus Composites this Super Jake is good as new, and Jake finished off the build in style.
Purpose: RIDE EVERYTHING!
Size: 56cm
Handlebars: Race Face Turbine Low, 31.8 clamp dia. (in Orange, for obvious reasons)
Stem: Race Face Turbine 70mm
Bottom Bracket: Beer Components Eccentric PF30
Cranks: Shimano CX50 – 24mm spindle
Hubs: Industry Nine
Rims: 32h Velocity Blunt 29er (wider is better)
Tires: Schwalbe Super Swans
Brakes: Shimano Deore Hydraulic Disc (160mm rotors F & R)
Gearing: 42-17 (Wolftooth front, Chris King back)
Seatpost: Thomson
Pedals: Shimano SPD "Boat Anchors"
Extras: All titanium hardware, carbon fiber steerer tube spacers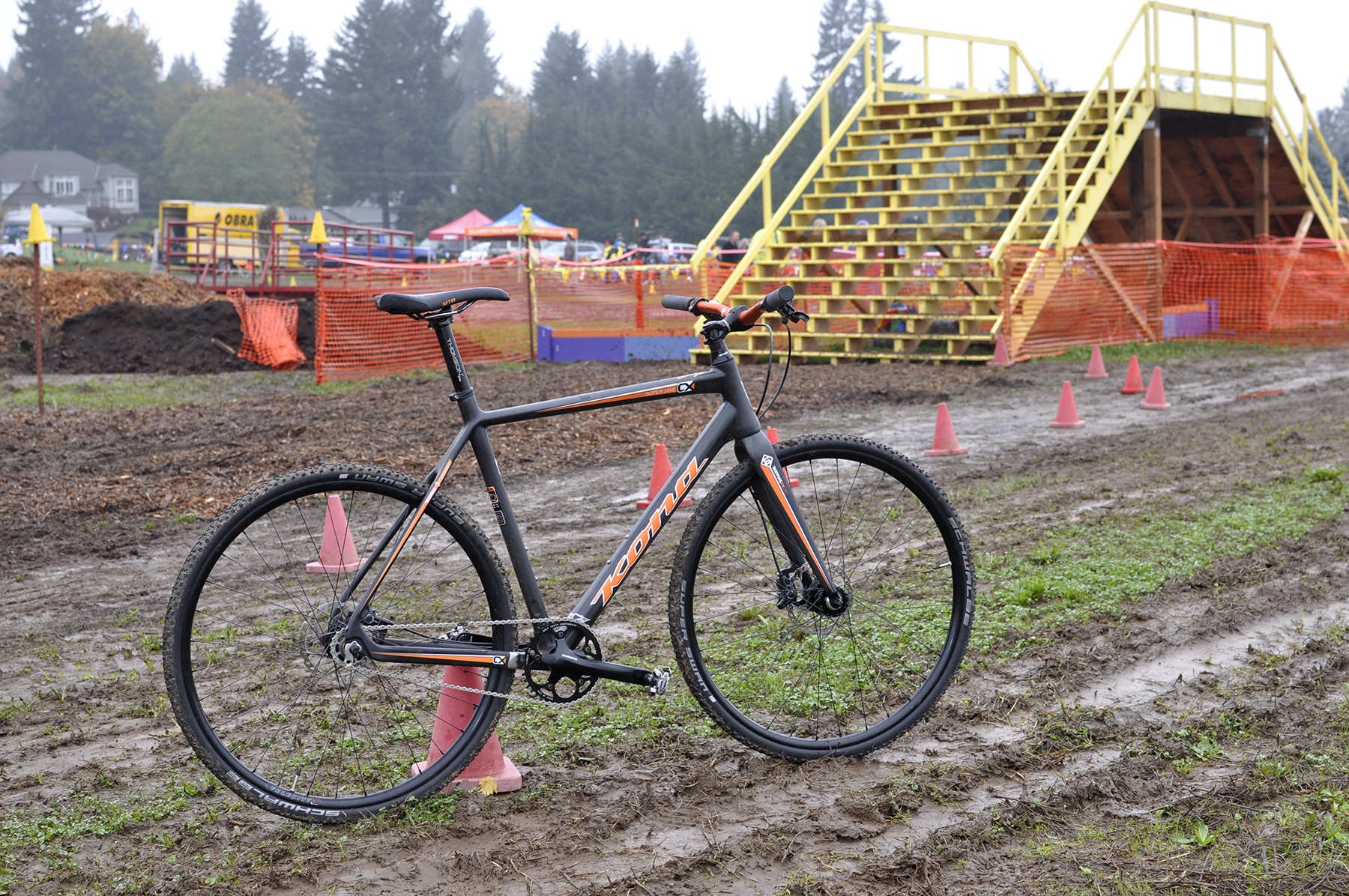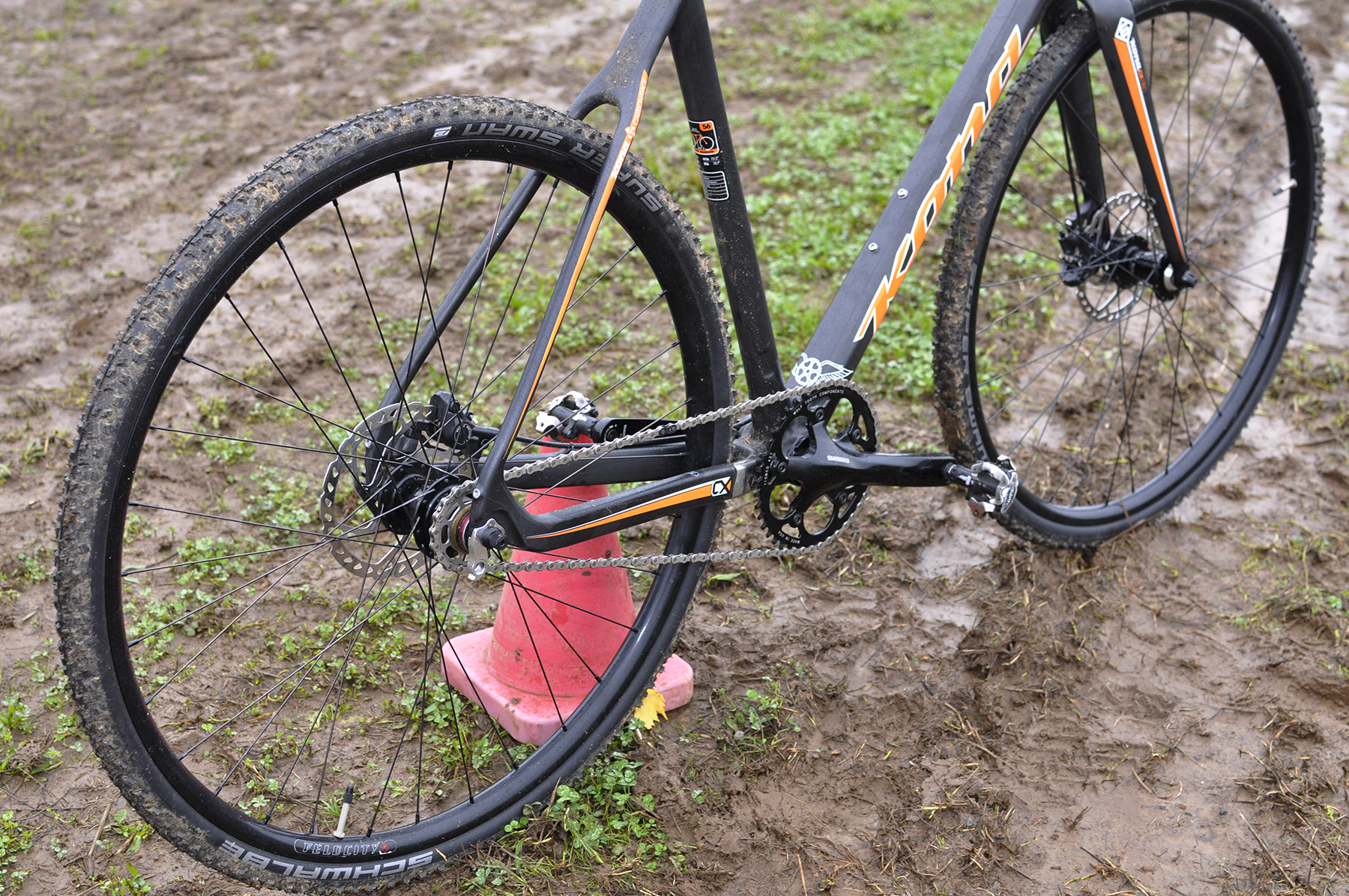 It's like someone took Kona's serious cross race bike and showed it how to have fun. Fast and solid but quick and nimble. It climbs like a mountain goat, and the wide bars make the handling through the muck oh-so-sweet. While log drops and kickers might forever be out of the question this bike is a go-everywhere kind of rig. We give it a serious stamp of approval.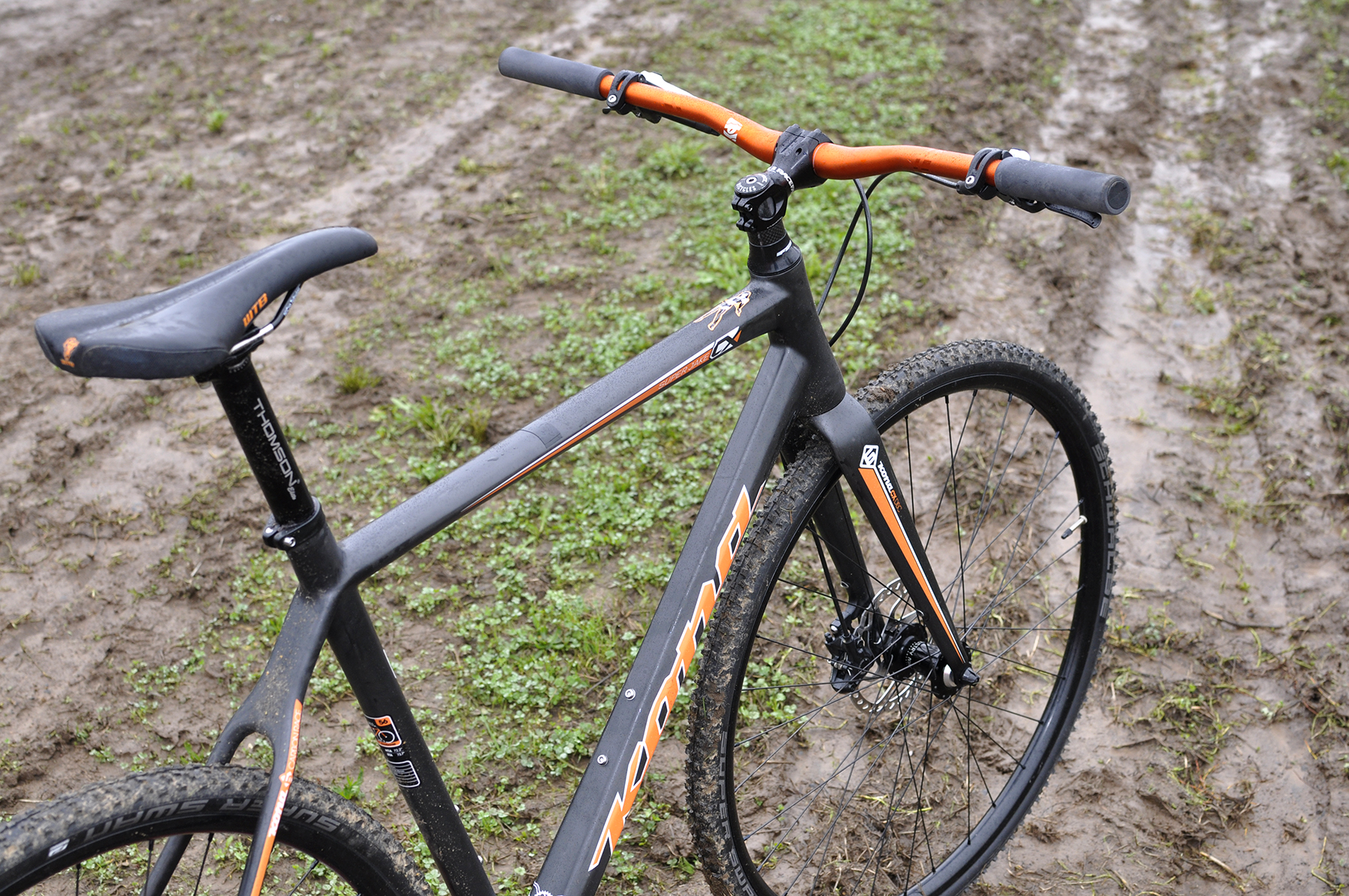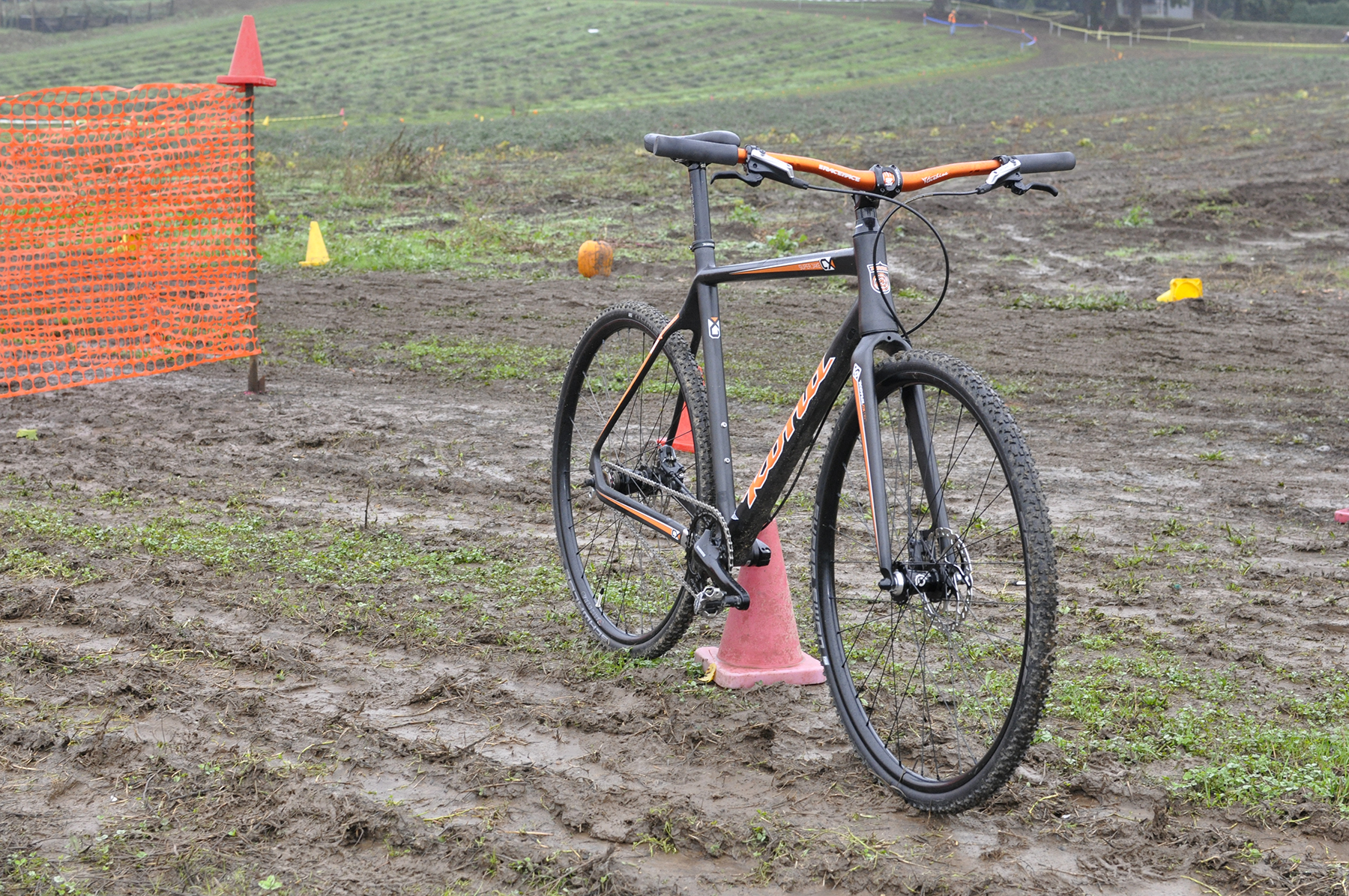 Update: Before this post was published Jake managed to do his first ever cross race. Rumor is he actually liked it! We even got him to wear an S & M kit (sucker). But he insisted on spray-painting his shoes turquoise. Something about it being his "power color"…