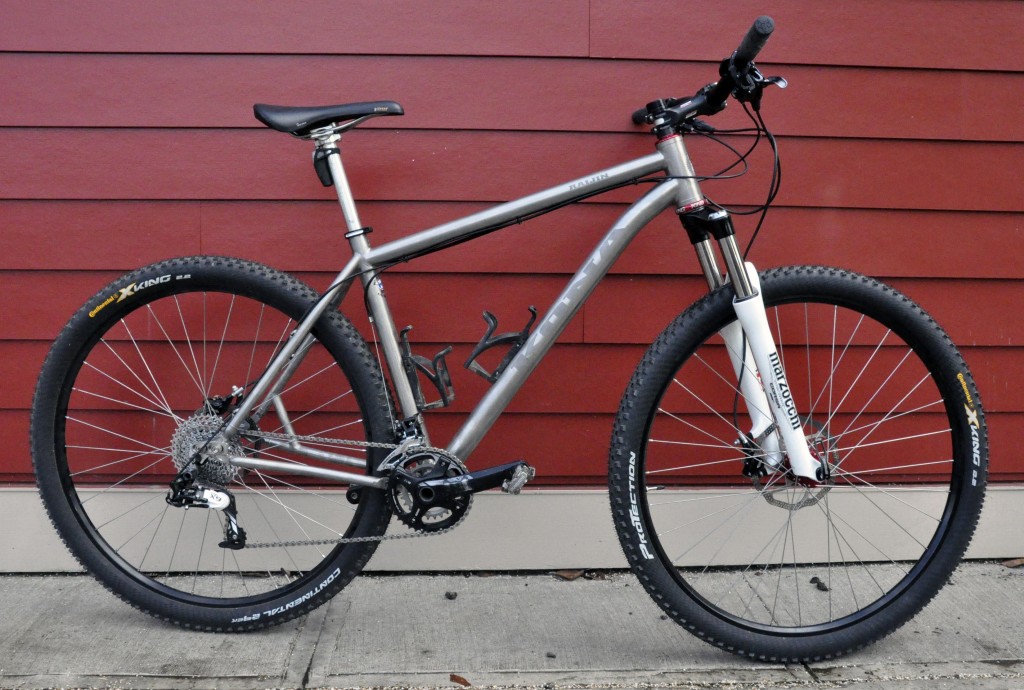 For 2012 Kona has a smattering of new offroad offerings such as the Satori, Honzo, and Entourage.  One of Kona's 2012 offerings that has kept us on our toes in anticipation is the titanium "Raijin" 29er frame.
Kona designed this frame, and had Lynskey produce it in their Tennessee factory. According to Kona:
The super sexy Raijin frameset is made using 3/2.5Ti tube material with a shaped downtube that is curved at the headtube. The design aims to perfectly balance the need for both stiffness and compliancy in a trail bike. We take all that we've learned in 29, hardtail and titanium bike design and create a trail master that channels rider forces perfectly, while at the same time using the compliant nature of titanium to take the edge of off trail feedback. All in all, a real gem of a bike, designed specifically for the discerning mountain cyclist.
Longtime Sellwood mechanic Jeremiah Swanson got his Raijin frame built up this weekend, and as follows are some photos highlighting some of its finer points.  He threw it together with a Sram X9 group, Marzocchi fork, and Chris King / Stan's No Tubes wheelset.
Raijin frames are now available and are $1800 for a frameset.  Let us know if you'd want us to order you up one.  More info here.