Recently we had the unique opportunity of going on an overnight bikepacking trip into the Willamette Valley. It all started a couple weeks back when our good friend Steve Kirbach, Head Roaster for Stumptown Coffee Roasters, called us with the great idea and generous invitation. His concept was to assemble a crew of Stumptown's most avid cyclists, and some of Portland's key players in the bicycle community. It would be a chance for everyone to step away from work and enjoy a solid ride together. Obviously it didn't take much arm twisting to get us on board.
The plan was to meet here at the shop, and ride together out to a nice camp spot in the Willamette Valley. We'd stop at a vineyard for a wine tasting, have dinner, brew a little coffee, and ride on to camp for the night. The recipe for a pretty amazing trip. It was our job to plan the ride route out there. Brandon Meinke, our Service Manager, has a lot of knowledge of the roads out that direction and put together an awesome route.
After rallying at the shop and finally escaping the city we pedaled into the rolling green hills surrounding Portland. We made our first stop at Soter Vineyards. Stumptown has an excellent relationship with them, and arranged our special visit. Soter is breaking new ground in the Oregon Winemaking industry. Their biodynamic farm excels in sustainable agricultural practices, carbon accounting, and produces some of Oregon's finest certified organic Pinot and Sparkling Wines. Their commitment to improving the environment through farming practices might very well exceed their passion for good wine (of which we enjoyed several bottles).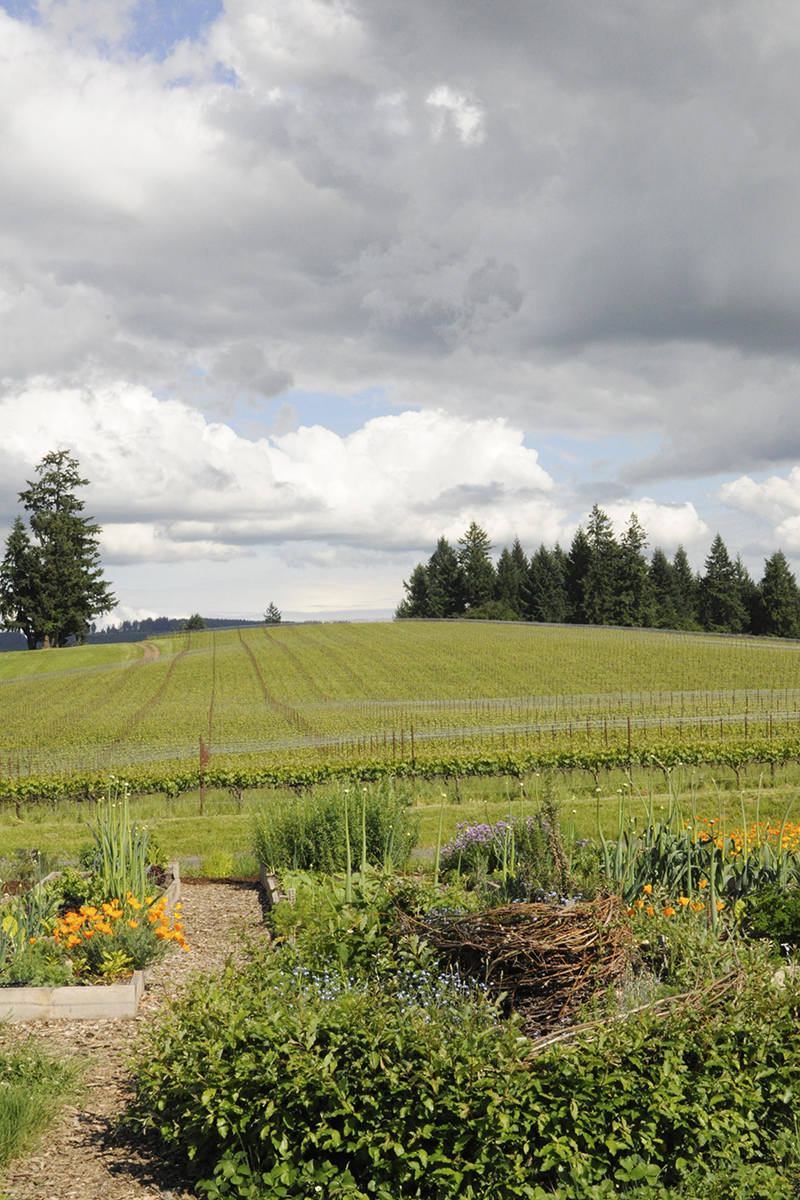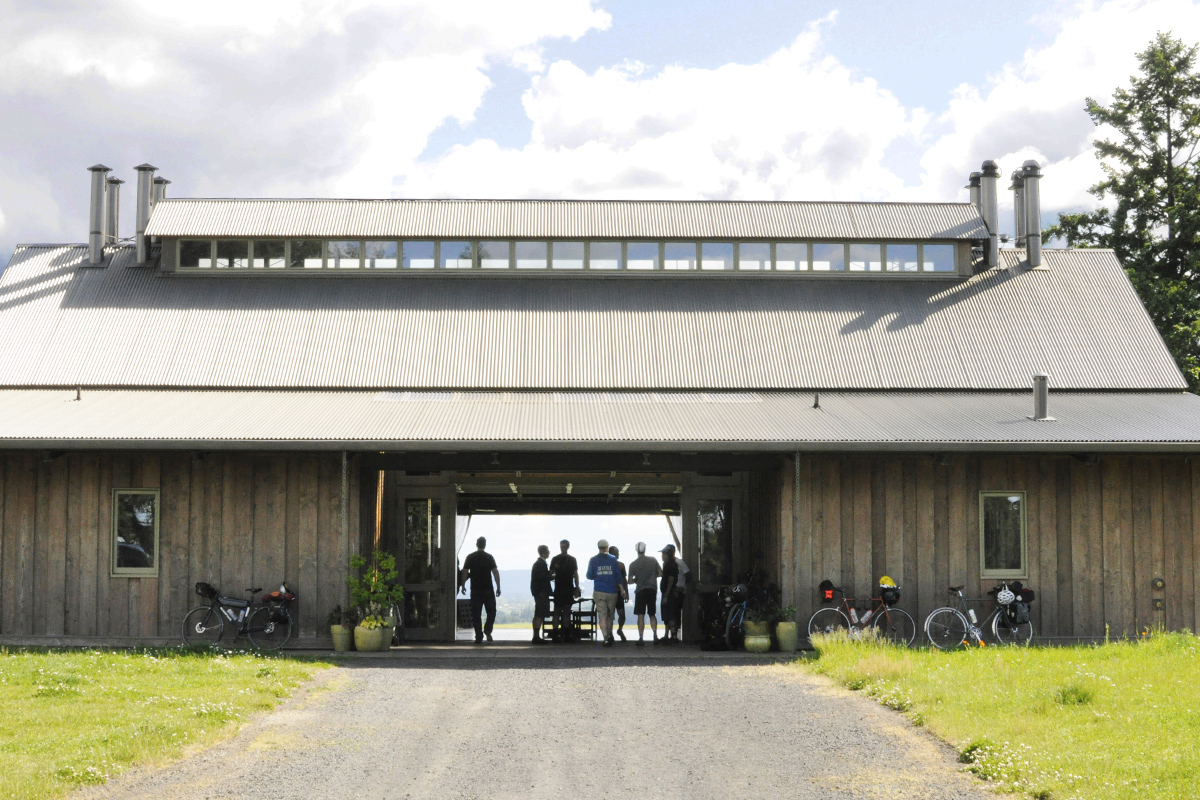 We rolled up to their main tasting house and were promptly poured healthy glasses of wine by smiling staff in front of a breathtaking view of the Willamette Valley. Every bikepacking trip should be so fortunate.
After our legs calmed down from the ride we relocated down to one of their private tasting cabins where an amazing dinner spread, generously provided by Red Hills Market, awaited us. Over food we learned more about Soter's sustainable farming practices and their commitment to fine winemaking.
A few more bottles of wine were produced, and we finally had a chance to see who all was on the ride. It was a collection of awesome people doing  amazing work in Portland's cycling Community. Props to Steve for putting such a rad crew of folks together.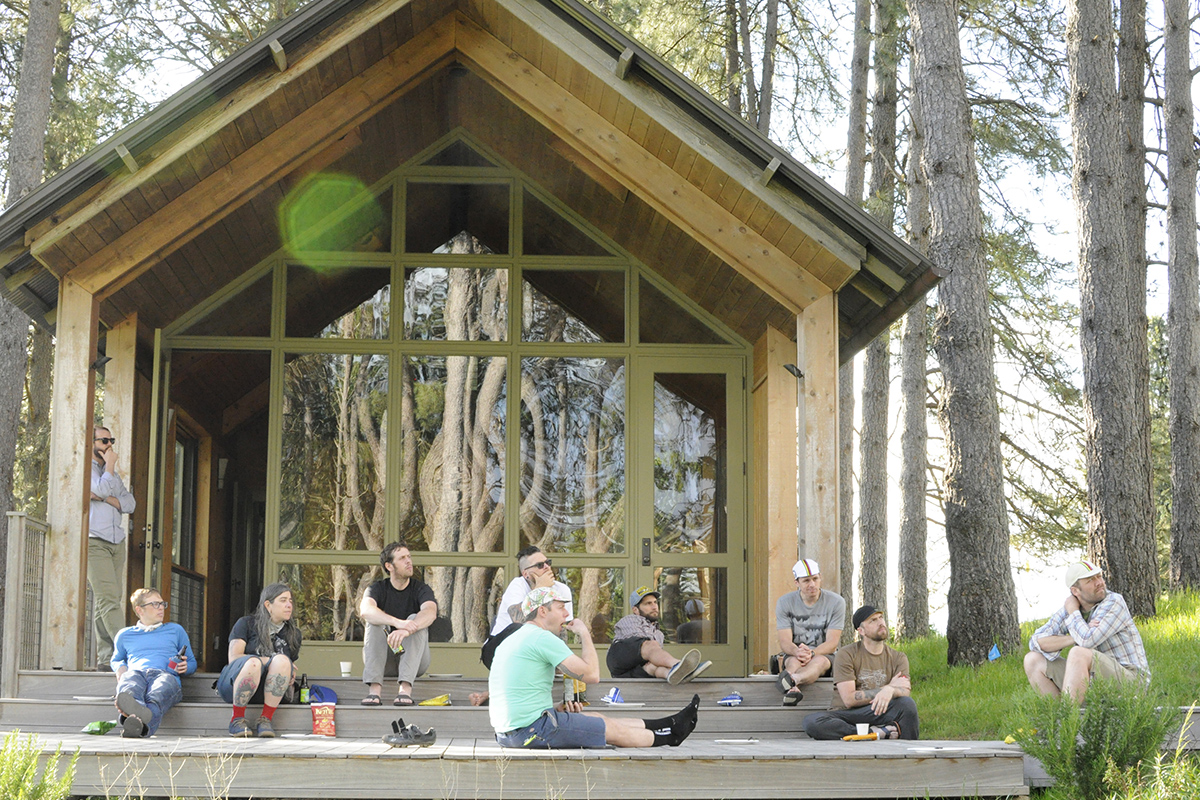 Long time friend of the Shop, organizer of the "Blind Date at the Dairy" cyclocross series, and innumerable  OBRA events, Tony Kic. He pretty much shreds everything with two wheels and a set of pedals. Everyone would be so lucky to possess his level of stoke and charisma.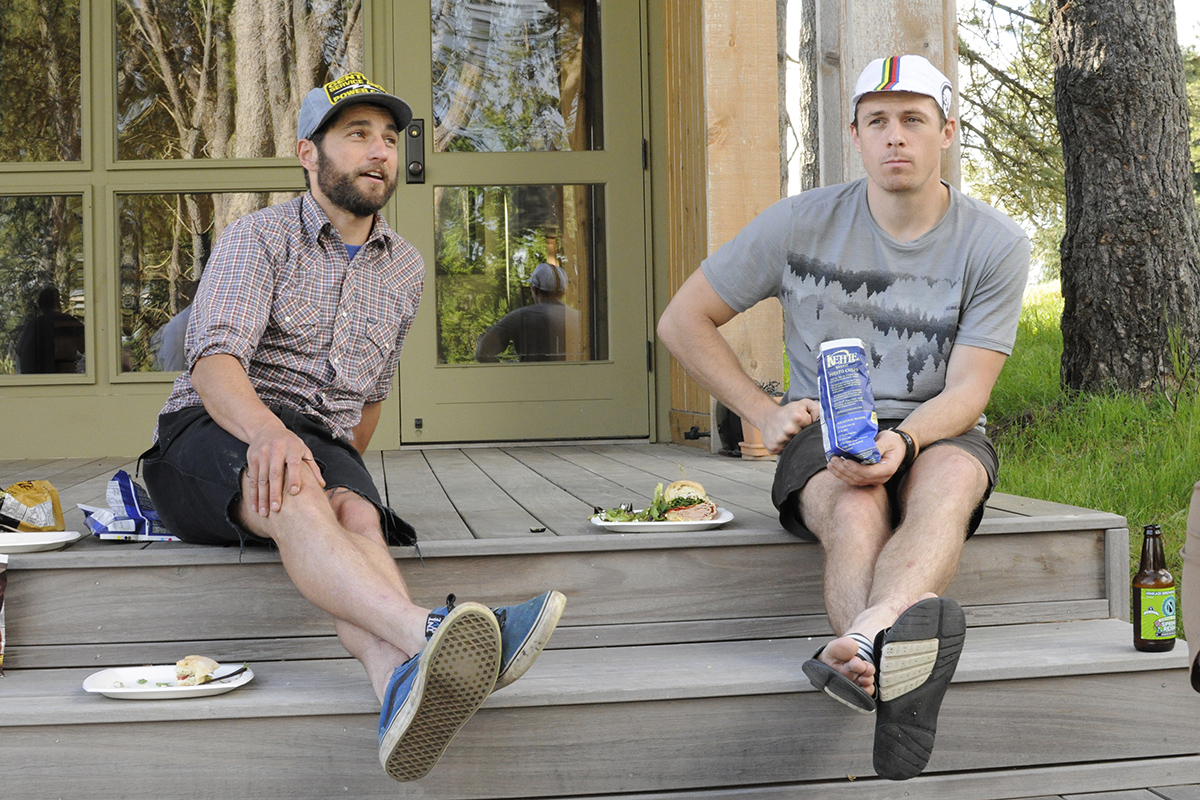 From Nutcase Helmets there was Tom Rousculp. A man with an enduring smile, even on the most soul-crushing climbs. You might recognize him from such things as Vanilla Workshop, "Kiddie Cross" (a youth cyclocross series), and the Bicycle Transportation Alliance.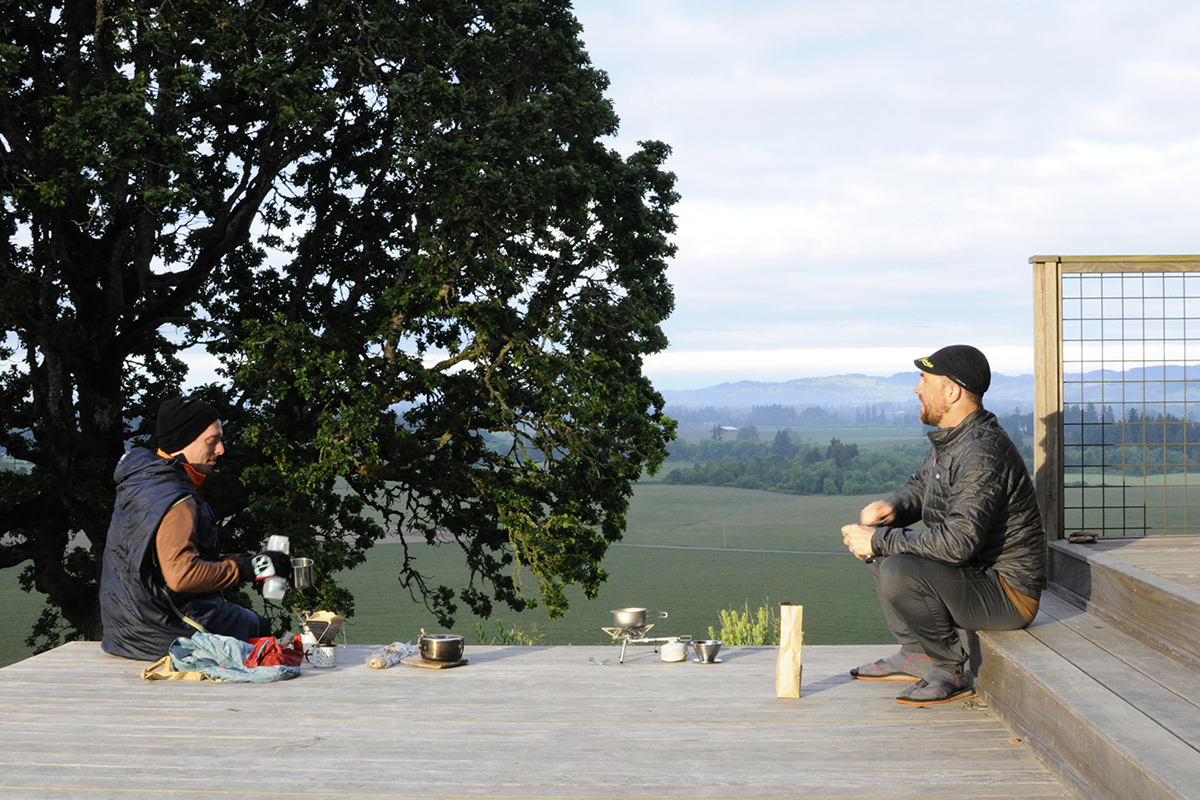 Hazel Gross works for Portland Design Works, and recently became part of the newly formed Komorebi women's adventure cycling team. She was riding a jaw-dropingly gorgeous custom team bike made by Breadwinner Cycles outfitted with a set of custom Revelate bags.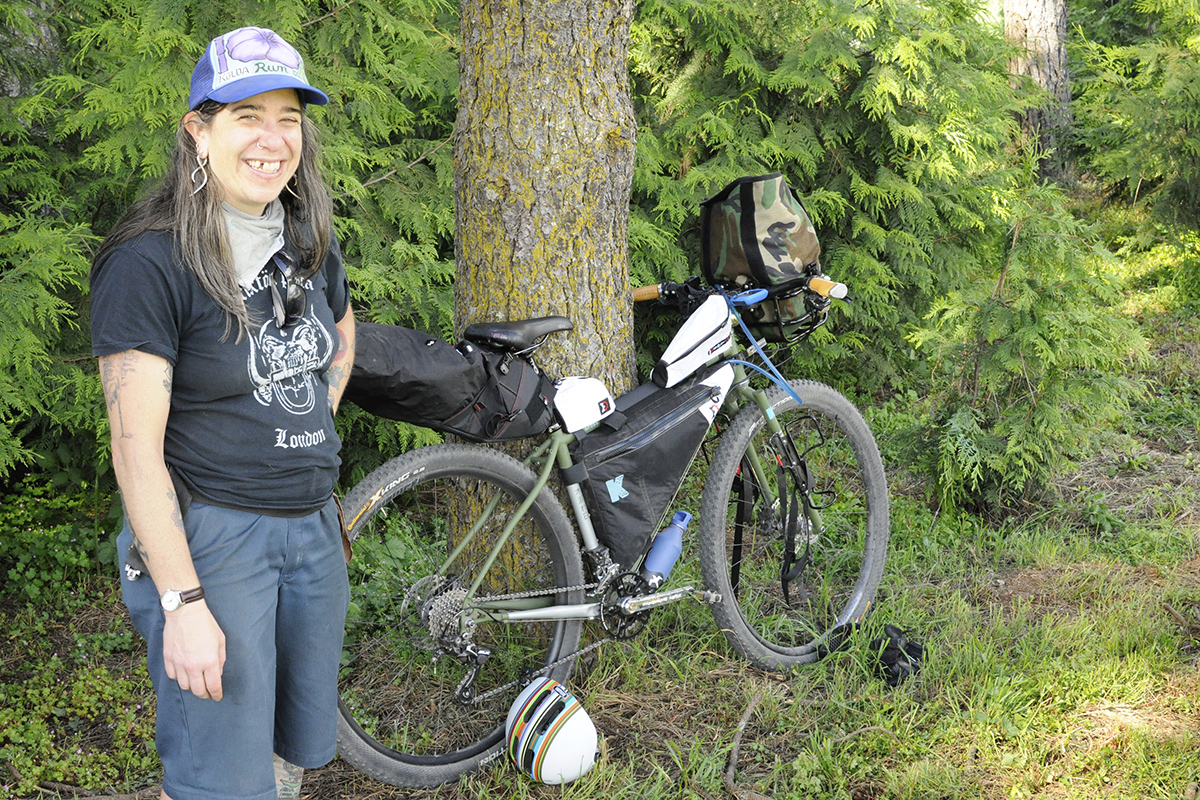 Past Sellwood Cycle Repair employee turned "Director of Getting Rad" for Limberlost now leads guided Adventure Rides by Bicycle is Jason Britton. We've tried to find someone who gives better high fives, but don't think they exist. He was riding a very impressive new Kona prototype which we can't discuss at the time of this writing, but are excited to say it and a set of custom bags from Porcelain Rocket will be on this week's Oregon Outback ride.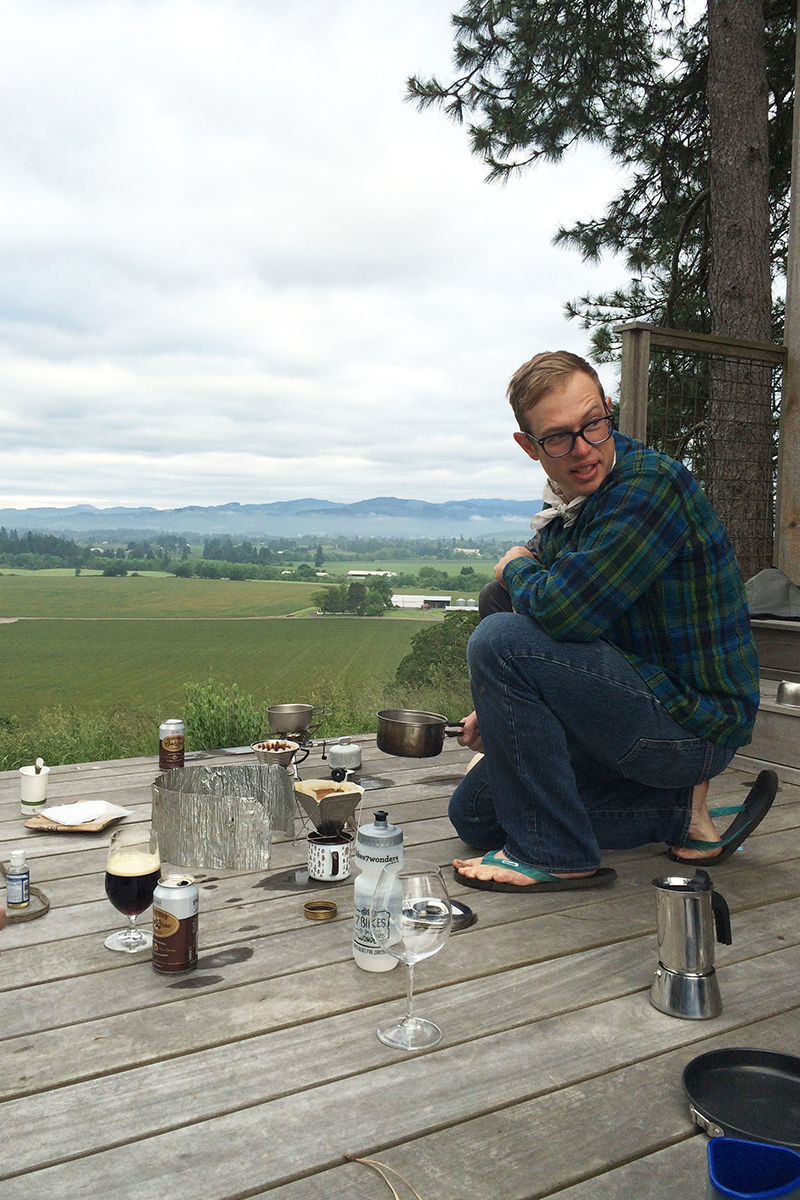 Representing Stumptown there was Nate Armbrust, from their Cold Brew Department, who's no slouch when it comes to randonneuring as he regularly logs 200-1000 km rides. He is currently riding for Seek and Enjoy. There was David George who does Stumptown's training, and completely unstoppable when he puts his mind to anything. Tom Gerlitz is their Shipping lead, former bicycle mechanic, and incredibly positive personality on the bike. And then there was the mastermind of the whole ride, Steve Kirbach. Steve has been friends with Sellwood Cycle forever, and personal pals with Erik Tonkin since before that. His commitment to strengthening ties within Oregon's Cycling Businesses is almost as inspiring as it was to watch him crush hills on his Kona Rove kitted out in one of the fanciest set of bags from Swift Industries we've ever seen.
The strong Stumptown presence lead to some serious geeking out on coffee too. From Bialetti Moka Pots to Snowpeak collapsable pour overs no style of brewing was left unexplored, and no fine cup of coffee was left unshared. Steve busted out an impressive MSR cooking kit that made everyone jealous. That dude lives well. Did we spoil ourselves? You better believe it. When you're adventuring by bicycle there's not much sense in half-assing anything.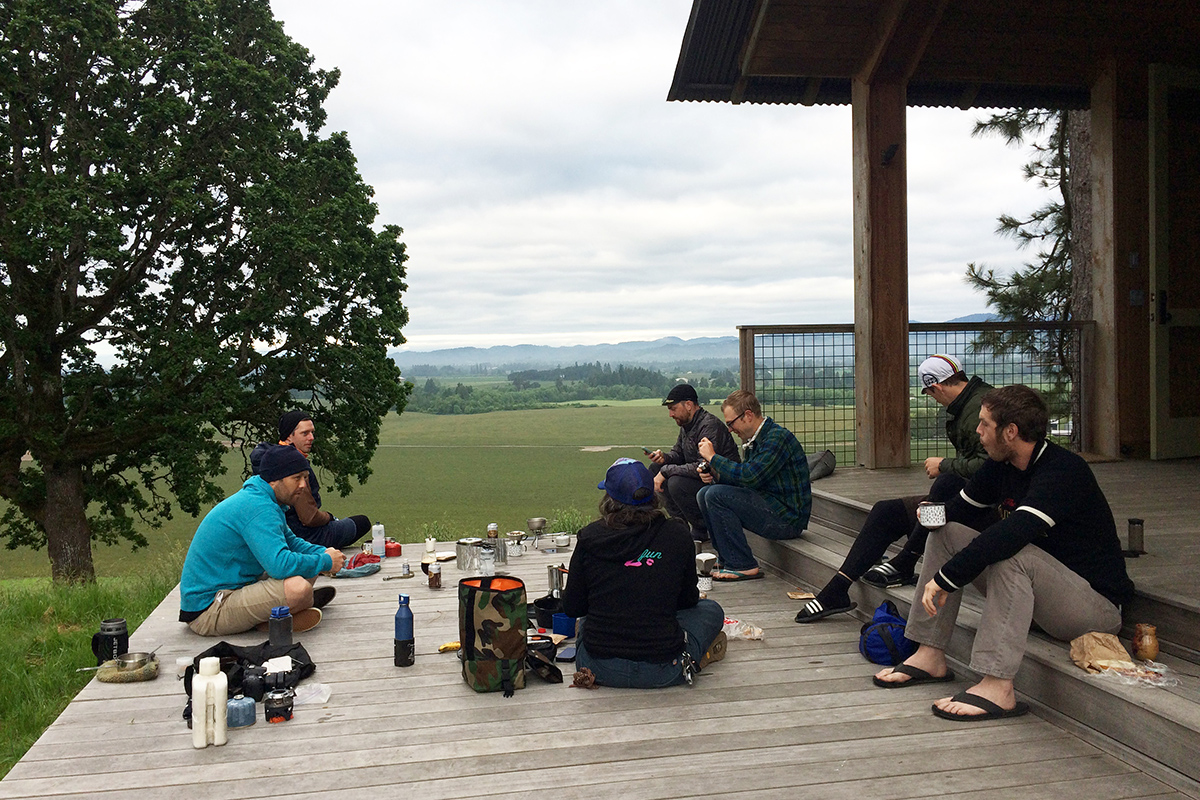 Soter was nearly ready to kick us out for the night, but not before we hiked to the top of the vineyard to catch the sunset. A pretty surreal view if you ask us.  The Willamette Valley is indeed an agricultural promised land and Soter Vineyard's hilltop perch was the perfect place to take it all in. We can't thank them enough for their generosity in hosting us for the afternoon, and giving us a superb place to relax on our ride.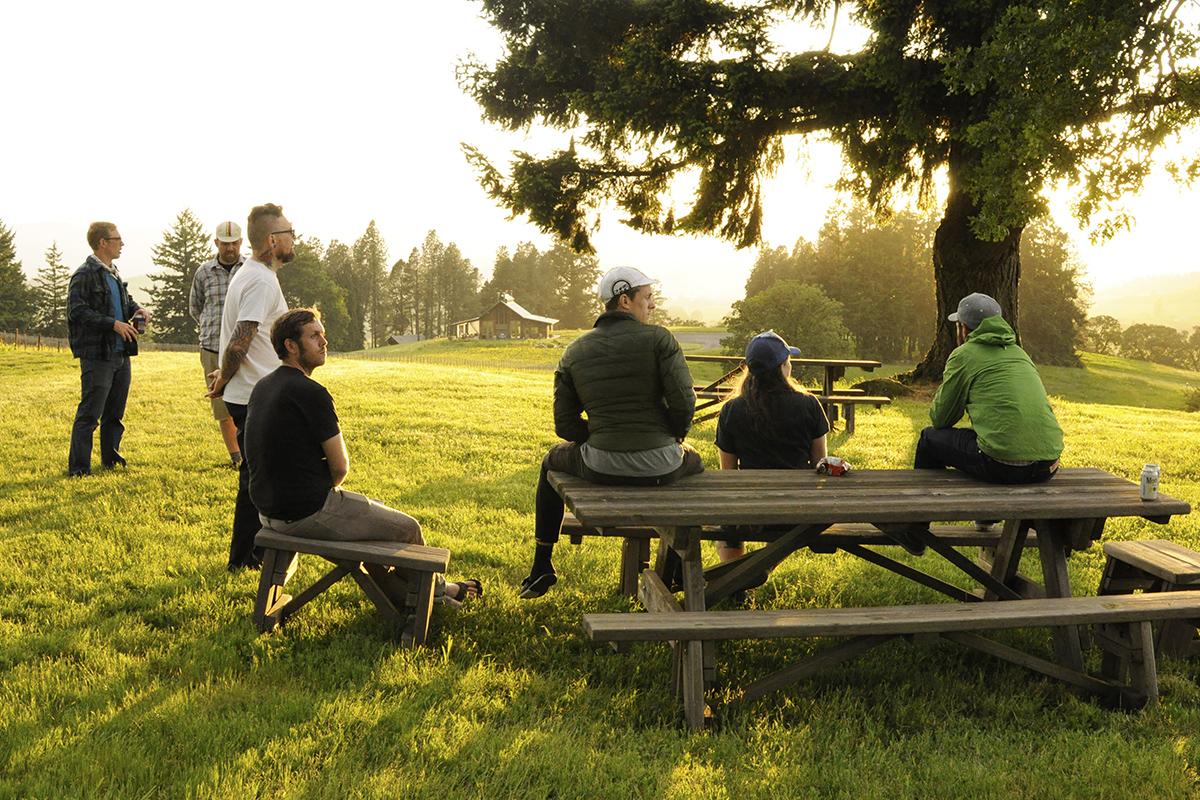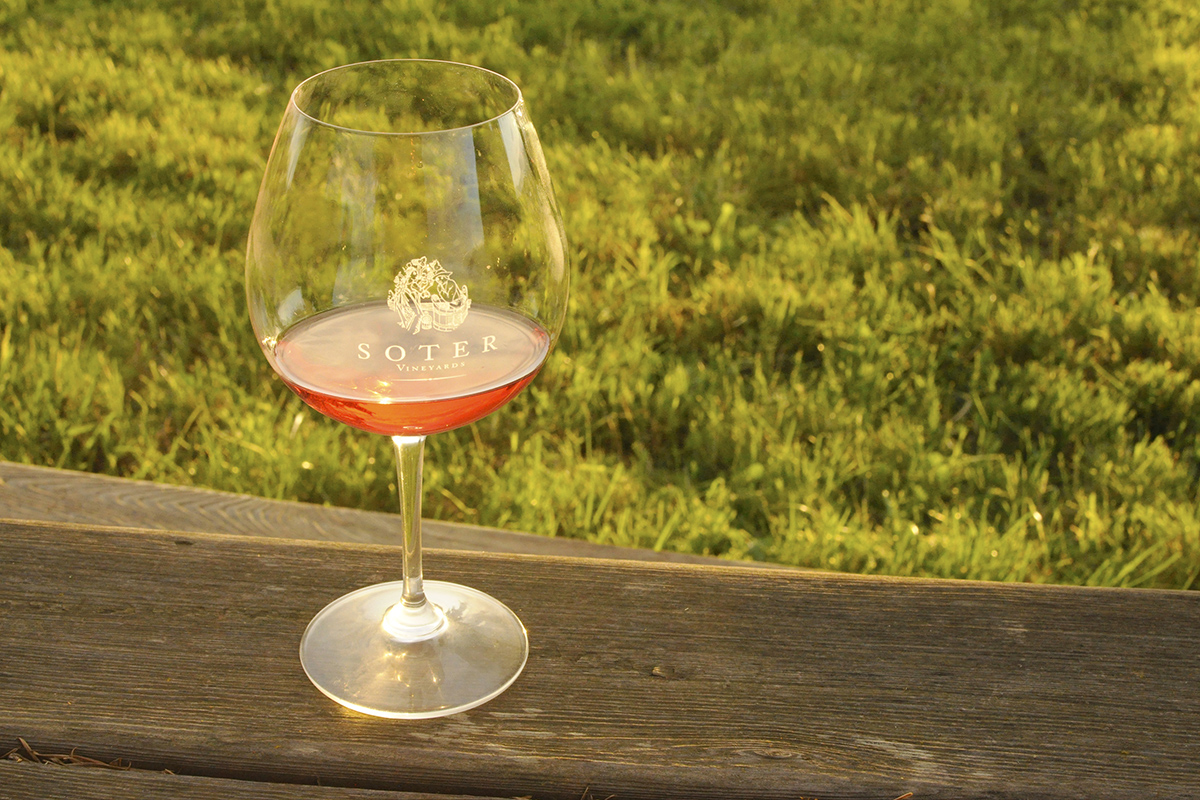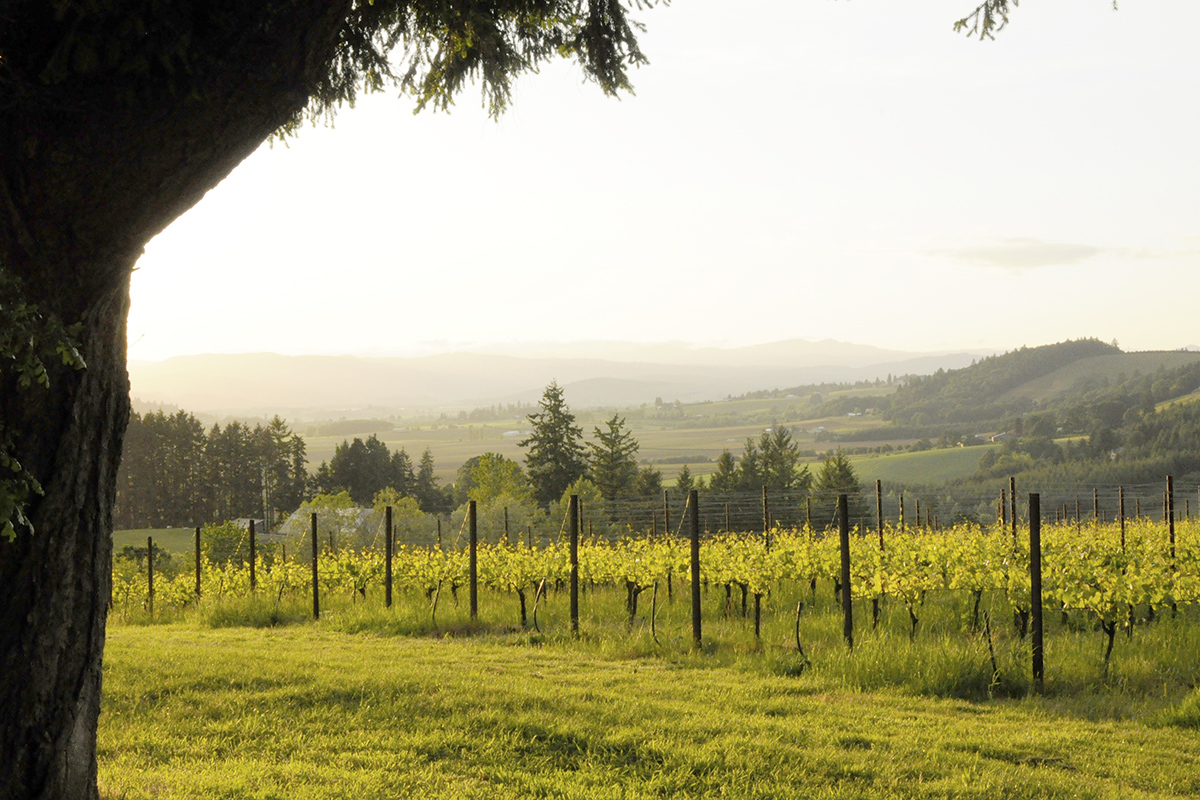 Camp that night was filled with some excellent storytelling around the fire as all good bike trips are, and the celestial view was out in full force. It's easy to forget how good the night sky can be until you get yourself out of the city. We were grateful for the good company to share it with.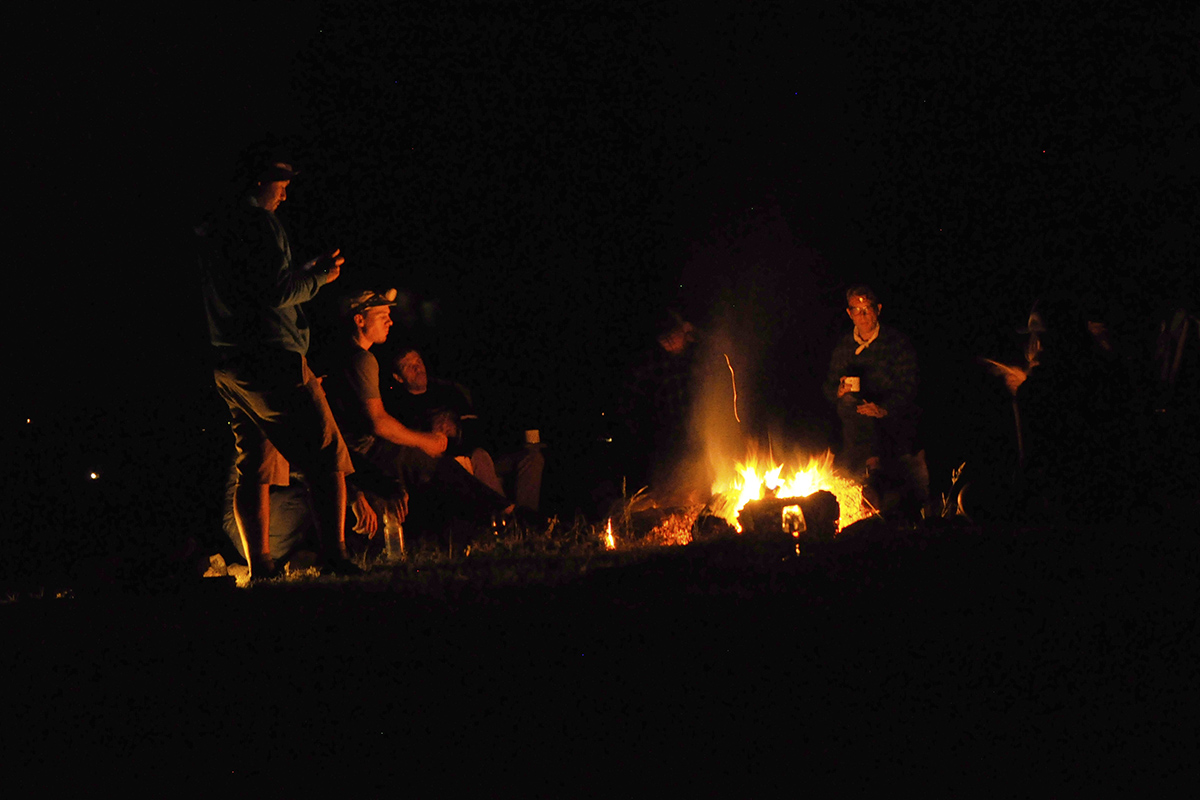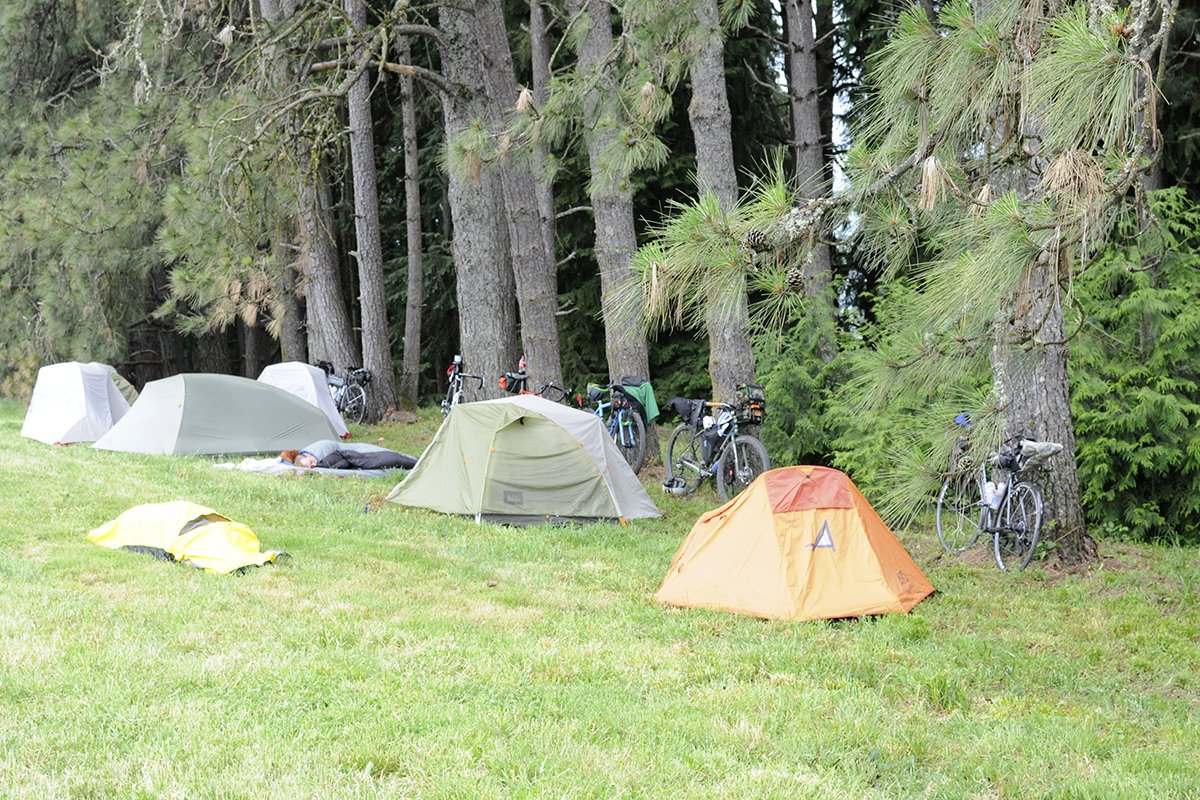 The next morning we made breakfast, brewed a few more cups of coffee and hit the road. Work responsibilities were calling everyone back to Portland. Brandon led the ride up and over NE Worden Hill Road. It was an undeniably brutal climb by anyone's standards, but especially with fully loaded camping rigs. The view at the top however made it all worthwhile. You gotta earn your turns. We took a few minutes to regroup and reflect before ripping down a killer gravel decent into Dundee, Oregon.
We pulled into Red Hills Market for a lunch stop. If it's not already on your list of places to go on a ride then it should be. A fine establishment in the most unlikely of places. Their selection of sandwiches requires some serious contemplation. We recommend ordering… well pretty much everything. There isn't a thing on their menu that'll steer you wrong. Wash it down with some Stumptown coffee in their covered outdoor seating area and you've got yourself a pretty epic refueling spot.
From Dundee, Brandon lead the way through more amazing side roads back to Portland. It can be easy to get stuck in higher traffic roads between here and there, but if you've got the time there are some roads worth exploring in that area that will keep you far away from the chaos of the car commuters. It was a little bittersweet to be heading back into the city after only one night out, but then again summer is fast approaching and we suspect this is just the gateway to a lot more rides just like this.
We can't thank Steve and Stumptown Coffee Roasters enough for the opportunity to join them on this ride. We could all do well to have more friends like them.