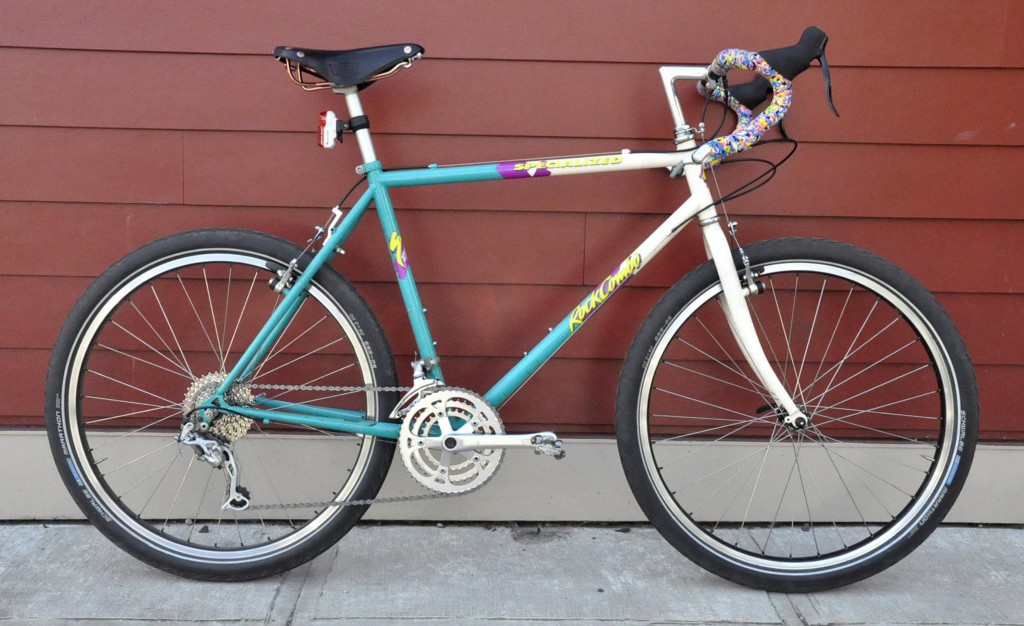 In 1989, Specialized rolled out the 26″ wheel, drop bar equipped, "RockCombo".  The frames were based off their popular Rockhopper and Stumpjumper mountain frames, with a bit steeper geometry for road use.  Unfortunately the bikes were perhaps a bit too ahead of their time, sold poorly, and we're available for only a year.  However while some bikes of a similar design like Bridgestone's XO series have become cult bikes for some, the Specialized RockCombo remains largely forgotten.
That's where the magic of the shop's consignment program comes into play, as two of these RockCombos rolled into the shop a few weeks ago (this one courtesy of our pal Gary Johnson).  After a bit of thought, our guy Jason pulled the trigger on the smaller of the two, and has been building it up with some nice pieces.  He finished the build recently, mixing original and period correct components with some modern parts as well.  The bike is riding on a hand-built wheelset with Shimano 105 hubs laced to Salsa Delgado rims.  The drivetrain is set up as a 3×9 with bar-end shifters, Specialized crankset, and an all silver XT rear derailleur (silver due to sitting in our solvent tank for too long…).  Other highlights include the Suntour XC Pro cantilever brakes, Sram S900 levers, Brooks B17 saddle, and party-specific bar tape.
Jason is pretty happy with his new ride, as he should be, and one of the forgotten 1989 Specialized RockCombos is back on the street where it belongs.  Check our consignment inventory and see if you can't find some magic for yourself.